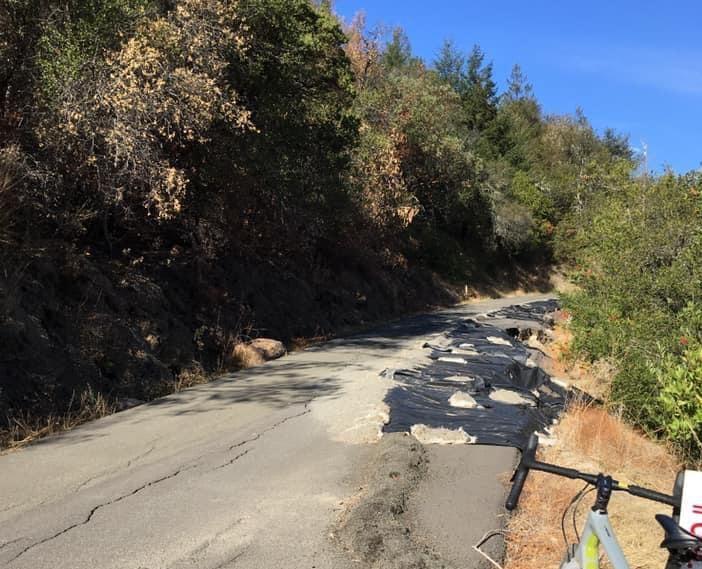 Napa County's largest unincorporated community of Angwin in the mountains east of St. Helena might — just might — get a second wildfire escape route to Napa Valley, if volunteer labor helps create a stopgap solution.
It wasn't the ideal outcome that some residents sought, but it's what the county was willing to offer amid various factors.
Angwin is a forested community of about 3,000 that includes Pacific Union College. With a wildfire coming from the east, residents would evacuate to the west into Napa Valley on Deer Park Road.
In a letter to the county, resident Ken Stanton described a nightmare scenario. He can envision traffic on that only escape route to the west coming to a standstill because of an accident, fallen tree or other mishap as a fire bears down.
"It doesn't take much imagination to see that most everyone on Howell Mountain could be trapped with nowhere to go," he wrote.
An alternative route leading to Napa Valley exists — Old Howell Mountain Road. But this narrow road has been closed to through traffic since the January 2017 storms triggered a slide that washed out a section.
The county Board of Supervisors on Tuesday wasn't willing to spend $2 million to $3 million to fix the damage, in part because emergency officials questioned whether Old Howell Mountain Road is a good escape route. It was willing to listen to an offer from Angwin residents for a free fix.
The Angwin Community Council and contractor Dennis Helmer of Helmer & Sons offered to help repair the road. Volunteers would do such things as improve the erosion prevention system at the slide and widen the roadway into the bank side.
The Board of Supervisors directed public works officials to meet with the council and see if the repairs can meet all technical and safety requirements.
This wouldn't reopen Old Howell Mountain Road for unfettered, regular use, as before the January 2017 storm. But it could be opened for evacuations, if emergency officials saw the need.
"It's possible it could be, although it would be a rare situation," Public Works Director Steven Lederer said. "I don't think we'd ever simply open the gates and ask people to go that way."
The big fix would be for the county to spend that $2 million to $3 million to repair Old Howell Mountain Road and reopen it to traffic at all times.
But a county report said even a repaired Old Howell Mountain could be "a virtual death trap" as an evacuation route during a wildfire. That's because it is narrow and winds along a steep mountain slope with heavily wooded wildfire fuels below.
In fact, emergency officials reopened Old Howell Mountain Road during the Glass Fire for their own use. At least one Angwin resident used it to evacuate and drove off it, requiring firefighters to divert their efforts to help, county officials said.
The other deterrent to fixing the road is that $2 million to $3 million price tag. The county has about $10 million a year in discretionary maintenance money and Old Howell Mountain Road isn't on the scheduled project list that extends into 2024.
A majority of supervisors didn't favor diverting money from other, planned road maintenance projects to fix Old Howell Mountain Road.
"We all have areas in our districts that are just in difficult conditions," Supervisor Alfredo Pedroza said.
He favored looking at short-term, lower-cost remedies on Old Howell Mountain Road. Money for a permanent fix might be available in coming years, he added.
Board of Supervisors Chair Diane Dillon said she wants to make Old Howell Mountain Road a year-round, safe evacuation route. Her supervisorial district includes Angwin.
"I think if any of us lived in Angwin, we would want this, just as people who live in Angwin want this," she told the other supervisors.
On Thursday, Dillon said she's tried before to have Old Howell Mountain Road fixed and couldn't even get a second for her motion. The county's exploration of the volunteer repairs offered by the Angwin Community Council is a step in the right direction, she added.
Angwin resident Mike Hackett wants the county to fix Old Howell Mountain Road.
"It really boils down to not how much money you have in county road coffers, but do you want to keep the people of Angwin as safe as you can," he told supervisors.
For now, use of Old Howell Mountain Road for evacuations hinges on the volunteer effort. In a pinch and under certain emergency conditions, the road might become Angwin's back door to Napa Valley.
WATCH NOW: CDC SAYS DON'T TRAVEL FOR THE HOLIDAYS
SEE NOVEMBER'S MOST EXPENSIVE NAPA HOME SOLD
Barry Eberling's memorable 2020 Napa Valley Register stories
Napa Valley Register reporter Barry Eberling share his most memorable stories of 2020.
Catch up on Napa County's top news stories of 2020
In case you missed it, here is a look at the top stories of 2020.