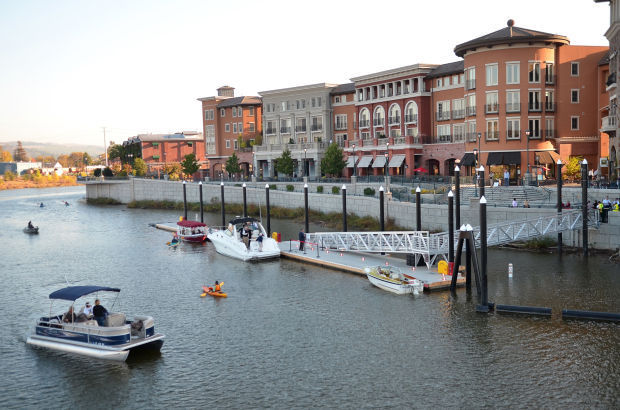 A private company will soon have the go-ahead from city and state to manage commercial activities at Napa's Main Street Boat Dock, but the effect of heavy storms last winter on river sedimentation raises question marks.
Tideline Marine Group is poised to start a seven-year contract to run daily operations at the downtown landing below Napa's Riverfront under a contract the city approved last year.
However, one of the company's key services – hired boats from Napa to about two dozen regional harbors – may be delayed as Tideline waits for the U.S. Army Corps of Engineers to evaluate how much runoff and debris may have washed into the river after months of unusually heavy rains and near-flood conditions.
"Mother Nature helped to get rid of our drought, but caused some other headaches," Tideline's founder and chief executive Nathan Nayman said of the company's wait. He expects the Corps to report in May about the effects of winter weather on the Napa River.
Unknown for now is whether storm-driven silting will force a repeat of dredging along the 17 miles of waterway where the Corps worked in late 2016, creating a minimum 9-foot depth in a channel that had not been cleared for nearly two decades. The work covered various shoals from Napa's Third Street bridge, overlooking the Main Street Dock, south to Asylum Slough near Highway 37 in Vallejo.
Meanwhile, Tideline is in talks with vendors that would provide kayak rentals, paddleboarding and other non-motorized water activities, which could become available as early as May.
"Everyone's excited about moving forward," said Nayman, who added Tideline is in talks with about a dozen companies for non-motorized services. "We've met with all the potential vendors, but if the river is not safe for motor (vessels), it's our No. 1 priority that everyone be safe."
Any need to re-dredge the Napa River due to storm-driven debris would require Napa to line up new funding, according to Rick Thomasser, operations manager of the Napa County Flood Control and Water Conservation District. The 2016 river clearance relied on $4.5 million in congressionally approved funding, the first federally supported maintenance along the waterway since 1998.
Pamela Patton, the Corps' regional project manager in San Francisco, said Wednesday the agency has been notified by the flood control district about possible post-dredging problems with shoaling. A survey of Napa River conditions is planned for May, but any remedial dredging would require "an urgent and compelling reason" of boating safety and is unlikely to take place this year, she added.
Last week, the City Council accepted a change in its lease with the State Lands Commission to allow Tideline to act on its contract for dockside services. The commission is scheduled to vote on the deal at its April 20 meeting, according to Katrina Gregory, city recreation manager.
In return for allowing commercial businesses on the river, the state agency, which oversees in-state waterways and leases the boat-launch site to Napa, would collect $800 per year from the city, with the amount to increase annually for inflation.
Napa approved a contract in July 2016 with Tideline – a seven-year deal with an optional five-year extension – to run the dock's daily operations, including river taxis that passengers would hire for trips to various Bay Area ports. The company also would oversee subleases for kayak rentals, on-call yachts and other river-based services that have been proposed at the downtown launch.
The 176-foot-long, 10-foot-wide dock opened in 2013 below Napa's Riverfront south of the Third Street bridge, under a 25-year, no-cost state lease that covers noncommercial activities. City officials had looked for a private partner to coordinate dock-related businesses in hopes of attracting more tourists to the waterway, where chronic silting kept down boat traffic before a federally funded dredging project late last year.
Under its contract with the city, Tideline will oversee day-to-day operations and maintenance at the central dock, while opening a kiosk above the slip where visitors can buy tickets for shuttle rides and other activities.
Besides Bay Area trips and boat rentals, city parks officials also have floated ideas such as meal cruises and a return of the Gondola Servizio touring vessel that plied the river before the old downtown dock closed in 2006 for flood-control work.
Last year, Tideline revealed plans to use three vessels for shuttle rides into and out of Napa – two 43-seat boats and a third with 22 seats. Excursions would not operate on a ferry-like fixed schedule but as direct trips, which most service offered between the spring and late November for weather and tide reasons, company directors have said.
Tideline has described the shuttles as scenic experiences rather than rapid transit, and city Parks Director John Coates last year estimated travel times of two hours to Vallejo and three hours to San Francisco.
Napa will receive 20 percent of the gross revenue garnered by Tideline and its partners from dock-based businesses, although it will not collect any water-taxi proceeds until the contract's third year.
This story has been modified since the original posting to include a comment from Pamela Patton, a project manager for the U.S. Army Corps of Engineers.
Get local news delivered to your inbox!
Subscribe to our Daily Headlines newsletter.