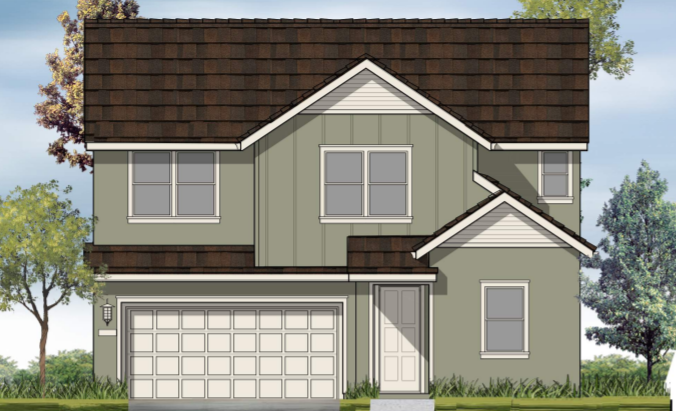 Watson Ranch in American Canyon, a planned community of more than 1,000 homes, parks, businesses and a city center on 309 acres, could be nearing the day when the bulldozers start work.
"You're going to see a lot of activity out there starting roughly April 1 of 2021," developer Terrence McGrath said. "In dollar terms, you're probably seeing somewhere north of a couple hundred million being invested in Watson Ranch over the next 24 months."
The American Canyon Planning Commission on Nov. 19 embraced the prospect of dirt flying. Commissioners gave a warm reception to an initial, proposed 98-home subdivision on 12 acres and the prospect of Watson Ranch construction work in general.
"I'm glad we're finally getting to the point where, within a short time, it appears the shovels will be hitting the ground," Commissioner Eric Altman said.
The commission by unanimous votes recommended the City Council take steps needed so the 98-home subdivision can move ahead. It also approved a design permit for the homes.
McGrath said he has worked on Watson Ranch since 2004 to get all of the various development agreements and other paperwork completed. That's not the part of his job that he likes best.
"I like to spend my time building things," McGrath said. "This is really the first step into the future."
Five Watson Ranch projects should be coming forward over the next six to eight months, McGrath told commissioners. Among them is a proposed, 186-unit attached housing complex.
Watson Ranch is to be located east of Highway 29 in northern American Canyon. One facet is to transform the ruins of the old cement company visible from the highway into the Napa Valley Ruins and Gardens city center with stores and restaurants and community space.
Commissioner Tyrone Navarro, while praising the project, also mentioned the traffic impacts from having more people. A key will be having traffic demand management strategies to deal with this, he said.
Highway 29 through American Canyon is already a rush-hour slog. The Watson Ranch environmental impact report says the new community will create further traffic impacts that are "significant and unavoidable," even with mitigations.
Still, Commission chair Andrew Goff noted Watson Ranch will ultimately help bring about the extension of Newell Drive as a parallel route to Highway 29.
That initial 98-home subdivision that went to the commission will, if also approved by the City Council, have six streets. Two-story homes are to be in the 2,200 square foot range, have solar power and have a farmhouse look.
McGrath said the designs have been based on what has happened since the COVID-19 pandemic. There will be spaces for homeschooling and parents working from home.
The preliminary tree list for the neighborhood includes persimmon and Meyer lemon trees, as well as oaks, madrones and Chinese pistaches.
McGrath said he hopes to turn the Watson Ranch and the Ruins and Gardens area into one of the biggest farm-to-table operations in the country. Part of that motif is bringing fruit-bearing trees to the project to connect neighborhoods with the Ruins and Gardens and vice-versa.
Associate Planner William He showed commissioners photographs of brushy fields and told them to imagine the 98 homes there in the near future. Streets in the subdivision will connect to the existing Rolling Hills and Summerwood drives.
"We're moving forward with a project that meets everybody's desires and expectations," Goff said. "This is just the first little step."
WATCH NOW: HOW LONG WILL IT TAKE TO VACCINATE ALL AMERICANS?
SEE NAPA'S MOST EXPENSIVE OCTOBER HOME
Catch up on Napa County's top news stories of 2020
In case you missed it, here is a look at the top stories of 2020.