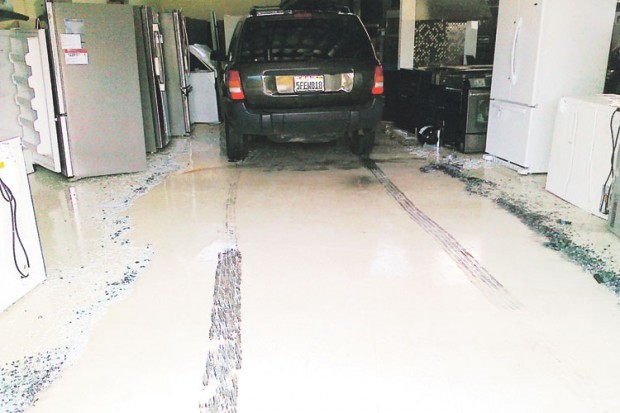 Memorial Day was a bang-up day at Sears in more ways than one.
At approximately 11:50 a.m., the driver of a Jeep lost control and crashed through a display window at the Sears store on Soscol Avenue. The driver, a woman, had reportedly just left the car wash across the street when the Jeep careened across Tanen Street and into the Sears parking lot, hit a parked station wagon and then crashed into the Sears store. According to Lt. Brian McGovern of the Napa police department, a second car was also hit sometime before the Jeep entered the Sears window.
McGovern was not able to provide the name of the driver.
"This was a non-injury private property collision and we only facilitated an information exchange between the involved parties," McGovern wrote in an e-mail.
Sears Manager Fred Hernandez was helping customers in the store at the time of the accident.
"I heard the sound of someone burning out," followed by a huge crash, Hernandez said. Before Hernandez knew it, the Jeep was 25 feet into the showroom. The driver was screaming hysterically, he said, and the store filled with smoke and exhaust.
Kristina Young drove her station wagon to Sears to buy a dishwasher on Memorial Day. She was next to Hernandez when the Jeep crashed into the store. "We heard some screeching," she said. "All of a sudden, (the driver) was in the store. It was surreal."
Hernandez and his coworkers quickly escorted shoppers outside. "I didn't know if the car was going to catch on fire. It was pretty intense," Hernandez said. The manager said that just one minute before the crash, he had been standing in the same spot where the car entered the store.
After the car came to a stop, the driver was able to turn off the car and exit the Jeep. A 2-year-old passenger was also in the car, Hernandez said. The Sears manager also said that he heard that the car's accelerator had become stuck.
No one was injured, police said, but Hernandez can't say the same for his inventory. Forty-six units, including refrigerators and a large Jenn-Air display unit were damaged. The loss totals more than $65,000 in merchandise, he said.
"This is all replaceable," Hernandez said, adding all that matters is that everyone is safe. The damaged units will be removed by the insurance company, he said.
On Tuesday, as bits of broken glass and black tire skids marked the spot of the accident, Young returned to Sears. Even though she was still a little shaken by the incident, "I came back to order my dishwasher," she said.