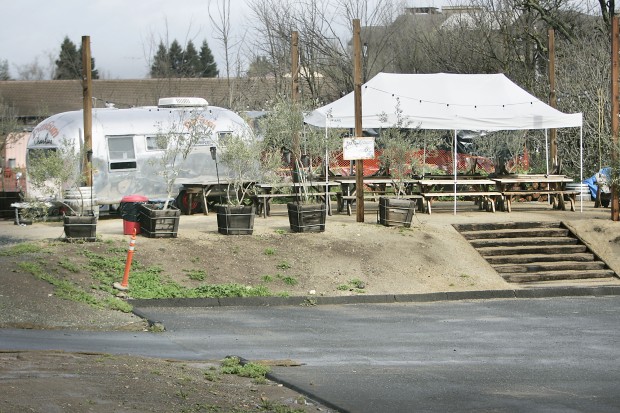 Food Truck Fridays, the impromptu first-Friday-of-the-month gathering of food trucks next to Oxbow Public Market, slammed on its brakes after the city of Napa cracked down on a litany of code violations. 
The event won't restart until its use permit has been approved by the city, which could take three months and upwards of $10,000, said Andrew Siegal, owner of the event grounds at 728 First St.
"It seems as if the problems put forth are unsolvable by design," said Siegal, owner of Dim Sum Charlie's food truck who runs Food Truck Fridays at a reported loss of $500 per event. 
According to the city, the rustic plot's dirt-road entrance has to become wheelchair accessible, as required by Americans with Disabilities Act (ADA). Other changes include moving fire pits 15 feet away from tents and trucks and obtaining Napa permits for food vendors from other cities, said city Planning Manager Rick Tooker.
The city isn't trying to shut the fun down, Tooker said. 
"We think the Oxbow could use an event like this," he said. "The issue is: how can it be done in a way that it's safe. There's this tendency of 'do first, ask later.'"
Siegal sees it differently. No one understood what the event was until it happened, including himself, he said.
After a humble start in September, Food Truck Fridays was nine trucks strong with a guest list of about 400 in March thanks to social networking on sites such as Facebook and Twitter. Siegal and his fellow food truckers had already bought supplies for next week's event when it came to a screeching halt last week. 
The city told Siegal they couldn't continue without a use permit. 
Among Tooker's list of issues, customers are bringing their own alcoholic beverages to the event and serving themselves. Because none of the vendors has an alcohol permit, no one is checking IDs or monitoring amounts consumed, he said.
Also, the state Alcoholic Beverage Control has ordered the property owner to stop sponsoring the event, Tooker said.
"I am worried about losing momentum," Siegal said. "I think that if the city wants to kill the event and take the lifeblood out of it, they're doing a good job now."
But so far, their fanbase hasn't left. 
As soon as word broke about the Food Truck Friday crackdown, participants lamented their loss on the Facebook wall of the group "Save the Napa Food Truck Up", which had 400 "likes" as of late Wednesday afternoon. 
Reactions were wide ranging:
"I can't believe this is being canceled. Laaaaaaame!" posted Poppy Jones.
"Save yourselves by getting the permits," Lauraine Forbyn wrote. 
"I definitely say save Food Truck Friday in Napa, but definitely need to add port-a-potties and portable sink stations (like they have at Chefs Market)," Nick Perata added. 
Napa businesses were supportive of the event, and some said they understood both sides of the dispute. 
"We want to support Andrew and we want to support the city at the same time," said Steve Carlin, founder and CEO of Oxbow Public Market.
Participating food truck owners said they hope to move past this setback. 
"It's a shame it's been closed down," said Mark Raymond, owner of Mark's the Spot food truck. "I haven't seen any hazard concerns at all, and any issues like port-a-potty and wheelchairs, they can be overcome easily."
In the meantime, Raymond plans to host another Food Truck Friday the third Friday of the month near St. Helena. His truck, Dim Sum Charlie's, plus Crossroad Chicken, plan to park their kitchens on Highway 29 outside Flora Springs Winery.
But in the lower valley, East Napa will lose part of its bohemian vibe without Food Truck Fridays, Siegal said.