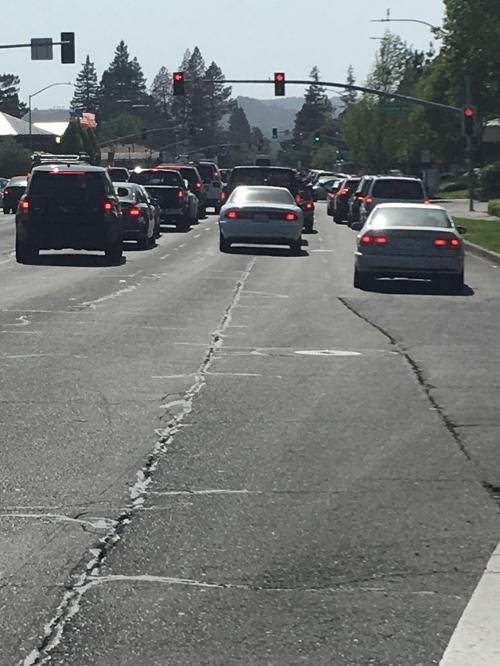 Any proposal to modify Napa County's Measure T — the half-cent sales tax for street maintenance — might not reach voters until November 2024, if it goes forward.
Transportation leaders are considering whether to ask voters to allow agencies to issue bonds against future Measure T revenues, a practice banned under the existing ballot measure. They say that would increase buying power and allow for bigger pothole-eliminating projects sooner.
They also propose allowing some Measure T money to be used for new road projects, such as Highway 29 improvements. Measure T as it stands is for street maintenance only.
Napa County voters in 2012 passed the Measure T half-cent sales tax for street maintenance. The tax didn't take effect until 2018, when it in replaced a half-cent sales tax for flood control that expired that year.
Support local news coverage and the people who report it by subscribing to the Napa Valley Register. Special offer: $1 for your first 6 months!
Local elected officials on the Napa Valley Transportation Authority (NVTA) Tax Agency Board of Directors considered Measure T changes during a Monday retreat at the Westin Verasa hotel.
"A lot for us to mull over," American Canyon Mayor Leon Garcia said.
Voters may not get to mull over Measure T changes until the Nov. 5, 2024, presidential elections. Consultants said that the high voter turnout expected for that election would aid in passing a measure.
It's possible that the 2022 gubernatorial election could have a high turnout, they said. But 2024 is more likely.
A poll was done of 507 registered voters. It asked participants to consider a proposed ballot measure to fix potholes, improve highway and local roads, have the ability to bond and provide $20 million annually for 30 years, all without raising the overall sales tax rate.
Results show the measure would have just about the two-thirds vote needed to pass. The error margin is 4.4%.
"I think there's hope," American Canyon City Council member Mark Joseph said. "It's tight right now, but I think there's hope."
NVTA officials said inflation and rising construction costs erode the buying power of Measure T. Bonding would help because the purchasing power of the dollar now is greater than it will be in 2043, when Measure T expires.
Also, jurisdictions must save Measure T money to pay for bigger maintenance projects. Bonding would allow them to do big projects sooner, officials said.
"If we can do huge investments at the beginning, the cost of maintenance over time is less," NVTA Executive Director Kate Miller said. "It's saving taxpayers money that way as well."
Bonding would in effect mean taking out a loan and paying interest. NVTA officials said the amount saved by increasing buying power would still allow for more street maintenance projects.
In fact, they said all of this could be done while making $60 million available for new road projects, such as improving the Highway 29/Highway 12/Airport Boulevard intersection. This money could be used as a local match to attract federal and state grants.
The NVTA Board of Directors seemed interested in the bonding idea.
"Folks don't buy their house generally with cash," St. Helena Mayor Geoff Ellsworth said. "There's a mortgage involved. There's a healthy amount of debt we can look at."
Even if all worked as planned with bonding, NVTA officials didn't promise a big improvement in street conditions in the coming decades. But, they said, without Measure T bonding, conditions will grow steadily worse.
A wild card is if transportation officials decide to try to raise the Measure T half-cent sales tax by a quarter-cent or even another half-cent. But the Board of Directors showed no great enthusiasm to bring this idea to voters.
"There has been opposition to every tax measure in Napa," consultant Barry Barnes said.
Should a new transportation measure pass, it would replace Measure T. If it failed, Measure T would remain in place.
Leon Brauning of the Napa County Taxpayers Association during public comments asked NVTA Board members to leave Measure T alone.
"We have a good tax ... we don't want to see it go away," he said.
Bike advocates urged the NVTA directors to keep in mind active transportation projects. Patrick Band of the Napa County Bicycle Coalition said finishing the planned bike facilities in the city of Napa at the present rate will take 78 years.
"Simply put, that's unacceptable," he said.
To access Measure T money, jurisdictions must annually pledge the equivalent of 6.67% in non-Measure T money for bike paths. A ballot measure might try to modify this requirement in some way.
Catch up on Napa County's top news stories
Get unlimited digital access to the Napa Valley Register for just $1 for your first 6 months! Enjoy every article without restrictions and find tons of subscriber-only perks, such as access to our daily eEdition. Click here for details!