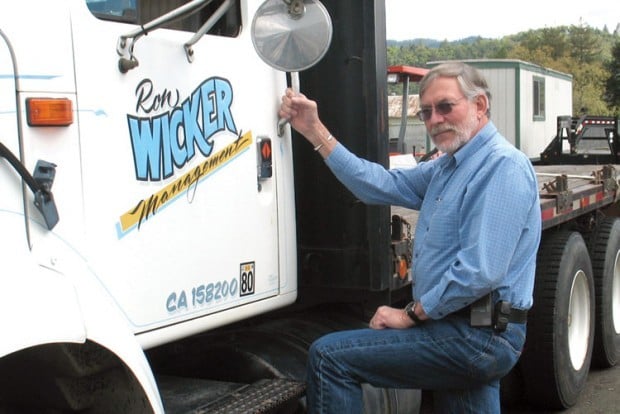 You can take Ron Wicker out of the vineyard, but you can't take the vineyard out of him.
Wicker grew up in Pope Valley and his summer vacations from St. Helena High School and college were spent working among the vines.
After high school in the mid-1960s, Wicker went to Fresno State University, majoring in animal science. He planned to go on to UC Davis to become a veterinarian. He then shifted gears and transferred to UC Santa Barbara for marine biology. But when he came home, he took a job with Laurie Wood, who operated a local vineyard management company.
Now, Wicker has been named the Napa Valley Grapegrowers 2010 Grower of the Year and will be honored at the organization's annual dinner on May 14 at the Native Sons Hall in St. Helena.
Grapegrowers President Bruce Phillips applauds the role Wicker has played among Napa Valley winegrowers.
"The Napa Valley has greatly benefited from the leadership and involvement of Ron Wicker over the years," Phillips said. "He has been a tireless advocate for Napa County agriculture and a pioneer in elevating the quality of Napa winegrapes."
Grapegrower Andy Beckstoffer describes Wicker as "the link between the 'old guard and the new guard.'"
"Sometimes people who don't deserve all the publicity seem to get it," Beckstoffer said. "Ron doesn't get much recognition, yet he deserves credit for the things he has accomplished over the years."
Wicker speaks slowly, has closely cropped salt-and-pepper hair and a neatly trimmed beard. His work uniform includes blue jeans and a long-sleeved blue work shirt, with a pocket for his pen.
Laurie Wood gave Wicker a job in the early 1970s and mentored him after college, teaching him successful techniques for farming on hillsides.
"He gave me the opportunity to develop the skills I have today," Wicker, 62, said.
Wicker started his own vineyard management company,  Wicker Vineyards, on a part-time basis in 1972.
In 1979, with the blessing of Wood, Wicker took the leap into the full-time business of vineyard management on his own.
During his mentoring process — a season spent in the cellar at Freemark Abbey Winery —  Wicker gained an appreciation for what happens to grapes once they pass the winery scale.
He was an early advocate of bringing winemakers into the vineyard, seeking ways to produce better grapes and wines from this world famous region and to form a stronger partnership between growers and vintners.
His passion for winemaking would be taken up again later in his career when he began producing a limited amount of cabernet from property he and wife, Lisa, purchased in 2000 on Howell Mountain.