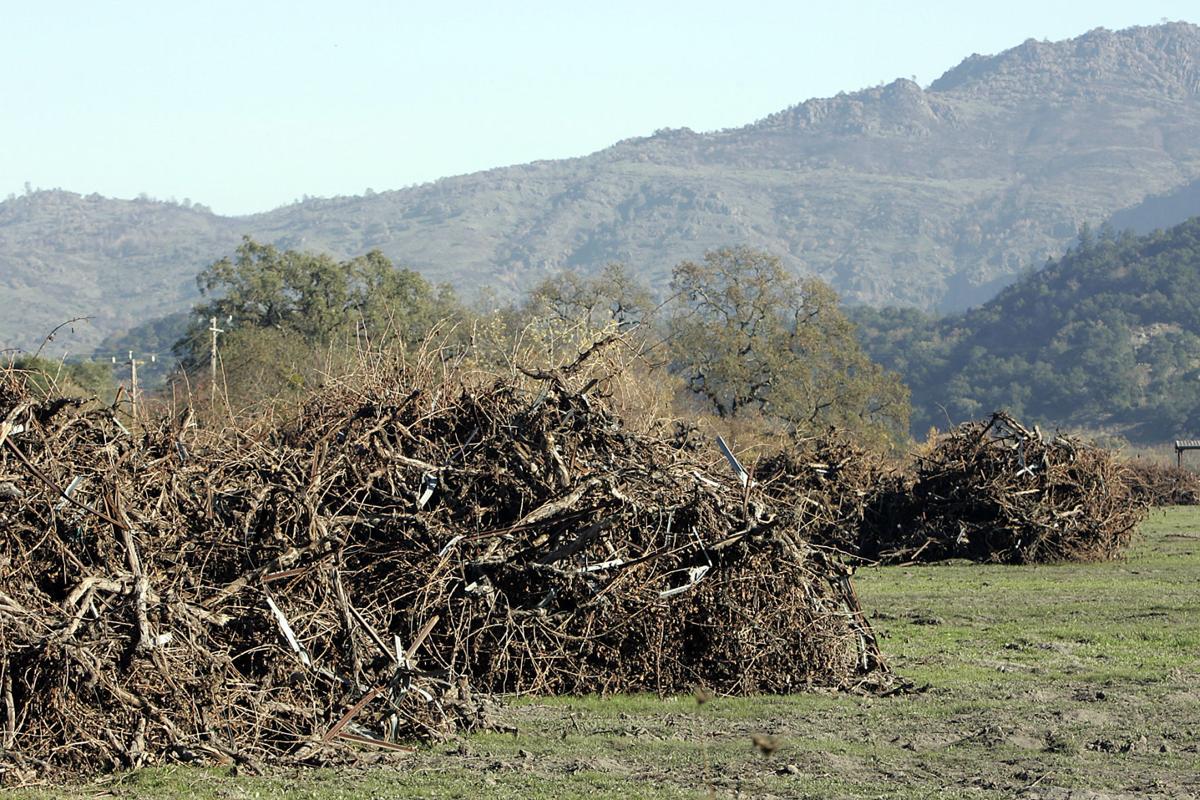 Piles of vines lie in wait, slowly drying after having been carefully removed and stacked, with all treated wood and plastic pulled and as little dirt and organic material left clinging to the vines as possible.
This is all in an effort by Napa's grape growers and vineyard managers to minimize the amount of smoke the piles let off when they are finally burned.
That is, if the grape growers and vineyard managers are doing it right, according to guidelines for smokeless burns being promoted by Napa County and the local grape growing industry.
Because, smokeless burn advocates contend, when the guidelines are neglected, scenes occur like the one in Yountville on the windy morning of Monday, Dec. 4.
As a burn took place northeast of town off of Yountville Cross Road, smoke began to waft into nearby residential areas carried by the day's high winds, Town Manager Steven Rogers recounted. "Our switchboards were just lit up that morning," he said.
"Especially coming off of the fires," Rogers said, "we just felt that that showed an incredible level of insensitivity on the part of the ag producer."
Jurisdiction over agricultural burning lies not with the town, the county or the grape growing industry, but is instead vested in the Bay Area Air Quality Management District, which dictates the dates of the burn season, determines which days are suitable for burns to take place and potentially issues citations for burns that create a nuisance.
Yet county officials and industry authorities are still taking what steps they can to ensure other smoky burns are prevented, urging extra caution and emphasizing the need for smokeless burns, particularly in the wake of the wildfires that ravaged the region in October.
For several years, the Napa Valley Grapegrowers have been at the forefront of industry outreach with its Vineyard Burning Task Force, distributing a six-step guide to smokeless burning, drafted in both Spanish and English.
Steve Moulds, owner of Moulds Family Vineyards and a member of the Napa Valley Grapegrowers, carries brochures of the six steps with him as he drives throughout the valley and stops to hand them out wherever he sees piles being assembled.
"We'd be very happy to come and talk to them, talk to their employees about how relatively easy it is to do a smokeless burn," he said.
"It's so critical to our industry that people be responsible. It's just a matter of time before somebody's going to get sick of somebody abusing the right and not understanding the need for it in certain situations."
The steps call for early planning of vine removal, clearing the vineyards of everything not suitable for burning and mowing down cover crops between rows. If possible, dirt in the vineyard should be dry and should be knocked off of vines that have been pulled. Once pulled, vines should be dried for at least a week before being piled. The guidelines recommend tarps be placed over the finished piles, protecting them from rain and other moisture as they dry for at least 60 days. When being burned, the dried piles should be lit from the top and be allowed to burn without the use of accelerants.
Of vineyard removal and subsequent burns that are carried out following the prescribed steps, Napa County Ag Commissioner Greg Clark said, "If it's done well you can't tell it's burning. You just can't tell."
Working in tandem with the Grapegrowers, Clark's office helped to draft the guidelines for smokeless burning and is also attempting now to spread the word.
For the first time this year, staff from the office has taken to identifying the piles of vineyard debris waiting to be burned throughout the county and determining who is managing the property. If possible, the office will then reach out, providing links to the Grapegrowers' steps for smokeless burning.
"So we're trying to facilitate that education of information and to encourage people to consider alternatives to burning," said Clark.
In a Dec. 6 memo to the county's agriculture industry, Clark also pointed out that while the Bay Area Air Quality Management District may allow for an open burn on a certain day, those wishing to burn should first determine if conditions such as wind speed and direction, as well as potential inversion layers, will indeed make for a burn with as little impact on air quality as possible, or if burning should still be avoided.
"Just because it's a burn day doesn't make it a good day to burn," he said.
Moulds noted the Grapegrowers are also pursuing alternatives to burning, such as chipping and grinding, but added, "That isn't necessarily the greenest thing to do either, because it puts pollutants in the air."
For now, as piles throughout the county continue to dry and more growers prepare to burn during the allotted season, which goes until the end of April, Rogers said he hopes residents will receive more consideration from the industry surrounding them.
"We don't get advised of when there is a burn going on around our community," he said. "So I think we would encourage the industry to review and see what is the most sustainable practice, and if it's going to continue to involve burning, then there probably needs to be some type of notification process to the community."
"There is certainly reaching a point where common sense needs to prevail."