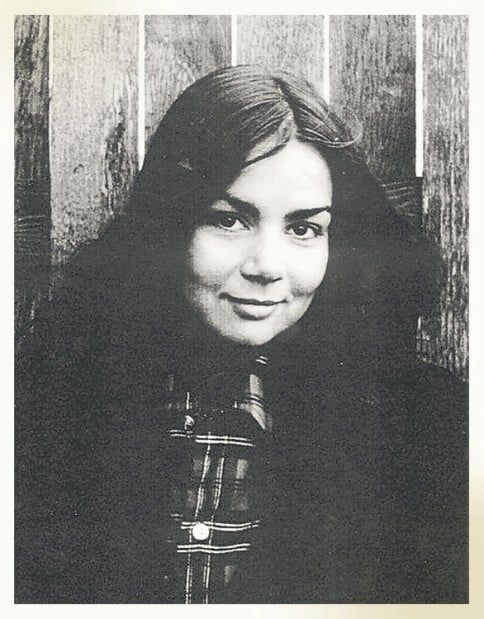 Anita Andrews never knew Michele Wallace.
But these two strangers in life may have had a killer in common. 
Roy Melanson, 73, is in prison for killing Wallace in Colorado in August of 1974, nearly two months after Andrews was killed in Fagiani's Cocktail Lounge in Napa.
Investigators recently connected Melanson to Andrews' slaying using DNA evidence, though he has not been charged in her death.
If investigators' theory proves correct, the two cases are intrinsically linked.
Had Melanson been arrested in the days following Andrews' death, he likely would not have been free to kill Wallace.
Had Melanson never been convicted of Wallace's murder, he wouldn't now be a suspect in Andrews' death.
Had Texas authorities not released him early from prison on a rape conviction, he would have been behind bars in 1974, when both women died.
Melanson has also been tied to the 1988 disappearance of a Texas woman in a case that remains unsolved.
Kathy Ireland, a lead investigator in the Wallace case, said, "My gut feeling is there are others, but I don't have proof."
Wallace was a 25-year-old freelance photographer who came to Gunnison, Colo., in the summer of 1974 to photograph the Rocky Mountains.
She worked as a temp on a road construction flag crew and spent her free time in the mountains.
Black-and-white pictures show a pretty girl with large, dark, almond-shaped eyes and dark hair.
In late August, she told her parents she was going on a backpacking trip with her dog, Oakie, in the mountains above Crested Butte. She parked her car in a small, seasonal encampment called Gothic and roamed into Schofield Park.
On her way back to her car on Aug. 30, 1974, two men drove by, stopping to ask her if she wanted a ride. She declined.
As she continued on, she found the two men with their car broken down. Noting that her car was down the road, she offered them a ride to Gunnison, about 35 miles away.
Melanson, who introduced himself as "Roy," sat in the front. His travel companion, Chuck Matthews, sat in back with Oakie.
Wallace dropped Matthews off at a bar in Gunnison. Melanson hesitated, instead asking Wallace to take him to his vehicle.
Matthews thought it strange, he later told investigators, since he knew Melanson didn't have a vehicle.
That was the last time anyone saw Wallace.
Wallace's parents reported her missing after she failed to make her weekly Sunday phone call. Police launched a large-scale search for the young woman but came back empty handed. 
The radio buzzed with news of Wallace's disappearance.
Matthews heard a report on the radio and recalled his trip with her and "Roy," who he had met previously in a bar. He called police.
On Sept. 12, police caught up with Melanson in Pueblo, Colo., when someone reported two men in a white Cadillac loitering at a high school.
Pueblo police confronted the men, but the police computer system was down at the time and they could not check for warrants or background information. The men were released.
After the system came back up, police realized Melanson was wanted in Texas.
They tracked down the men at a Pueblo motel. In the white Cadillac, they found the registration papers to Wallace's car and pawn slips for several items, including her camera.
The Gunnison County Sheriff's Office took Melanson into custody.
Investigators found the camera and a roll of film. Most of the pictures were scenic images from Wallace's backpacking trip. But the last shot showed Melanson lounging on a couch next to a young girl.
In the two weeks between the day Wallace went missing and police nabbed Melanson in Pueblo, he had traveled from Gunnison to Pueblo; and to Kansas, Iowa, Elk City, Okla., Amarillo, Texas, then back to Pueblo.
Two weeks after Wallace went missing, Wallace's mother committed suicide. She left a note asking her husband, George Wallace, to bury Michele Wallace next to her if she was ever found.
The Gunnison Sheriff's Office held Melanson until April 1975 on a separate theft charge, but they were unable to find Wallace's body.
"The thought was that we don't have a body, we don't necessarily have a crime," Ireland, who took over the investigation later, said.
Melanson was wanted for a rape in Texas, so Colorado released him to Texas officials, hoping the Texas crime would keep him in prison long enough for them to make headway in the Wallace case.
On a logging road near Kebler Pass, Colo., on July 26, 1979, a hiker came across a head of hair in two long brown braids. Wallace was known to wear her hair in two braids. 
The discovery sparked another search, this time in the area where the hair was found, but searchers found nothing.
When Melanson walked out of a Texas prison in 1988, Wallace's body was still unaccounted for.
Kathy Ireland, then Kathy Young, had just started in investigations at the Gunnison County Sheriff's Office in 1988 when she was assigned to the Wallace case. 
She investigated it over several years, piecing the evidence back together and tracking down witnesses.
"The more you turn over the more you want to dig," she said.
As she and others from the department sorted through the evidence, they found a hair brush that Undersheriff Steve Fry had tucked away in 1974. Strands of Wallace's hair still were caught in the bristles.
A forensic laboratory matched the hair from the brush to that in the braids, she said.
By 1992, Melanson was in jail in Kentucky on a burglary conviction. Ireland went to confront him on the murder charge. He denied it.
A retired laboratory agent with the Colorado Bureau of Investigations who looked at the braids pointed Ireland to an organization he called the "pig people." NecroSearch International, the official title, is a collection of law enforcement agents and scientists who volunteer to help police agencies find human remains.
Ireland was skeptical of their ability to find Wallace, given the remoteness of the area and the time that had passed. But she wanted to show a jury and Wallace's family that they had done everything possible. 
"I really felt it was a needle in the haystack," she said. "I mean, we're talking 18 years later."
In August 1992, the group gathered in the area near where the hair was found and combed methodically through the forest in lines, sometimes on their hands and knees.
On the second day of the search, Cecilia Travis, one of the NecroSearch team members, wandered downhill off the road to use the bathroom. She was on her way back up to the team when she spotted a glint of light from an object on the ground.
When she got closer, she realized it was a gold tooth in what appeared to be a human skull, Ireland said. Travis alerted the team, who set up a grid system — basically an archeological dig — around the area.
Scattered at the base of a tree directly up the hill from the skull, they found two femurs, several vertebrae, part of a pelvis, other bones and a hiking boot with the bones of a foot in it.
A forensic odontologist confirmed that Wallace's dental records matched the skull.
Looking back, Ireland noted that the body wasn't buried. Although the area is remote, hunters frequent it.
"You wonder why it wasn't found earlier, but it's just how nature took its course," she said.
After working so hard to build a case against Melanson, prosecutors already had charged Melanson without a body. But the bones were the missing piece to the puzzle, and made their case that much stronger.
Ireland said the Wallace murder was the only cold case at the time in Gunnison County, which even today is home to only 15,000 people. 
Melanson's trial gathered the largest jury pool in the history of the county.
It lasted 30 days, said Wyatt Angelo, who prosecuted the case.
One key player was conspicuously missing. Melanson refused to come to the courtroom, in protest of stun belts the county used for high-risk inmates.
The court strung a live telephone line between the courtroom and Melanson's cell so he could speak with his attorney when he had a question.
Melanson's absence added a rare challenge for the prosecution, Angelo said.
"You couldn't give a jury a physical impression of the man and what his physical abilities were," he said.
It also meant the jury couldn't observe Melanson's reactions throughout the trial, Angelo said.
Prosecutors arranged Wallace's bones in several cases draped in black cloth, which they revealed as the trial proceeded.
Having Wallace's remains helped them prove that she was dead, but it also raised other questions prosecutors couldn't answer.
Nothing about her remains hinted at a cause of death, Angelo said. The prosecution also lacked DNA evidence.
"One thing that was fairly certain was that her body had been disposed of, because it was an area that wasn't even close to where she'd been hiking," he said. 
A judge allowed the prosecution to take jurors to the scene, where they saw how her body had been dumped over the side of the hill, he said.
Chuck Matthews, who had been in the car with Melanson and Wallace 18 years earlier, also gave a believable testimony, he said.
"The rest of it was kind of a crap shoot, how (the jury) viewed this guy, the person they couldn't see," he said.
In the end, it was investigators' persistent, methodical work from 1974 forward that secured a conviction, he said.
It was gratifying to see the jury come back with a guilty verdict, he said.  But success was bittersweet.
"You're really trying a case of a disappearance of a very promising young woman, so there's a sadness about it  as well," Angelo said. "The trade-off is not good. You're not getting back what you lost."
Later, George Wallace buried his daughter's remains in the same grave as his wife's, Ireland said. He held her funeral on her birthday in the mid '90s.
Ireland went, and was amazed at the number of high school classmates and other friends who were there.
"You have this illusion sometimes: Oh I'm doing the right thing. It matters to everybody," she said. "They proved me right ... It mattered to these people."
Be the first to know
Get local news delivered to your inbox!