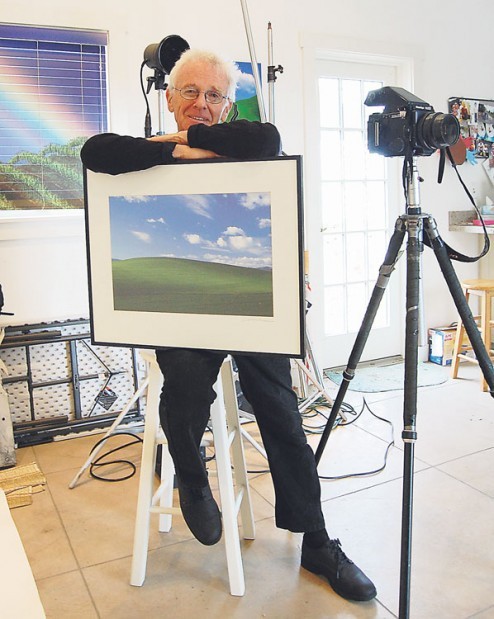 Microsoft calls it Bliss, and since 2002 it's been the first thing most people see when they boot up their personal computers, no matter where in the world they may be.
The scene of vibrant green hills and a brilliant sky punctuated by wispy, intensely white clouds is what fills the desktop screen of the Windows XP computer operating system. It seems like a pastoral impossibility and there are those who believe it's a visual fib — digitally enhanced or otherwise tinkered with.
But photographer Chuck O'Rear can vouch for its authenticity.
After all, it was his professional eye that first caught the striking scene as he motored through Napa and Sonoma counties to Marin one winter day. It was his decision to pull over to the shoulder of Highway 121 and slip his medium format camera through the wire fence; his hand that selected the ISO and f-stop settings and activated the shutter.
And years later it's his delight when he comes across the photograph in the most unlikely places.
"We were in Thailand a couple of years ago, walking in this little village looking for a place to eat," O'Rear said, "and there it was in a window."
He saw it again in the background of a televised interview with the president of Venezuela and another time during an interview at the White House. Last week there it was once more, just visible over the shoulder of a doctor featured on a public television program.
The photo has a Wikipedia site all its own and appears on several Web sites listing the most popular photos of the past decade.
Bloggers have speculated about the photograph's possible locations — France, England, Switzerland, the North Otago region of New Zealand, southeastern Washington, South West Kerry in Ireland are all contenders — and some have made acerbic observations on how the photo should have been cropped and whether the sky is from a different picture.
At one point even the engineers at Microsoft thought the photo had been digitally manipulated.
Water off a duck's back as far as this photographer is concerned.
O'Rear said he received one of the largest amounts ever paid to a living, working photographer.
A nondisclosure agreement prevents him from naming the actual figure. He says only that it was "extraordinary" and second only to that paid to another living, working photographer for the photo of then-President Bill Clinton hugging Monica Lewinsky.
Even more mind-boggling, O'Rear said, is his calculation of the numbers of people who have seen his photograph (actually Microsoft's, the company owns it outright).
The number? Billions. He says it so easily. His assertion is based on the estimated number of personal computers, more than 1 billion this year according to published forecasts by Forrester Research. Of these, an overwhelming percentage are PCs that come with the Microsoft program already installed.
"I'm sure in the Kremlin the computers have this photo," he joked, "They use Microsoft programs. I think every corner of the globe, every culture, every country, has been exposed to it."
All this hoopla for the product of happenstance.
The irony isn't lost on the St. Helena-based photographer who spent 25 years traveling the world for National Geographic, the man who has photographed in 30 countries and every state in the U.S., and who has nine books of classic wine photography to his credit, including his best-selling "Napa Valley, the Land, the Wine, the People" and the comprehensive "Wine Across America" written by his wife, Daphne Larkin, in 2007.
O'Rear first got his hands on a camera, the Brownie box variety, when he was 10 years old and growing up in Butler, Missouri.
In those days he dreamed of flying airplanes. By 16 he had earned his pilot's license but he was also a sports reporter for the Butler Daily Democrat. There was even a stint as a reporter/photographer for the Kansas City Star before he flew off to California to be a staff photographer for the Los Angeles Times. Shooting Hollywood stars soon lost its allure and a few years later, after knocking on a variety of doors, National Geographic sent him to Alaska on his first assignment — documenting the lives of a village of Russians who called themselves Old Believers. Those were the days when the magazine could afford to bankroll long assignments. In the 1980s O'Rear spent the equivalent of a year photographing in Indonesia.
"I took 500 rolls of film" he recalled as he chatted with a visitor in his St. Helena studio.
"Only 15,000 photos," he added and laughed. "They probably ran 25 with the story. A terrible average when you think about it."
But even as O'Rear and Larkin get back to work on a new Napa Valley book, his thoughts are caught up with the magnitude of the number of viewers which, he admits, no one can confirm or deny.
"Photographers like to become famous for pictures they created," he said. "I didn't 'create' this. I just happened to be there at the right moment and documented it. If you are Ansel Adams and you take a particular picture of Half Dome and want the light a certain way, you manipulate the light. He was famous for going into the dark room and burning and dodging. Well, this is none of that."
But times are changing. The rolling hills are now planted in grapevines and Microsoft has come out with a new program, Windows 7, which has its own distinctive wallpaper.
"I sure would have liked to have sold them another photo," O'Rear said in a wistful tone. "But I think this is one that will be recognized by more people on the planet than any other photograph. People may still remember it when I'm dead and gone. It will probably be mentioned in my obituary."