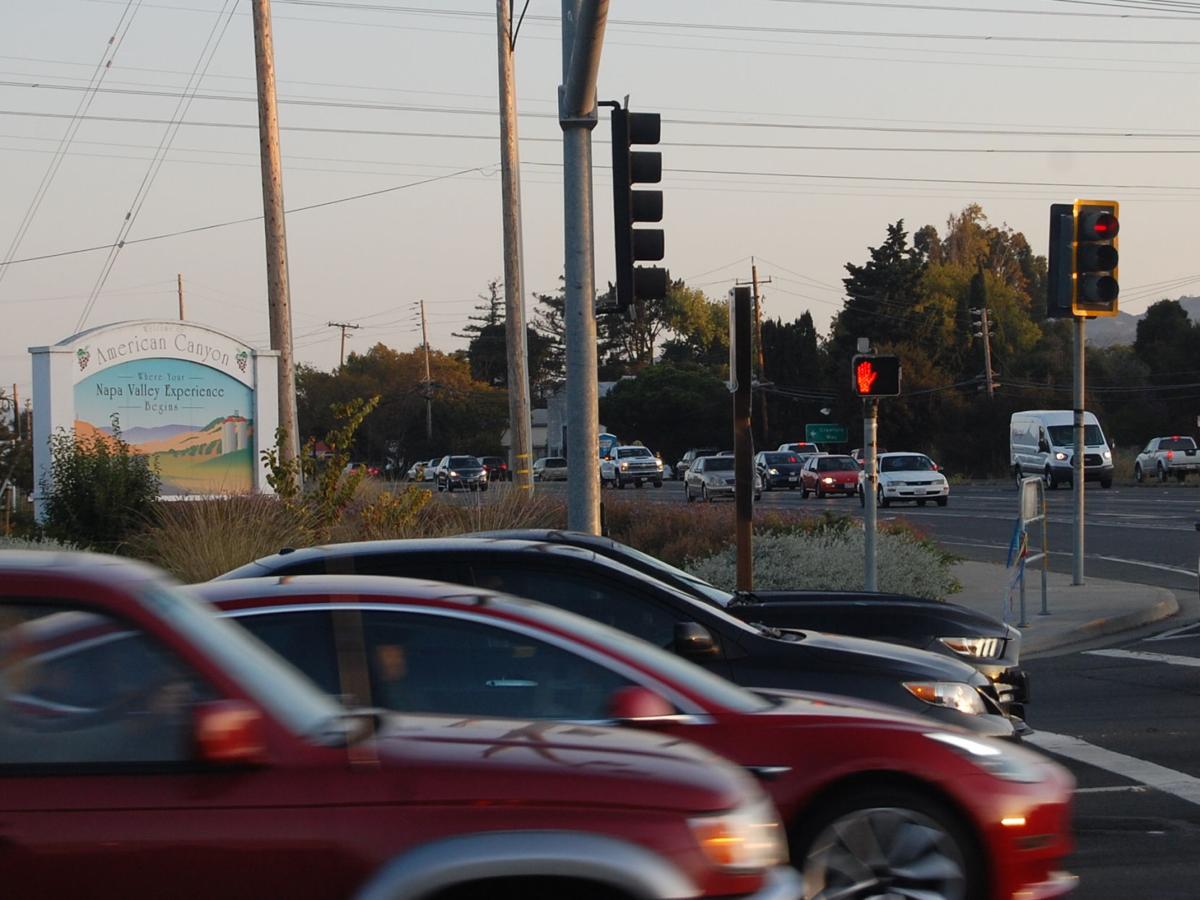 American Canyon is trying to keep its Highway 29 of the future from becoming an irrevocably entrenched Anywhere, USA blur of strip malls, parking lots and clashing architecture.
"That is the front door to our city," city Community Development Director Brent Cooper said.
It's also a front door/first impression for Napa County. A sign in American Canyon along Highway 29 depicts vineyards and pristine hillsides and proclaims, "Where your Napa Valley experience begins."
Support local news coverage and the people who report it by subscribing to the Napa Valley Register. Special offer: $1 for your first 6 months!
The city's Highway 29 vision is a walkable, bikeable mix of businesses and multi-family homes with a pleasing, compatible look. The raw material is the current 3-mile-long mishmash of newer shopping centers, weedy vacant lots and aging buildings.
A moratorium on new gas station applications is already in place. What more if anything, city staff wants to know, should be done to help shape the future of the thoroughfare?
The public gave advice during a July 29 study session by the City Council and Planning Commission.
"I'm just frustrated with the non-movement on the 29 corridor," said resident Melissa Mattina, who has lived in the city for 45 years. "I would really like to see no more gas stations, no more hotels and no more fast food."
Maybe the area needs a steakhouse. And something for 20-to-30 year olds to do, she told city planners.
Resident Barry Christian said he doesn't see any more sidewalk along Highway 29 today than he did 30 years ago, except around Walmart. He wants people to feel safe walking to highway businesses.
"Can we just start somewhere?" Christian asked the council and commission. "Can we do 10 feet, 20 feet?"
Frank Capolo said he and his wife moved to American Canyon two years ago and love it there. The least attractive thing about the city is Highway 29 — but he sees potential.
He doesn't want more gas stations and fast food restaurants. Rather, he wants more sit-down restaurants, sidewalks and green spaces.
"I think that 29 should be looked at as something really special," Capolo said. "It's the spine of this town."
Local developer Rick Hess noted the city has a preliminary application for Burger King on Highway 29 at the southeast corner of Donaldson Way. This is a narrow, long property that he saw as having limited development potential.
"We have to be realistic when we look at the types of businesses and where they go," Hess said. "I think a fast food on that corner is probably the appropriate use."
 Ross Hillesheim of California Capital Group shared his experience. He found businesses wanting to come to the city focused more on the 50,000 vehicles traveling Highway 29 daily than the 20,000 residents.
For that to change, American Canyon should consider its population. It should focus on how big it wants to grow and with what kind of demographics, he said.
"Then that might possibly drive other kinds of uses or businesses that you might like," Hillesheim said.
The City Council and Planning Commission, which will approve future projects, had plenty of ideas, too.
Vice Mayor Mark Joseph focused on the what he called the "premium corners," those signalized intersections he said are the best locations for economic development.
"It isn't so much I'm against fast food and drive-throughs as I want to save those very limited premium sites for better uses," Joseph said.
He also suggested working with Walmart to see if the vast parking lot there might have room for more commercial buildings.
"A sea of parking spaces is nowhere near as appealing as a retail building pad or two that breaks that up," Joseph said.
City Councilmember Pierre Washington said he doesn't want to see cannabis businesses along the highway.
"I know that's a big can of worms for some folks," he said.
Planning Commissioner Tammy Wong mentioned climate change. She expressed concern about having more drive-through restaurants because of car idling, though she added drive-throughs might be appropriate at pharmacies.
"I'm not in favor of having more gas stations," Planning Commissioner Crystal Mallare said. "I'm not in favor of having numerous hotels in American Canyon. We're small."
At the end of the session, the City Council and Planning Commission seemed to agree American Canyon should focus on what it wants to see along Highway 29, instead of what it doesn't want to see.
City Manager Jason Holley gave his interpretation of that direction. The city shouldn't automatically reject applications for certain types of development, such as fast food. Rather, it should review them on a case-by-case basis.
The exception — for now — are new gas stations subject to an interim moratorium.
Catch up on Napa County's top news stories
Get unlimited digital access to the Napa Valley Register for just $1 for your first 3 months! Enjoy every article without restrictions and find tons of subscriber-only perks, such as access to our daily eEdition. Click here for details!