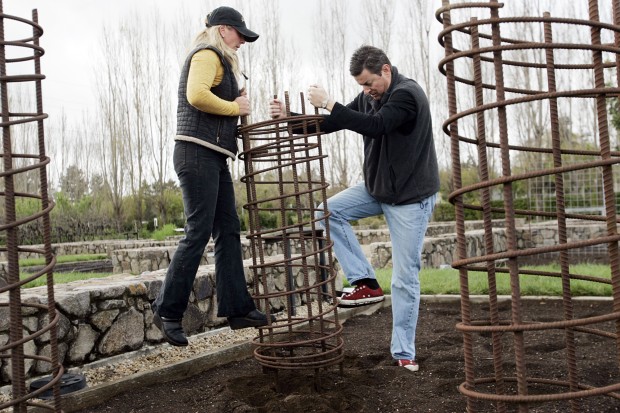 Something is growing at the former Copia site, and it's going to taste good when it's done. 
Over the past couple weeks, a group of local chefs have tamed the weedy jungle growing in the one-time Copia culinary garden. The chefs are planting a restaurant garden co-op.
The garden plots were previously used as a kitchen garden for Copia restaurant Julia's Kitchen. But when Copia closed, the only thing the plots grew were weeds.  
Cassandra Walker, the city's economic development director, helped facilitate the agreement with current Copia property owner, ACA Financial Guaranty Corporation. "Everyone loved the (Copia) gardens. It seemed a shame they would just sit when they could be used. It was a logical interim use," Walker said.
Walker first approached La Toque chef Ken Frank, who jumped at the idea. Frank's restaurant at the Westin Verasa is walking distance from Copia. The chef then contacted other local restaurants to gauge their interest. The garden co-op now includes chefs from Hog Island Oyster Company, Zuzu, Angele, Restaurant Pearl and C Casa Taqueria, which is opening in the Oxbow Public Market.
The legal agreement to use the land took about five months to work out,  Frank said. Each kitchen will maintain its own individual organic garden plot, including all labor and supplies. Because the land is not open to the public, the gardeners have insurance and must wear identification while working on the property. 
Napa Recycling and Waste Services and ACA donated compost to help refurbish the plots. ACA also gave the gardeners access to Copia's seed library. 
Except for the overgrown vegetation, Frank is thrilled with the soil and irrigation systems within the plots. "It's a beautiful resource," Frank said.  
The chef and his wife, Sherylle Frank, are busy planning their garden crop. Using a diagram and list of vegetables, the two visited the La Toque plots this week. "We've already invested hundreds of man hours in the garden," he said. 
The chefs are also helping trim trees and prune vines on the property, he said. "Either you're all in or you're not," he said. "We need to get this place cleaned up."  
Anne Ledvina and Mary Baracco of Napa walked by the former Copia gardens as the Franks worked. Both women were excited to see the kitchen garden being revived. A gardener herself, "It was sad seeing the gardens deteriorate," Baracco said. 
"We've been bummed about the gardens not being used," Ledvina added. "I guess this means I can't sneak in and get lemons anymore," she said with a laugh. 
Art Ferretti, Copia's former director of operations, also stopped by to see the progress. "I can't tell you how happy I am to see things planted in the gardens again."