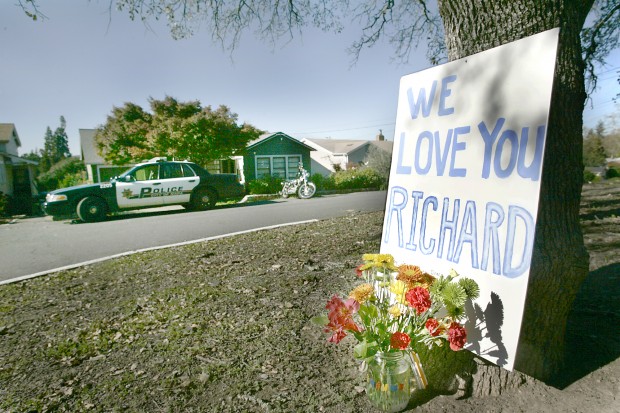 On Monday morning, Peyton and Debbi Fatherree walked to the intersection of Meek Avenue and East Spring Street where their 60-year-old neighbor was killed in a confrontation with police Sunday afternoon in front of his Alta Heights home.
The Fatherrees carried a memorial sign that read "We love you Richard" in bright blue letters. They leaned the sign and a vase of citrus-colored daisies against the oak tree that shades the spot where neighbors say the victim's body remained until 3 a.m. Monday.
The Napa County Coroner identified the victim Monday as Richard Steven Poccia, a psychiatric nurse who worked at hospitals throughout the Bay Area, including San Francisco General Hospital.
The Fatherrees remembered Poccia as an energetic man, a practitioner of Eastern medicine and a lover of 1960s rock bands. He railed against violence in the world, yet kept many pistols in his home, neighbors said.
Other neighbors continued to grieve Poccia's death Monday. They congregated at the median where the shooting took place to piece together Sunday's events and reflect on Poccia's life.
"Richard was the friendliest person," said Peyton Fatherree, who lives across from Poccia's home. "I'm so heartsick our friend was killed when he needed help."
The victim's wife had called police for assistance at about 3 p.m., police said. Her husband was described as "possibly suicidal," they said.
When officers arrived, they asked to speak with Poccia outside his house, 1405 Meek Ave., near East Spring Street.
When Poccia exited his home, he got into a confrontation with four officers at 3:16 p.m., according to Napa Police Commander Steve Potter who declined to reveal the nature of the argument.
One officer Tasered the man and another shot him, Potter said. Poccia died at the intersection before Napa Fire Department medics arrived at the scene, he said.
Police declined to say what prompted the officer to fire his weapon.
Neighbor Michael Tambornini, 306 E. Berna Ave., said he saw an officer fire a rifle 25 feet from Poccia. Tambornini was standing outside and able to see Poccia up until the moment he was shot, when an oleander bush obstructed his view, he said.
The shooting is being investigated by the Napa County Sheriff's Office in keeping with the local protocol for officer-involving shootings, Napa Police Capt. Jeff Troendly said.
The shooting victim had been "going through turmoil in life," Potter said. Police were trying "to get him to a point where we could get him some help," he said.
On June 17, the California Board of Registered Nursing filed charges against Poccia on suspicion of ordering drugs such as morphine without accounting for their use, according to state Attorney General court documents. 
Poccia had been a licensed nurse since 1986. The board would have had the power to revoke his license if he had been found guilty. Poccia's nursing license status was still active at the time of his death, according to the board's verification website.
All day Sunday, Poccia had been despondent, said Prentice Steffen, who identified himself as a neighbor and friend. Poccia had been on disability for Post-Traumatic Stress Disorder induced from his years working as a nurse, he said.
According to June 17 court documents, Poccia could have been disciplined for stating he was on PTSD disability and saying "that he should not be working as a nurse."
"He saw a lot of bad things working in psych emergency," Steffen said. "I was with him 20 minutes (Sunday). He was paranoid and not of the right mind."
Poccia also kept many pistols in his house and was trained in martial arts, Steffen said.
Fatherree, the neighbor with the memorial sign, was upset that he didn't see mental health experts on the scene Sunday. "More guns were not the answer to this problem," he said.
Fatherree, his wife and their next-door neighbor, Bill Snorf, also reminisced about their neighbor's infectious enthusiasm. They remembered the martial-arts themed TV pilot that Poccia wrote and filmed in front of his home about six months ago with a crew ranging from kids to twentysomethings to fellow 60-year-olds, they said.
"He was one of those people who seemed like he had so much energy and interest," Debbi Fatherree said.
Poccia had also been a practitioner of alternative and Eastern medicine, Snorf said. He taught Tai Chi and sports therapy classes to businesses, hospitals and other community groups, according to Poccia's website, beyondanonymous.com.
The Fatherrees moved into the neighborhood nearly a year ago. Poccia would often chat with Peyton Fatherree as he worked in his yard. "He didn't do yard work, but he liked to talk to me when I did it," Fatherree remembered with a smile.
They also covered classic rock tunes together by The Who and the Grateful Dead with Poccia on bass and Fatherree on guitar. In the 1960s, he was part of the rock music scene in New York City.
But at times, Poccia seemed "overly worried," Fatherree said.
"He seemed like, 'What's the world coming to?'" he said. Poccia used to rail against "violence, senselessness, war."
But Poccia was often most concerned about the world just outside his door, Fatherree said.
"Richard was really concerned about safety in the neighborhood," he said. "He really valued how peaceful this place was."
When Steffen heard what had happened to his friend, he called up coworkers from the hospitals where Poccia had worked.
"He was well loved," Steffen said. "He made a real contribution working as a nurse."
Poccia was known to friends as "Rich" or "Richie," Steffen said.
"He was a real character," Steffen said.
The four officers on the scene have been put on administrative leave with pay and will receive counseling until they are deemed physically and mentally ready for work, Troendly said.
The shooting officer's name should be released within a week, Troendly said.
The police will not reveal the weapon used yet and the reason why the officer fired until the Napa County Sheriff's Office finishes its investigation, said Napa County Sheriff's Capt. Tracey Stuart.
More information should be released Tuesday by the Sheriff's Office, Stuart said.