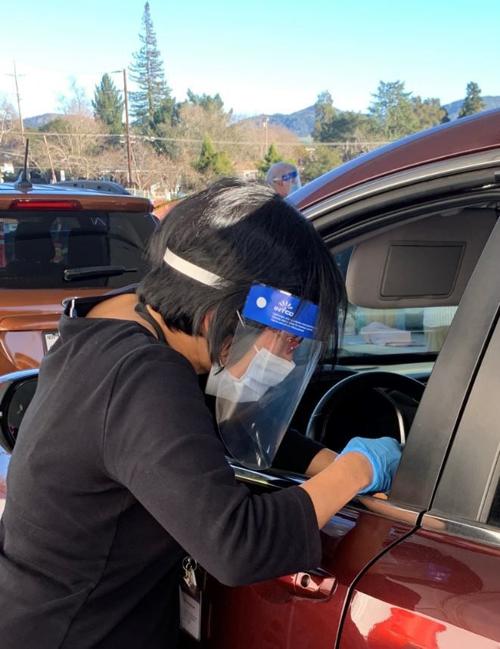 It was, arguably, some of the only good news 2020 had to offer: the successful creation of not one but two effective coronavirus vaccines. In late December, Napa County received its first doses of the Pfizer vaccine, which were promptly distributed to the county's frontline health care workers, as well as residents and staff of the county's skilled nursing facilities.
Still, the ongoing vaccine distribution in Napa County has been made complicated by the still-limited availability of the vaccine itself. Though California has directed counties to prioritize residents ages 65 years and older, supply shortages have so far thwarted mass vaccination of eligible populations - including, for example, workers in the food, agricultural, education or childcare sectors.
Public health officials have asked for patience from the public and said they hesitantly expect to be able to vaccinate in mass capacity by the summertime. 
Wondering when you might be eligible to receive a vaccine? We've got the answers – read on.
This page will be updated as the distribution progresses and more information is made available. Check back for updates.
What stage of the vaccination process is Napa County currently in?
Napa County working through Phase 1a, tiers 1-3, and Phase 1b, tier 1, of vaccination distribution, according to the county website, but county officials have emphasized that real-time distribution will depend heavily on the county's vaccine supply as it is made available by state and federal officials. Early February shortages temporarily paused the administration of first doses in the county; officials confirmed in early February they woud have adequate vaccine supply to provide second doses to previous first dose recipients.
Not all of the groups made eligible by these phases and tiers have yet received the vaccine, the product of significant dose supply shortages. When available, vaccine supply is being prioritized for members of Phase 1A but also Phase 1B, Tier 1 who are older than 65. 
Who is currently eligible to receive the vaccine in Napa County?
The county had hoped to begin mass vaccinations of residents above the age of 65 in late January; supply shortages have stopped that effort in its tracks. As of Feb 2, the county is unable to administer additional first doses to residents because of the lack of supply currently available.
Phase 1a, tier 1 makes eligible staff at acute care, psychiatric and correctional facility hospitals; staff and residents of skilled nursing or assisted living facilities (or similar care settings for older or medically vulnerable adults); paramedics, EMTs and other emergency medical service providers; and staff at dialysis centers. Phase 1a, tier 1 began in late December.
Phase 1a, tier 2 makes eligible staff at intermediate care facilities (for persons who need non-continuous care); individuals providing professional home health care and in-home support services; community health workers; public health field staff; and staff at primary care clinics.
Phase 1a, tier 3 makes eligible health care workers at specialty clinics, including cardiologists, urologists, physical and occupational therapists, optometrists, behavior health and chiropractors; laboratory workers; staff at dental and other oral health clinics; and pharmacy staff not already made eligible.
Phase 1b, tier 1 makes eligible persons 65 and older, and essential workers in childcare, education, emergency services and food and agriculture. County officials say they have not yet been able to make significant progress through Phase 1b, tier 1 due to supply shortages. 
How can eligible persons sign up to receive the vaccine in Napa County?
County officials said Feb. 10 they would pivot to California's sign up system, MyTurn. Anyone who is age 75 and up who has not yet filled out the form is asked to do so before 5 p.m. on Friday, Feb. 12. The form can be found at https://myturn.ca.gov.
Napa County's vaccine interest form can be found by going to www.countyofnapa.org/2739/Coronavirus-COVID-19 and scrolling down. County officials as of Feb. 10 said they would ask those who had already filled out the county interest form to do so again on MyTurn.
People without access to email or a computer can call 707-253-4540 for county assistance in filling out Napa County's vaccine interest form.
Where/how can eligible persons expect to receive the vaccine in Napa County?
It depends, Upton said: some healthcare workers and first responders may receive their vaccinations through their employers. Residents of congregate living facilities – farmworker housing, assisted living and skilled nursing facilities, homeless shelters – can expect to receive them on-site. Another potentially viable option for an eligible individual is through a primary care provider, though accessibility depends on the healthcare network your provider belongs to, Upton said. Ultimately, the county has plans to open up a mass vaccination clinic, though this effort has not yet begun.
When can I expect to be vaccinated?
Napa County's website still says that Phase 1b, tier 2, is currently projected to begin in February, though county officials have repeatedly expressed concern supply shortages could derail that. Once it does commence, it will make eligible workers in the following sectors: transportation and logistics; industrial, commercial, residential housing and sheltering facilities and services; critical manufacturing; as well as individuals living in congregate settings with outbreak risk; the incarcerated; and persons experiencing homelessness.
Phase 1c is projected to begin between March and April of 2021. It will make eligible individuals between the ages of 50 and 64; individuals ages 16-49 who have an underlying health condition or disability which increases their risk of contracting a severe case of COVID-19; as well as essential workers in water and wastewater, defense, energy, chemical and hazardous materials, communications and IT, financial services, and government operations or community-based essential functions.
Phase 2 and Phase 3, for which there is currently no estimated timeline, will broaden eligibility to the general populace. County Public Health Officer Dr. Karen Relucio has said in previous interviews that residents under the age of 50 who are not essential workers and have no pre-existing health conditions should expect to be vaccinated come summertime.
Editor's note: Because of the health implications of the COVID-19 virus, this article is being made available free to subscribers and non-subscribers alike. If you'd like to join us in supporting the mission of local journalism, please visit napavalleyregister.com/members/join.
WATCH NOW: VACCINE ROLLOUT STRUGGLES AMID SURGE IN COVID-19 CASES
PHOTOS: DOWNTOWN ST. HELENA DURING CORONAVIRUS SHUTDOWN
Most-read police briefs on NapaValleyRegister.com
Here is a roundup of other police and fire reports in Napa County.