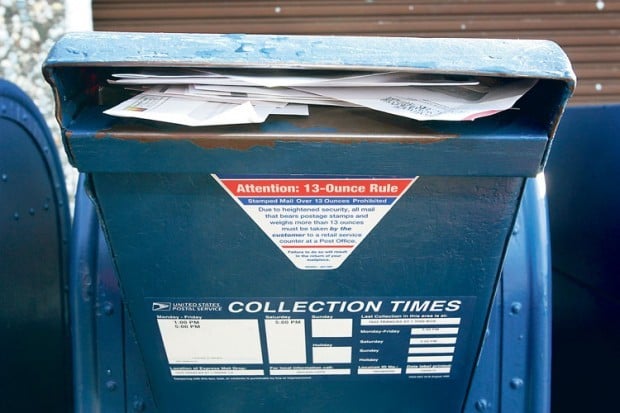 Habitually overflowing mailboxes at Napa's main post office have a Napa woman questioning how secure residents' mail really is.
Alarmed by envelopes frequently bulging from the Trancas Street post office's indoor and outdoor mail bins, Amberly Krupcznski of Napa said fears of potential mail pilfering and identity theft prompted her to dispatch several recent complaints.
"I can understand that people are human and they make mistakes, but when you go to the post office and mail is literally coming out of the bin, that's a problem," she said.
Krupcznski said she thought twice before dropping a $150 holiday gift card intended for her mother-in-law in one of the overflowing boxes weeks ago. Instead, she chose a different bin and complained to branch personnel. Even so, the envelope never made it to its destination, she said. 
When she complained, Krupcznski said employees told her the branch is understaffed and sometimes up to its ears in outgoing mail.
Krupcznski said she monitored the overstuffed boxes for months before filing one complaint at the post office branch and another by e-mail with the United States Postal Inspection Service, the post office's law enforcement branch.
She has also complained in person to local mail carriers in her central Napa neighborhood, she said.
"They're fully aware of it. My point is, if I'm giving mail to you, I expect it be secure," she said.
Napa Postmaster Hank Richards said he was aware of the problem. Customers noting packed mailboxes at Trancas' drive-up mail bins should bring their mail inside, he said.
Richards said mailboxes tend to overflow during the weeks before Christmas and at the end of weekends. There are no employees to empty the boxes on Sundays, he said.
When a Register photographer drove by the Trancas post office's drop-off boxes at around 10 a.m. Monday, two of three boxes were jammed with letters. Customers had stuffed them until they could hold no more.
When the problem was called to his attention Monday, Richards said that he will direct workers to start emptying the bins earlier in the day to avoid overflow issues.
Richards said he has not seen Krupczski's complaint and has not received any complaints from others about the overstuffed boxes. "If these customers have issues like that, I'm more than willing to talk to them," he said.
Richards estimated that Napa postal workers process between 40,000 and 50,000 pieces of mail daily.
In a brief letter to Krupcznski dated Jan. 3, the federal postal inspection service acknowledged her complaint, but did not offer details about potential remedies for the Trancas branch's mail glut.
Register efforts to reach inspection service officials Monday were unsuccessful. 
Richards said his staff is dedicated to emptying the bins often and protecting customers' mail against potential theft and identity fraud. His workers will now "check those boxes in the morning whenever we come in, first thing in the morning," he said.
Postal workers at the Trancas branch empty the site's six indoor and outdoor mail bins four or five times a day, except on Sunday when nobody is on staff, Richards said,
In spite of the holiday rush, overall mail volume is down, he said, citing digital communication and the economic downturn as the culprits.
Staffing, he said, is where it should be, with the Trancas branch employing about 125 workers — approximately two fewer than in early 2010.
Between 2009 and 2010, there were 110 identity theft cases reported in Napa, according to Napa Police Sgt. Chase Haag. Mail-based crimes represent only a small fraction of Napa's reported identity theft cases, which typically involve higher-tech, electronically-based methods, he said.