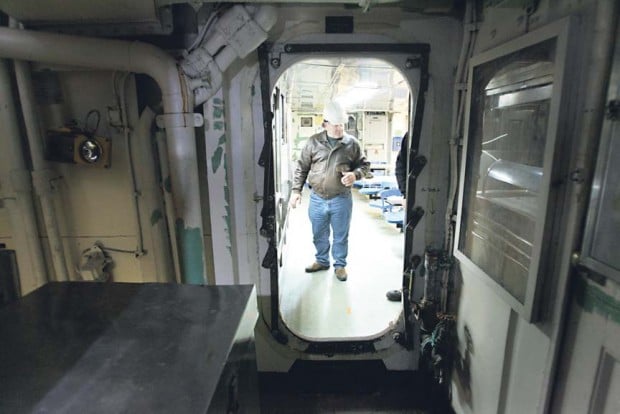 When America mobilized for World War II, so did Napa.
With a work force of 3,000 working three shifts, Basalt Rock Co. produced three-dozen oceangoing salvage-rescue tugs for war duty in the South Pacific.
The shipyard is long gone. A major housing development is being proposed for the site. The last of the tugs are on death row in Suisun Bay's reserve fleet.
With time running out, a man with a passion for Navy history is trying to save one of them, the USS Bolster, to become a floating Bay Area museum.
"She's a hometown girl," Bruce Martens said of Bolster's birth in 1944 on the banks of the Napa River.
Salvage-rescue tugs were never the Navy's glamour ships, but "they saved thousands of lives," Martens said. "Bolster's the last one."
USS Bolster, measuring 214 feet from bow to stern, was launched at Basalt Rock on Dec. 23, 1944. Napa war workers made her in only four months, Martens said.
After outfitting at Mare Island Naval Shipyard, Bolster was commissioned on May 1, 1945, just as World War II was ending.
Bolster did post-war duty in Japan and the Pacific, performing salvage and towing operations.
During the Korean and Vietnam wars, Bolster was in the thick of things, participating in the Inchon landing and clearing debris from the Mekong Delta.
To Martens, she is "battle star Bolster," having received an astonishing seven battle stars for the Korean War and another 11 campaign stars for Vietnam.
Many a warship has earned fewer battle ribbons than Bolster, whose meritorious service during wartime is unparalleled for a tug, he said.
The Navy retired Bolster in 1994. In 2003, Martens, who is a marine surveyor and tugboat captain, identified Bolster as the best candidate for his planned American Fleet Tug Museum.
She hadn't been modified significantly. She was in good running condition when she was put in the federal government's mothball fleet. Spare parts and a wealth of manuals and diagrams were stored below deck.
"Bolster is it. She's the only one that hasn't been modified and is in decent shape," Martens said.
About the time Martens began raising money to make Bolster a museum, Congress passed legislation ordering the disposal of the Navy's remaining World War II ships.
After two years of lobbying, Martens won Bolster a temporary reprieve last month. "They've put it on hold for us, but we have to get off our ass to make it happen," he said.
Meanwhile, two other made-in-Napa tugs, the USS Clamp and the USS Reclaimer, sit on Suisun's death row. They have been perforated with holes below deck in preparation for deep ocean sinking, he said.
Seeking publicity for his plans, Martens arranged a press visit last month to the Suisun Bay Reserve Fleet, where the USS Bolster bobs in the water.
She is shackled to the USS Hoga — a former Navy tug that performed valiant service on Dec. 7, 1941, when the Japanese attacked Pearl Harbor — and the USS Taluga, a rusting oil tanker that survived a kamikaze attack.
"Not a day goes by that I don't think of Bolster," Martens said. "The history here is mind-boggling."
Bolster was only the fourth Navy ship to be commanded by a woman. She helped put out ship fires, clear shipping channels, refloat ships that had run aground and participated in the Apollo 13 recovery.
In Navy terminology, Bolster was an ARS, an auxiliary rescue salvage ship. To those who served aboard her, ARS stood for "Always Ready Ship," Martens said.
Climbing aboard, Martens said not to be alarmed by rust on the deck. It's only cosmetic. Despite 15 years in mothballs, Bolster could be under power in short order, he said.
"I know all this stuff. I can get this ship operational in no time," he said. "I bet I have 15 engineers who used to be on this ship who will give us a hand."
Stepping inside, a visitor is hit with a whiff of strange air. "It's a ship smell. All ships have it," Martens said.
Martens worked his way through the ship, pointing out tight captain's quarters, the galley with a French fryer and a soup kettle, the radio room with disabled encryption machines, the engine room where four diesel engines totaling 3,200 horsepower stood at the ready.
He stepped over puddles of rainwater that hadn't been there when he last visited a year ago. And a heap of garbage that struck him as alarming.
The debris pile was a clear sign that the ship was being prepared for sinking before he won a reprieve, he said.
When he got to the file room, Martens let out a cry. "Oh my god, everything is gone," he said. "All these drawers were full of schematics. All the manuals. They have been stripped out."
The supply room was similarly empty. "They've gutted it," he said.
An employee of the U.S. Maritime Administration said not to worry. Everything removed from the ship is being stored on land, he said.
As Martens figures it, he needs to raise $100,000 to convince the federal government that his dream of a floating museum is credible. It would take $350,000 to $500,000 to make Bolster fully operational.
Martens would like to moor Bolster at Mare Island or Treasure Island, where the water is deep enough for a floating museum. Except at high tide, the Napa River is too shallow for Bolster, which draws 14 feet, he said.
As a publicity and fundraising vehicle, Martens has a Web site, www.americanfleettugmuseum.org, that celebrates Bolster's rich history. Sailors who once served aboard Bolster are encouraged to weigh in with their memories.
Sailors talk of retrieving the "black box" from a helicopter that went down in Vietnam's Haiphong harbor, delivering humanitarian aid to Ecuador, risking a court marshal when a tattoo became infected, and retrieving a disabled submarine in 15-foot swells.
Bolster served as a diving platform for salvage operations. It still has a functional recompression chamber, where divers stayed for hours to recover from the bends.
"It's our history. It's my history. It belongs to my grandchildren. It belongs to the people of Napa," Martens said.
"I have a business plan. All I need is the money," he said. "She's saved a lot of people. Now we want to save her."
<![CDATA[
]]>
<![CDATA[
]]>
Be the first to know
Get local news delivered to your inbox!