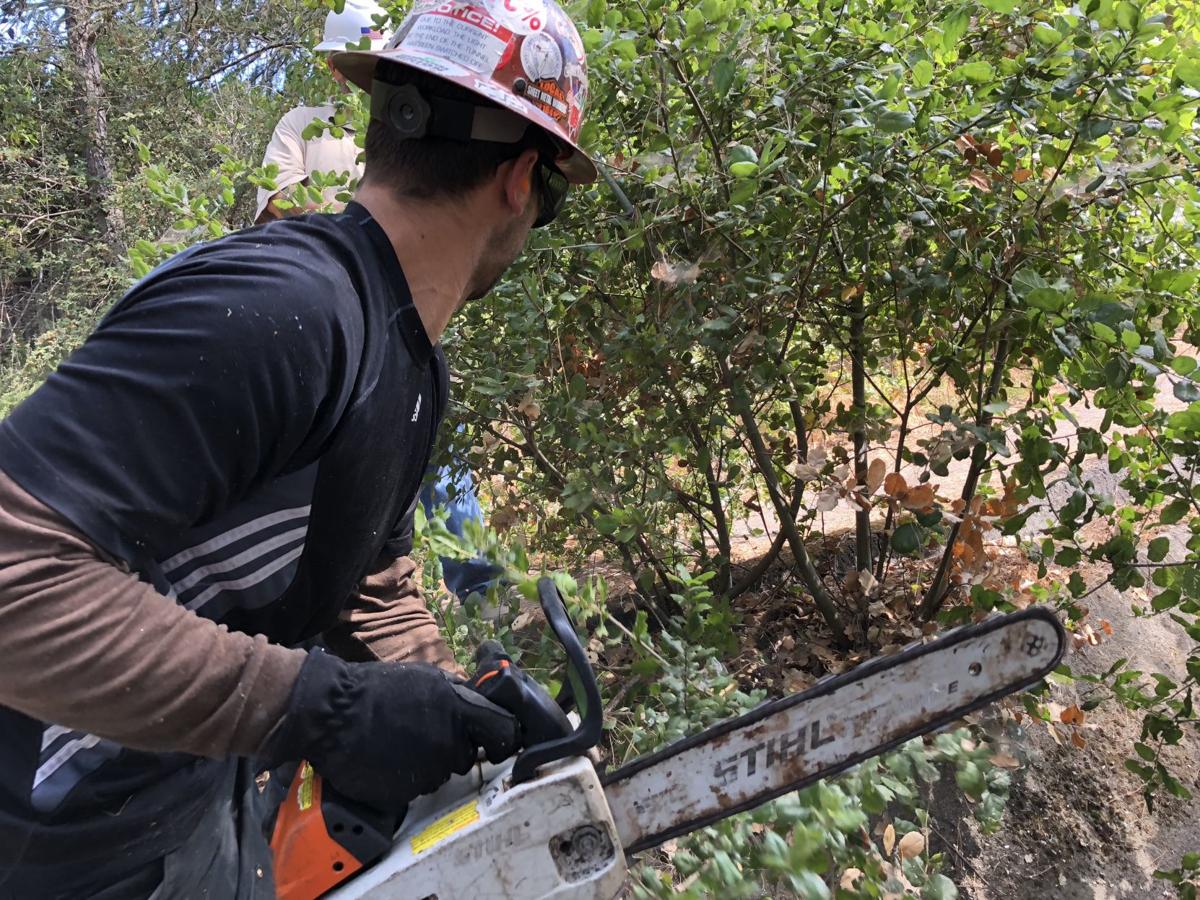 Rural residents may find themselves required to clear brush around their homes earlier in the year to meet the threat of a lengthening wildfire season.
Existing Napa County law says property owners must create defensible space of 100 feet around homes by June 1. The county is poised to make defensible space in rural areas a year-round requirement.
"With the changing weather and climate change, we recognize June 1 is too late," county Fire Chief Geoff Belyea said.
Napa County defines defensible space as a 100-foot radius around a structure or to the property line, whichever is less. Within that area, owners must clear, treat or reduce combustible vegetation and other prohibited materials to slow the spread of fire.
The county Board of Supervisors last week declared its intent to modify fire hazard abatement laws and guidelines created a decade ago. It will take a final vote at a future meeting.
Complying with a year-round defensible space requirement for combustible fuels doesn't mean property owners must clear out green grasses amid torrential mid-January rains.
Belyea told supervisors the modifications will give fire officials more flexibility in the face of more variable fire seasons. They might in some years require rural property owners to create defensible space for grasses by April 30, if grasses will dry out by then.
"So they're not having to be out there mowing in the muck and mire of winter," Supervisor Brad Wagenknecht said.
Belyea said he owned five acres, so he's sympathetic to the problems of creating defensible space during bad weather and rain. But rural homeowners year-round should do such things as keep tree limbs away from the roof or from within 10 feet of a chimney.
Also, they should year-round keep combustible materials such as old lumber from being piled up around the house, Belyea said. During a winter house fire, such piles could allow flames to extend outside the structure and threaten adjoining properties.
The ordinance changes would make clear that 100 feet of defensible space is a minimum. Additional clearing might be necessary depending on topography and fuels.
Also, property owners would be given 14 days to comply with an abatement notice, as opposed to 21 days.
"The Napa County Fire Department believes the proposed revisions will dramatically improve the safety of our citizens, our firefighters and our communities," a county report said.
How many people fail to comply with the county's defensible space laws is a question. A year ago, some Berryessa Highlands residents complained to the county about absentee neighbors failing to cut back brush. People in past years have pointed out to the Napa Valley Register various properties that fail to comply.
Supervisor Ryan Gregory asked how the county identifies fire hazard nuisances.
The county relies on neighbor complaints, Belyea said. The Board of Supervisors recently approved adding a code compliance officer who will be doing inspections to increase awareness of and enforcement of the county's defensible space law, he said.
County Supervisor Diane Dillon said Napa County was the first county in the state to have a defensible space ordinance. It's appropriate to update the law 10 years later, she added.
"I think this is appropriate given the new normal we are dealing with," Supervisor Alfredo Pedroza said.
Seventy-five percent of Napa County's 500,000 acres has a high fire hazard. More than 250,000 acres of the county has burned over the past 60 years, according to Napa Firewise, a nonprofit that promotes defensible space and other wildfire survival strategies.
Get local news delivered to your inbox!
Subscribe to our Daily Headlines newsletter.