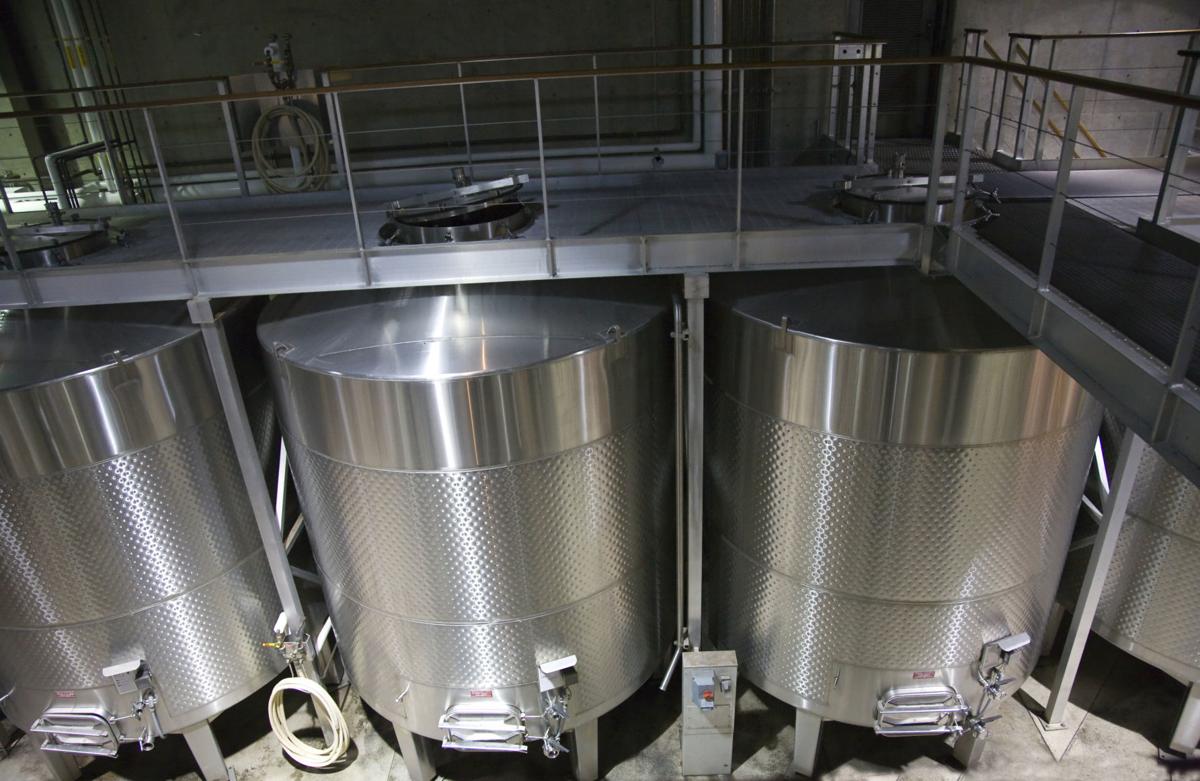 Harvest season isn't just a hectic time for winemakers in the Napa Valley.
It's also a busy stretch for wine country safety consultants, including Nicol Cadet-Cottam of Nicola Health and Safety. Among the major safety concerns for wineries is the possibility that workers could pass out in confined spaces, such as wine storage tanks or presses. The state requires workers to receive training in this area.
"We're doing this to protect you," Cadet-Cottam said. "We can't make the wine without the worker."
Carbon dioxide is released during the wine fermentation process and can render people unconscious, safety experts say. Workers rarely pass out, but deaths can occur.
That happened eight years ago in Napa when 43-year-old winemaker Gustavo Javier Muro was found dead on a lid six feet inside a wine tank at Ancien Wines. The Napa County Coroner determined his death was caused by low oxygen levels, said spokesperson Henry Wofford.
That was likely the most recent local confined spaces call that first responders attended, said Jason Martin, the rescue team manager at Cal Fire-Napa County Fire.
And while these incidents are rare, they are not unheard of. Cadet-Cottam recalled that as a curious young wine intern, she stuck her head into a wine tank to see what was inside. She said she was unaware of the hazards that carbon dioxide pose to workers.
Cadet-Cottam said she almost lost her balance and fell into the tank, but she was strapped into a harness. That saved her.
She said she once became dizzy from making wine at home in a garbage can.
"You never stick your head inside a confined space because you don't know what's in there," Cadet-Cottam said.
Grape skins, seeds and stems are left over after wine tanks are drained, she said. Workers scoop out what they can, but have to go inside the tank to shovel the rest.
Some tanks are so large that they can take 45 minutes to clean, Cadet-Cottam said. Bigger wineries may have up to six workers clean tanks.
Cadet-Cottom said she's seen presses as large as two cars.
Workers are entering an environment where fermenting wine has been releasing carbon dioxide and heat, Cadet-Cottam said.
"That's where it becomes very dangerous," she said.
Workers are required to wear harnesses and lapel-style air monitors when they clean a wine tank or press. The air monitors beep if they sense rising carbon dioxide levels, Cadet-Cottam said.
People who pass out in wine tanks or presses don't usually do so after inhaling carbon dioxide, she said. They may lose consciousness because of dehydration, an anxiety attack caused by claustrophobia or other medical conditions.
Another worker must supervise the worker cleaning the wine equipment, she said. If the cleaner goes down, a colleague sounds an air horn to notify other employees on the floor that help is needed pulling the worker out.
Workers who notice a colleague passed out may try to rush to help them and fall sick themselves, she said.
Not only might carbon dioxide levels in wine tanks and presses be elevated, but dry ice — solid carbon dioxide — is placed on top of wine tanks during the winemaking process, Cadet-Cottom said. Dry ice is used to displace oxygen and keep wine from turning to vinegar.
Wineries with underground cellars must also monitor carbon dioxide levels. Carbon dioxide tends to settle in low areas, Cadet-Cottom said.
Exhaust fans turn on if carbon dioxide levels become unhealthy, but it's "always a concern for the first person to show up," she said. "You might fall into a carbon dioxide trap because you cannot smell it and see it."
California has especially stringent workplace safety regulations, Cadet-Cottam said.
The industry does a good job of following state Office of Safety and Health Administration guidelines such as regulating entry points into confined spaces and monitoring air quality inside, said Martin of Cal Fire-Napa County Fire.
During wine tank rescues, people may be stuck in the tank, or inside a tank hole or pipe, he said. Generally, people who require rescue from a confined space have been injured. Otherwise they could get out on their own.
Hazardous gases are also concerns at some below-ground places, such as water treatment plants.
Rescue crews must first ventilate the tank and monitor the air to ensure it's safe to go in and help the person. They set up a tripod-like apparatus over the hole and lower in a bucket that allows rescue personnel to package up a patient and lift them through the hole.
Rescues can take up to an hour, depending on complexity.
Confined space rescues are far more rare than other types of rescues, such as cars that have rolled over a drop-off in the road, officials said.
Fire is a major concern for first responders at confined space rescues. Air quality is tracked to ensure that there's enough air inside and it's not an explosive environment, officials said.
Rescues can be made more problematic if a colleague rushes in to help a fallen worker and also passes out.
Confined space rescues are labor-intensive, he said. County fire personnel must mind access points, assemble equipment and have adequate staff.
"If and when we do get an event, it's always challenging," he said. "All those things are part of a response for us."
Get local news delivered to your inbox!
Subscribe to our Daily Headlines newsletter.