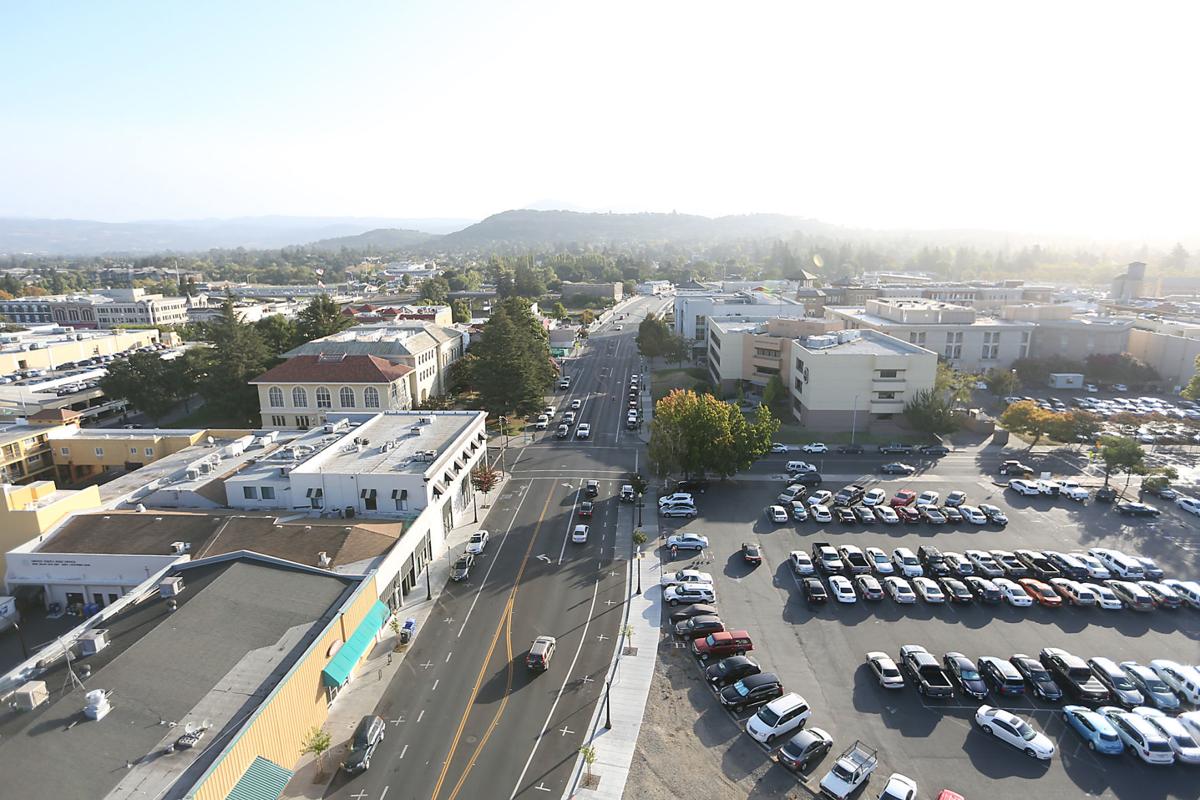 Seven years after debuting its first sustainability plan, Napa is taking stock of the city's progress in conserving more and consuming less – but some residents say climate change and other environmental hazards call for even greater urgency.
Despite Napa's progress in raising recycling rates, cutting back water and electrical use and fostering a more bicycle-friendly landscape since passing a city sustainability plan in 2012, members of the Napa Climate NOW group called for far bolder actions to head off rising temperatures and other effects of global warming – including a commitment to work toward no net greenhouse-gas production by 2030.
"Napa has the capacity and the leadership to be really courageous leaders" in helping head off environmental damage, Susan Crosby, a former teacher in the Napa Valley Unified School District, told the City Council Tuesday during a report on the city's progress toward earth-friendly policies. "(But) you need to act like your hair is on fire; that's how you need to confront this moment in history."
"There is no such thing as an 'inconsequential' loss of livable climate, because it's in free fall," added Jim Wilson, another member of Napa Climate NOW, calling on Napa leaders both to step up their own conservation efforts and treat climate change as an emergency requiring immediate action. "Winning slowly is the same as losing."
A goal of net-zero carbon creation – in which all carbon emissions would be offset by carbon removal – is contemplated in a climate action plan being developed by Napa County. Reaching that target would require a major expansion of mass transit as well as diverting all waste away from landfills, maximizing tree preservation, and switching septic systems to wastewater recycling or composting toilets, according to the environmental impact report connected to the county plan.
The document currently covers only unincorporated areas, but county supervisors in June endorsed a roundtable or advisory group to work with the five Napa Valley cities on a shared carbon-reducing goal.
Earlier, Napa city staff detailed achievements in efficiency and waste reduction in the years since the debut of the sustainability plan, which included targets for both city facilities and the wider community.
Goals fulfilled under the plan have included the 2014 passage of a ban on single-use plastic bags at groceries and other stores, as well as the creation of a citywide food-scrap composting program. Water use also has declined since 2012 – with a push from state-mandated conservation rules during a five-year drought – through irrigation restrictions and increased use of recycled water for irrigation and other non-drinking purposes.
Napa in 2016 also switched the city's default electricity supplier from Pacific Gas & Electric to Marin Clean Energy, giving residents and business access to more renewable energy sources.
In spite of such progress, several speakers asked Napa leaders to set their sights broader – especially in light of chronic housing shortages that force many workers into fuel-burning commutes from more affordable towns outside the county.
Chuck Shinnamon, a member of the committee advising Napa on its new general plan, described affordable housing and better foot-and-bike circulation as essential elements for curbing carbon emissions. Patrick Band, director of the Napa County Bicycle Coalition, pointed to the work remaining to be done to remove barriers to safe cycling.
Overall, Councilmember Liz Alessio concluded, Napa must widen its vision of the threats to its environment, and its sense of responsibility.
Napa's sustainability playbook "was cutting-edge in 2012, but in 2019, we're really behind," she said. "As we know more, we can think bigger and look outside our community. … It may sound overwhelming to think of it as a global issue, but we each need to do our parts, individually and as a community."
Get local news delivered to your inbox!
Subscribe to our Daily Headlines newsletter.