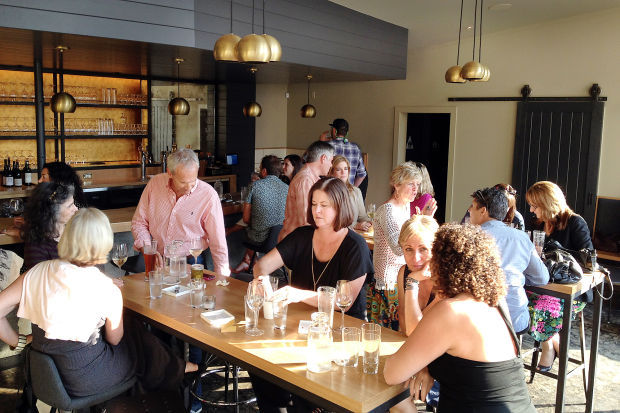 If Napa's wineries, restaurants and roadways seemed busier these past two years, there's good reason for that. More international and U.S. tourists are being drawn to wine country.
According to two new reports from Visit Napa Valley, the number of people coming to Napa Valley has risen 12.2 percent since 2012, with the bulk of that increase coming from international visitors.
Visitors generated $1.63 billion in total spending inside the county last year. In 2012, the number was $1.4 billion. the reports said.
"The prestige of the Napa Valley has increased even more so in the past few years," said Liz Thach, professor of management and wine business at Sonoma State University.
She credited that in part to marketing efforts within the valley to both U.S. and international audiences. In addition, the economy has improved, yet the dollar remained low against other currencies for 2012 and 2013.
In 2014, the Napa Valley welcomed 3.3 million visitors compared to 2.94 million visitors in 2012. The last Napa Valley visitor profile was conducted in 2012.
A total of 86.4 percent of visitors were from the United States and 13.6 percent were from other countries.
In 2012, 8.1 percent of Napa Valley's visitors were from outside of the country. Factoring in the overall rise in all visitors, that's an 88 percent increase, the reports said.
"We're very pleased with the significant increase in international visitation in 2014, which is a very positive sign of the increasingly world-class status of the Napa Valley," said Clay Gregory, president and CEO of Visit Napa Valley.
Charles Kimball, owner of Undiscovered Napa Sonoma, said he's seen an increase in visitors from China, Korea, Japan, Italy, Germany and England. "Napa is just becoming internationally well known as a destination," he said.
He recalled a recent convention in San Francisco that bused large group of Chinese visitors to Charles Krug Winery for multiple tours.
"Every three hours, 120 people from China would arrive to learn about Napa wines and products," said Kimball. The tours continued for three days.
China's emerging middle class has "delved into France, and now they are discovering California," said Kimball, who offers tours both in English and with a Mandarin-speaking interpreter. About 25 percent of his business is international travelers, he said.
"They are people who are willing to spend a lot of money" on drivers, cars and an interpreter. Many will spend about $185 an hour, or more, for those services.
Kimball said that popular movies and TV shows have also contributed to Napa's desirability. "The name recognition of Napa has just increased in the world." Visitors see film and TV characters talking about "going to Napa for the weekend" and "it sounds like the cool thing to do."
"I think Napa is replacing France as a destination," he said. "And also only 1 hour and 15 minutes from San Francisco. That's huge."
Additionally, "With the economy coming back, we're seeing many, many more people here that have high budgets and the ability to spend. They are more affluent."
Celebrities are also enjoying Napa, he said.
Chef Gordon Ramsay, David Beckham and Ryan Seacrest – "they've all been here in the past two months," he said. "It's become a celebrity location. It's so close to L.A., you can fly here in one and a half hours and they can treat their friends to a really wonderful weekend," he said.
"When the celebrities are here, they can dine in public and (stay) at hotels that are designed to be very discreet and non-assuming."
Tour guide Javier Calderon, owner of Napa Private Tours, said about 20 percent of his business is international travelers, mostly Spanish-speaking from countries such as Mexico, Brazil and Venezuela.
"I want to make sure they fall in love with us," he said. "People are willing to pay for a magical experience."
Calderon said he takes clients to wineries that are suited to their "desires, tastes and budget and make them feel special."
According to Visit Napa Valley, a total of $1.2 billion of visitor spending was generated from local hotel guests.
They spent an average of $389 per person, per day, with the majority of this spending attributed to wine purchases, followed by restaurants. This represents a 9.8 percent increase from 2012, with an average daily spending of $354 per person, per day.
The average visitor spent 1.9 days in the area during their trip, and visitors staying in a lodging property spent an average of 2.9 days in the Napa Valley.
"We're encouraged to see that targeting 'need periods' with Visit Napa Valley's marketing and sales efforts is working," said Gregory.
"Weekday occupancy has grown one and a half times more than weekend occupancy, and group and meeting business (virtually all of which takes place on weekdays) grew two and a half times from 2012 to complement leisure travel. Additionally, 'Cabernet Season' (November through April) occupancy has grown nearly six times more than occupancy during peak season, which is May through October."
Tourism is one of the largest industries in the Napa Valley, and supports an estimated 11,776 jobs, with the majority of these jobs in either the hotel or restaurant industries, said Gregory.
In 2014, Napa Valley's visitor industry generated $64.2 million in tax revenues for governmental entities in Napa County. Taxes directly generated by the visitor industry include revenues from the transient occupancy tax (hotel tax), sales taxes and property and transfer taxes paid on lodging facilities.
Other key findings noted that the average Napa Valley visitor in 2014 was 39.4 years of age. More than 60 percent of survey respondents were 35 years of age or older, with the single largest group being millennials.
Napa Valley visitors are an affluent group, with 50.5 percent of the survey respondents reporting an annual household income of $100,000 or more, with an average annual income of $165,070.
Napa Valley visitors are highly educated, with 73.2 percent having a bachelor's degree and 28 percent who completed graduate school.