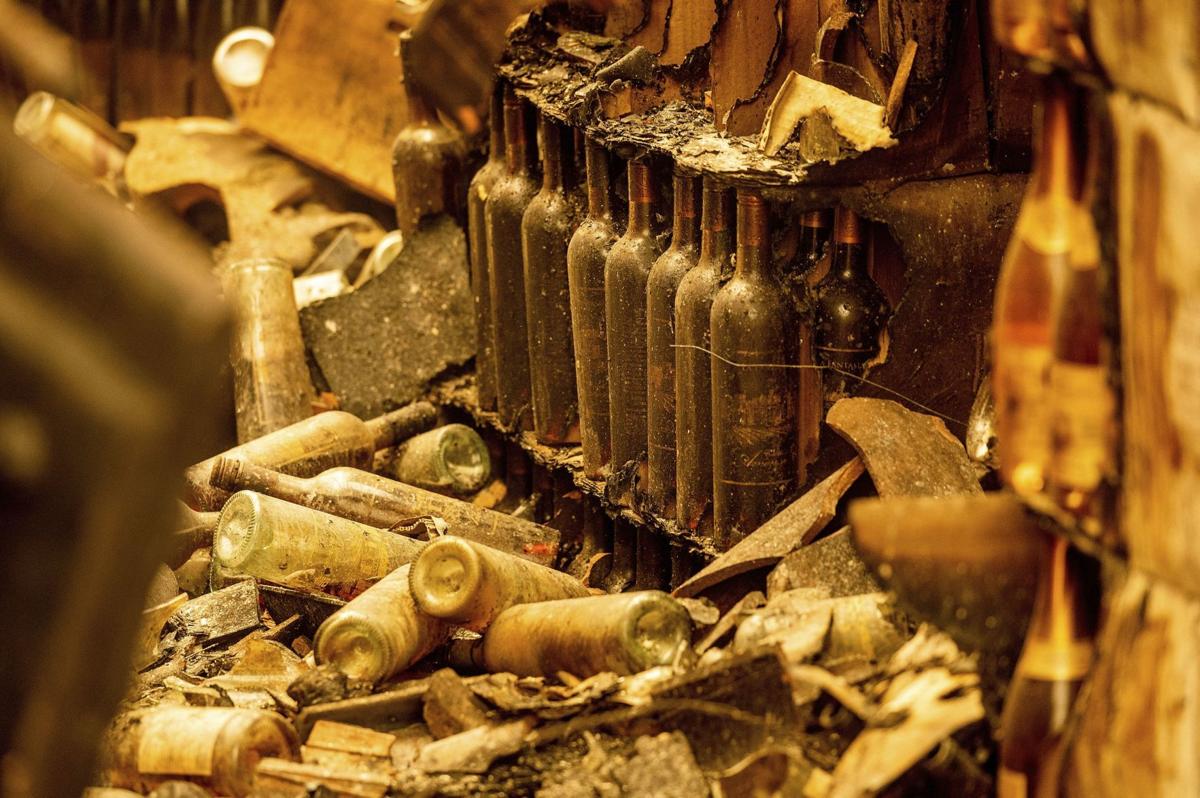 Wine production in Napa County declined almost 40% in 2020, data shows. As the first wines of the vintage are released in bottle, the valley's producers must now assess how best to stretch the inventory they do have.
Whites and roses from any given vintage are typically released by the following summer, according to Rosemary Cakebread, winemaker at Gallica Wines. Later ripening-varieties, like Cabernet Sauvignon and other red wine grapes, are usually not made available to consumers for another year and a half past that – by late 2022, in the case of the 2020 vintage, she said.
The nature of those release cycles give Napa Valley's wineries some time, but even so — those late-ripening varieties were dealt a double blow by last year's fire season. Anyone making Bordeaux varieties like Cabernet Sauvignon or Merlot would have likely found themselves challenged by the wildfires, according to Cakebread, who said Gallica's production for 2020 is "still a work in process" as the winery evaluates its own wines still in barrel.
Support local news coverage and the people who report it by subscribing to the Napa Valley Register.
For the North Bay-based Dirty & Rowdy Family Wines, which contracts for grapes in Napa, Sonoma, and Medocino counties among others, the picture is slightly clearer: production is down 80% year over year, according to winemaker Hardy Wallace. Whereas the winery on a normal year might produce around 4,000 cases, this year's production will work out to between 700 and 900, he said.
"In most years, having those vineyards spread out across multiple different regions was a real benefit for us," Wallace said. "2020 was a completely different story because the fires were everywhere."
Some North Bay wineries like Wallace's have chosen to compensate for the 2020 harvest by leaning upon backlogs of 2019 wines, according to Glenn Proctor, partner with the bulk wine and grape brokerage firm Ciatti Company. As the pandemic set in and restaurants and tasting rooms closed, both off- and on-premise sales were shaken, he said. The smaller 2020 harvest has actually balanced things for some producers, Proctor said, who might have been unintentionally sitting on stockpiles of wine from 2018 and 2019, both of which proved larger-than-average crop years.
Dirty & Rowdy, though, spent the pandemic cultivating its direct-to-consumer (DTC) relationships, according to Wallace. It held more than 30 virtual tastings with customers between spring and fall of 2020, he said. The winery has released a handful of white wines and rosés earlier this month, Wallace said; 90% of that inventory sold out "within the first day and a half," he said. As a result, there is no backlog of 2019 wines for the winery to lean on, and Dirty & Rowdy is having to prioritize some sales channels over others.
"We just don't have the wine for restaurants and retailers," Wallace said, adding Dirty & Rowdy was expecting to do "very little wholesale" with its 2020 wines. "It's not a conscious thing to cut (them) out, but it's just not possible. We're making sure that DTC goes first, because that's economically much more beneficial for us."
Acumen Wines also had something of a short harvest in 2017, another season marked by wildfires, according to Sales and Marketing Director Diana Schweiger. Because the winery ran short on its 2017 Cabernet that year, it released its 2018 Cabernet Sauvignon earlier than usual, she said. Because the winery will not make any 2020 Cabernet Sauvignon, it plans to augment production of its 2019 Cabernet Sauvignon while delaying the release of that particular wine, Schweiger said.
The winery had initially planned to sell some of its wine on the bulk market, she explained; it will now take that inventory to bottle and sell itself.
"To ensure a seamless transition between our 2019 and 2021 Cabernets, we are making (higher) production plans for the 2021 vintage, just as we did for our 2019 Cabernets," Schweiger wrote in an emailed statement. Because the would-have-been timeframe for release of the 2020 Cabernets is still a year or more out, the winery has not discussed strategy with its distributors, Schweiger said in an interview.
"Right now we're still in the '18, so that conversation has not happened yet," she said. The winery is also considering offering library wines to specific tiers of its wine club in place of 2020 Cabernet Sauvignon. Gaps in production can pose serious challenges to wineries, especially those that contract with "national accounts" like cruiselines or airlines, she added. Those are competitive markets where "there is always someone that can replace you," Schweiger said.
Cakebread said Gallica had already bottled and released a 2020 white wine and a rosé, but was not expecting to have to address production shortages for its red varieties until "late 2022 and into 2023." The hope, she added, is that her winery "would be able to service all of our accounts," though perhaps in lesser quantities than in previous years.
More pressing, she thought, was the fire season ahead of her. Even wineries able to lean on wines from 2019 will likely not have that kind of buffer leading into the 2021 harvest, Ciatti's Proctor said, adding that another short harvest could put "pressure on supply." Just how tight the market for wine is this year will depend on how consumer demand reacts to the post-pandemic era, he added.
"The business is really important, but I also come at this as a winemaker and a grower, and where my head is at now is that we're faced with another fire season, potentially, and drought conditions," Cakebread said. "(I'd like us to) learn from this experience and figure out how we as a county can have more coordinated fire protection, and also learn a little bit more about smoke and how it effects our vine health and our wines."