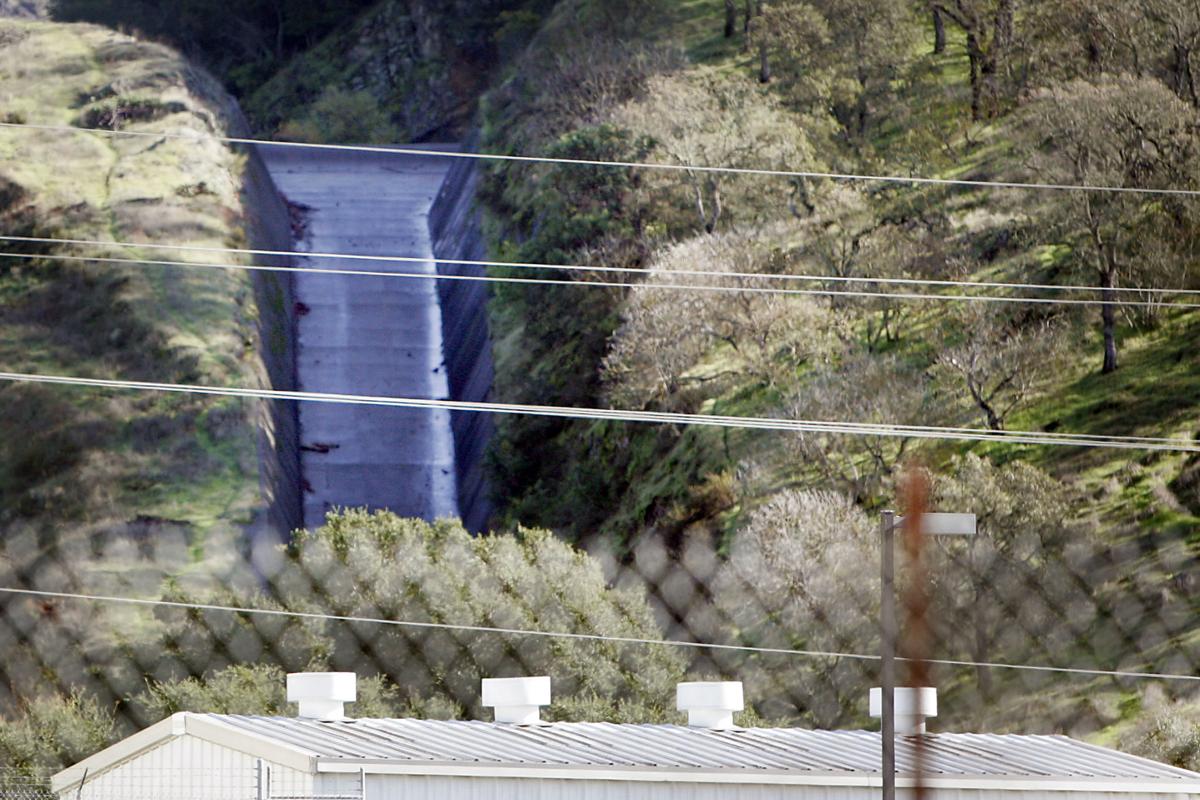 YOUNTVILLE — Even with California's lengthy drought in the rear-view mirror, the reservoir feeding Yountville and the Veterans Home of California is running low. Just how low may determine what the town – and state regulators – do to curb water use and boost supplies as the dryness of summer approaches.
New monitoring equipment at Rector Reservoir northeast of Yountville suggests water levels are falling at such a rate that the state Department of Veterans Affairs, which owns both the reservoir and the Veterans Home, should plan for a possible shortfall in the middle of August as a precaution, according to CalVet Secretary Vito Imbasciani.
The reservoir level "is not dire; it's about the direction we're going in," he said, pointing to measurements at the Rector Dam that started at 352.9 feet on Feb. 1 and have steadily drifted downward through three weeks of dry weather. The reservoir is considered full when water enters the spillway 373 feet above the base and flows down into Rector Creek, then continues into Conn Creek.
The announcement came nearly two weeks after CalVet asked state water regulators to help it decide whether supplies are adequate for the home, with more than 800 retired military veterans in residence, and the roughly 3,000 residents of Yountville just east.
Information gathering by the State Water Resources Control Board is expected to continue for several more weeks, and the extent of the water deficit will not be known until studies are complete, Imbasciani told the Yountville Town Council Tuesday night. "This recommendation is standard protocol for water systems that are facing potential supply issues and is not unusual," he said at Town Hall.
Staff with the state water board's Division of Drinking Water notified CalVet of the looming deficit at Rector Reservoir, and the water agency began researching the veterans agency's water rights and duties to forecast how long Yountville water reserves would last, according to George Kostyrko, a water board spokesman in Sacramento. In particular, regulators seek to learn how much water CalVet is required to carry over in storage – and avoid releasing – from year to year.
Depending on the state of Rector water supplies, CalVet could turn to purchases from the city of Napa, which draws most of its water from Lake Hennessey outside St. Helena, according to officials from the veterans and water agencies. A link between the towns' pipeline webs would allow Yountville to draw water from its larger neighbor if necessary.
No formal talks on water sales have taken place, according to Napa city Water Manager Joy Eldredge. "We're looking at the situation, looking at what volumes are being talked about," she said Wednesday. Any sales to CalVet would require approval from the Napa City Council.
Rector is one of three Napa County reservoirs whose owners have been targeted by lawsuits by Water Audit California, an activist group demanding that Upvalley towns bypass more water into streams to protect fish habitats.
Water Audit filed its complaint against CalVet in November 2016. On Tuesday, CalVet spokesperson June Iljana declined to comment on whether lower water levels at Rector Reservoir are related to the suit. But she did say the case remains active in Sacramento County Superior Court and that the two sides are working toward a settlement. Water Audit's lawyer, William McKinnon, also declined comment.
Earlier this month, St. Helena approved a short-term increase of water releases from Bell Canyon Reservoir into Bell Creek, signed off on new equipment to measure water capture at the reservoir, and agreed to conduct studies into a plan to permanently bypass the dam. Those changes comply with a settlement between the city and Water Audit agreed to in August 2017.
In Calistoga, a 2008 lawsuit over a family's 1939 water rights at city-owned Kimball Dam was taken over by Grant Reynolds, who added new claims that Calistoga was capturing more water than state permits allowed. Although a Napa County Superior Court judge dismissed those claims, Reynolds' lawyer McKinnon, of Water Audit, was awarded $600,000 in legal fees from the city, which also has spent more than $1 million battling him and the group in court.
This story has been modified since the original posting to correct the path of water that spills over the dam at Rector Reservoir outside Yountville.