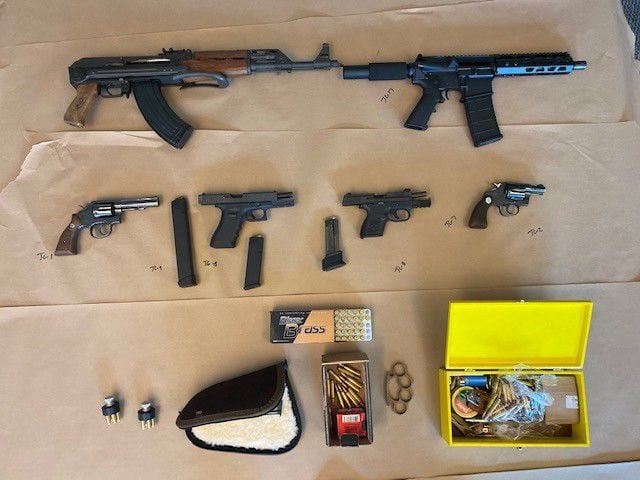 A reported gang member arrested Wednesday morning in Napa possessed an array of guns and ammunition – including two military-style rifles and a handgun connected to a prolific burglar arrested earlier in the day, according to authorities.
Abisai Hernandez-Mendoza, 30, was detained after a search warrant was carried out at his home shortly before 4 p.m. in the 300 block of South Minahen Street, according to Lt. Rick Greenberg of the Napa Special Investigations Bureau. The search revealed high-capacity magazines and six firearms, including an AR-15 as well as an AK-47 rifle, found beneath a toddler's bed, that had been reported stolen in Modesto, Greenberg said Thursday.
The search by NSIB and Napa County Sheriff's detectives stemmed from an investigation into a home burglary in Napa earlier this month, which the investigations bureau linked to Jake Lenning, a 29-year-old transient arrested by Napa Police early Wednesday morning in connection with an attempted home break-in on Flora Street. A handgun found at Hernandez-Mendoza's home was linked to the burglary earlier in May, according to Greenberg.
Hernandez-Mendoza, whom NSIB described as a member of the Norteño street gang, was arrested and booked into the Napa County jail on suspicion of firearm and ammunition possession by a felon, possession of assault rifles and stolen property, and criminal storage of a weapon. He was released shortly after 10:30 p.m. after posting $50,000 bail, Greenberg said.
The weapon-related allegations against Hernandez-Mendoza are not covered by an April order by the state Judicial Council suspending bail for many lower-level offenses, a policy meant to reduce jail crowding during the coronavirus pandemic.
However, Greenberg pointed to the seized gun linked to Lenning – who has been arrested on allegations including four home burglaries, five car thefts and methamphetamine possession since April 11 – as an example of the links between some nonviolent offenses and violent ones. (After Lenning's latest arrest Wednesday, a Napa County judge ordered him held on $100,000 bail due to the large number of recent incidents.)
"People like Lenning are out there committing crimes to support a drug addiction, and they're getting released on nonviolent offenses for zero bail," he said. "But in this investigation, firearms were stolen, and they remained in Napa County after they were stolen, and more than likely were sold to support drug addiction, and they were sold to a convicted felon who is a known Norteno gang member."
Get local news delivered to your inbox!
Subscribe to our Daily Headlines newsletter.