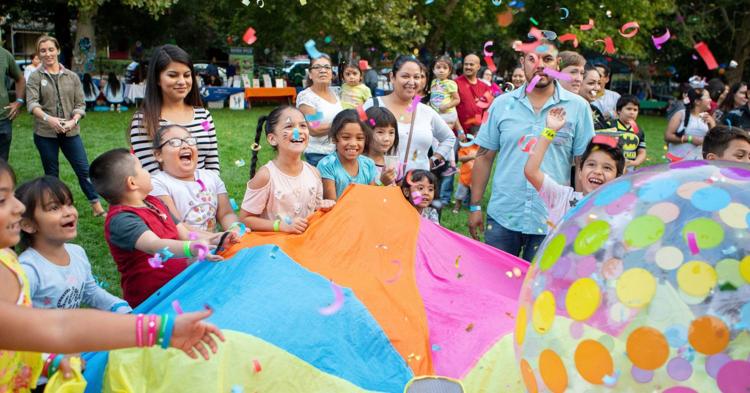 ST.  HELENA -- Not only does Cristina Avina, Family Services coordinator for the UpValley Family Centers (UVFC) of Napa County, teach Triple P, she used it in her home to help teach her 13-year-old son.
Triple P is the "Positive Parenting Program," and Avina said she used some of its curriculum to help her oldest son overcome his difficulties in getting ready for school in the morning. "I was stressing out," Avina said, so she created a list of things that her son needed to do, including making his bed, brushing his hair and his teeth, and posted it outside his bedroom door.
As he completed each task, he marked them off the list. "He was able to mark everything off without me screaming and yelling and stressing out about him getting out of the house," Avina said.
By the end of the first week, all the tasks were accomplished and Avina provided her son with a reward. Little by little, she weaned him off the rewards, and he developed a routine and got into a habit. "It really works," she said.
Avina has worked for the UVFC for nearly 11 years – her anniversary is in April – and she is involved in family cases and any of the services needed for families, including counseling, holiday assistance, parent education classes, including Triple P.
According to the 2018-19 UVFC Impact Report, the agency staff has helped 235 families "feel more supported and confident in their capacity to raise happy, healthy kids through our Triple P resources."
Staffers at the UpValley Family Centers, with offices in St. Helena and Calistoga, help about 3,000 individuals each year. They also provide guided referrals, support and partner with more than 40 agencies and providers in the region to make services available in the Upvalley communities.
According to the UVFC, "We envision that through healthy relationships and networks of support, all people are safe, valued and prepared to create the future they want for themselves, their families and their community. Since 1999, UVFC has been the primary trusted resource for low-income communities in the northern Napa Valley, serving as a one-stop shop for access to the resources people need to survive and thrive."
Making a difference
When this editor reached out to Norma Ferriz, long-time UVFC employee, seeking nominations for a person who makes a difference in St. Helena, Ferriz nominated Avina.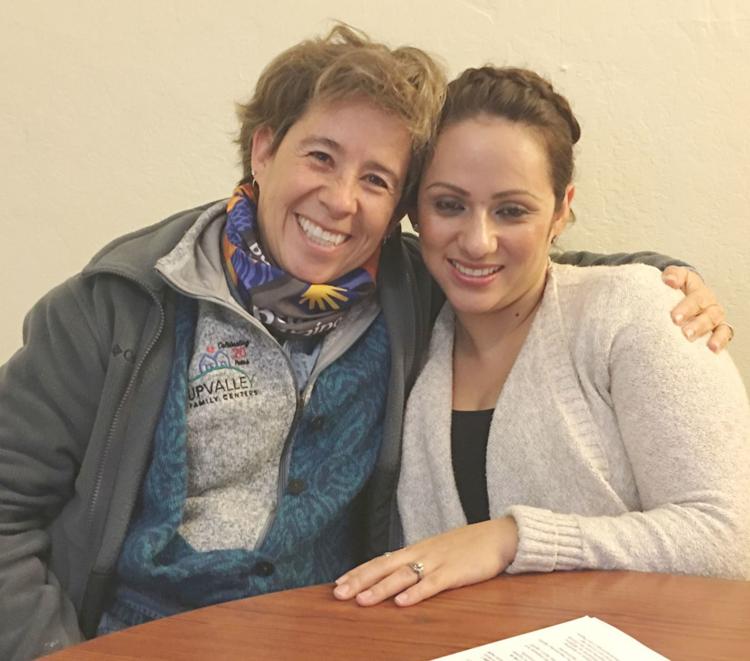 The 36-year-old Calistoga resident and her husband are raising three children. At the UVFC, Avina helps families with rental assistance, paying their bills, for example, or filling out applications for Medi-Cal or unemployment assistance. Nearly all of the time the forms are in English, and Avina has to translate them for her Spanish-speaking clients. "Honestly, you learn by mistake," Avina said. The first time a person fills out a form, they have to figure it out and fill it out. The agency, then, may send it back, saying it wasn't filled out correctly. Avina said she will fill it out correctly. "The next time a client comes in, then I know what to do," she said.
After almost 11 years, even if the forms are new, Avina said she knows how to call the right person to fill out the form. "The main thing is we're providing assistance to the client," she said.
Her work requires a lot of one-on-one conversations, listening and empathy. But Avina said there is satisfaction after she helps someone. "They are so thankful, because they couldn't find any other help, they couldn't get the information they needed anywhere else and you were able to guide them from the beginning and take them through the whole process," Avina said.
And, along the way, she is giving her clients the right tools, so they can help themselves. "For me, that's the best satisfaction. We're not only providing the assistance for them, they are learning something. They can fill out the forms next time. It just feels very good."
Other times, the assistance needed is more than filling out forms. About eight years ago, Avina remembers helping a young man who needed heart surgery. He had insurance for medical emergencies, but since his condition wasn't considered an emergency – even though he was going to die without the surgery – the insurance wouldn't cover it.
Avina worked with Aventist Health/St. Helena Hospital, and a doctor there referred her to a Santa Rosa hospital. "They were the ones with the financial resources and they were able to cover the cost of the whole surgery," Avina said. The doctor donated all of his time and the surgery was accomplished. Afterward, she said she felt so good, because her clients were really thankful.
Empathy needed
Other times, though, the families she deals with and their particular situations are difficult for Avina, especially if it involves children. "There are times when I do cry," she said. "I am here, and I'm trying to pretend that I'm so strong with the clients." But, then she steps out of her office, cries and then, "I put myself together and come back" into the room. Their stories are so sad, they're going through so many things, and they are still trying to process what's happening. If it is domestic violence or sexual abuse of children, that makes it even more difficult.
"I go to my house and I'm still thinking about it and I cry. I'm having nightmares," Avina said, and maybe she, herself, will need to talk to a counselor. But, still, she gets the family the services they need and because of that, more often than not, they end up in a better situation.
Avina wants the public to know this about the UpValley Family Center. "This is a place where we try to help everyone. Anyone is able to come here for any type of assistance. If we don't have the assistance here, we will look for it." She adds that everyone is welcome, whether old or young, Anglo or Hispanic. "We have different programs and services and we try our best to find it and make referrals."
Get local news delivered to your inbox!
Subscribe to our Daily Headlines newsletter.