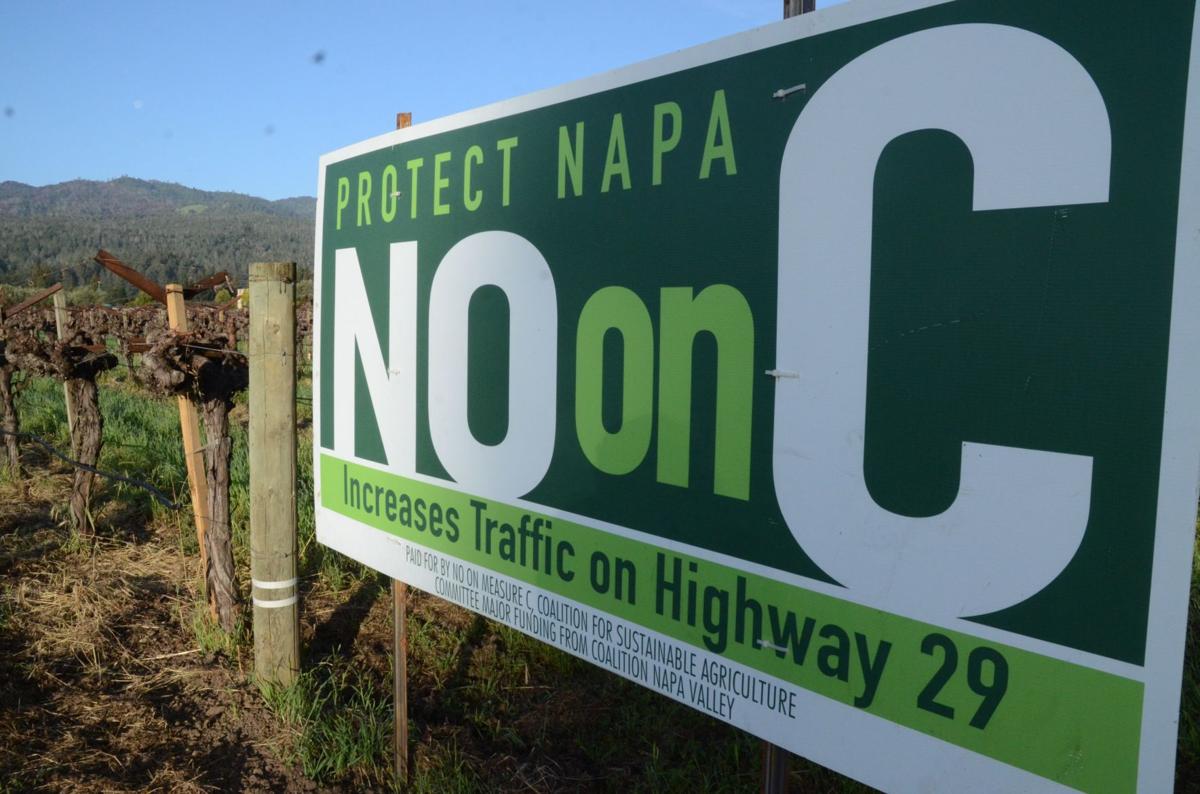 The backers of the two local measures on the June ballot in Napa County are crying foul over arguments being used by opponents.
Proponents of Measure C, intended to restrict the cutting of oak trees in the upper reaches of the county's rural watersheds, have filed suit to force their opponents to change the wording of their official arguments against the measure. That official statement is included with the voter guide that will be sent to county residents along with their mail-in ballots.
"It feels as if the opponents have flipped every reality into an alternative fact," said Mike Hackett, one of the authors of Measure C.
The lawsuit challenges three claims by the opponents: That the measure will hurt agriculture, that it will increase traffic on the roads, and that it restricts homeowners from adding on to their structures.
It also objects to the line in the statement that invites voters to "join Napa County Farm Bureau, Napa Valley Vintners, Napa Valley Grapegrowers and Winegrowers of Napa County, along with Coalition Napa Valley, Sustainable Napa County, Senator Bill Dodd, Napa County Supervisors, and Mayors in Napa County, who all oppose Measure C."
That line outraged Measure C backers because it appears to imply that all the supervisors and mayors are against the measure. In fact, two of the five Napa County Supervisors – Diane Dillon and Brad Wagenknecht – are taking no position on the measure, and one of the five mayors – St. Helena's Alan Galbraith – is explicitly supporting the measure.
"We really could not let that lie," Hackett said. "That's a mistake."
The Napa County Superior Court will hear the complaint on April 11. If a judge agrees, the opponents would have to redraft some or all of their message to voters.
Opponents of Measure C declined to comment in detail on the suit because it is still pending in court.
"While we disagree with the merits of the legal action that has been taken against our ballot argument, we are taking this matter very seriously and are working with an elections attorney to look further into this matter. We are moving quickly to address the issues raised by the petitioner to expeditiously resolve this issue and move forward in our campaign," said Ryan Klobas, policy director of the Napa County Farm Bureau, which is leading the formal opposition.
The proponent of the other local initiative on the June ballot, meanwhile, is not suing but is also furious over the opponents' claims.
Measure D, floated by Calistoga resident George Caloyannidis, would ban private helipads outside of areas zoned for airports, which could rule out all of the county's famous Ag Preserve. It adds some more specific language than current law about when and how helicopters can be used in agriculture, but it leaves in place existing law that allows for emergency landings in rural areas.
In the statement objecting to the measure, State Sen. Bill Dodd, a former county supervisor, argues, among other things, that under its terms "Utility contractors, like those working for PG&E, won't be able to use helicopters to replace power poles or services lines just as they successfully did after the October fires."
The measure, however, doesn't change the current law allowing for "helicopter emergency use facility landing sites" and "emergency medical services landing sites." Caloyannidis said he sees nothing in his measure that would stop PG&E or anyone else from using helicopters for maintenance or emergency operations.
"It's beyond me," he said.
Dodd said he based his argument on a possibility raised by an independent legal analysis commissioned by the Board of Supervisors, which suggested that the measure might conflict with nearly all non-agricultural takeoffs and landings outside of areas zoned for airports, though the attorneys said it would depend on how supervisors and staff interpret several related provisions in existing law.
But even if PG&E is not affected, Dodd says the measure is unnecessary. There have only been three applications for private helipads in the past 40 years. One was rejected by supervisors in 1979, one was withdrawn in 2005, and one is still pending before the Board of Supervisors. Should the board ever approve such an application, Dodd said, opponents would be free to use the referendum process to overturn the decision.
"This is a solution in search of a problem," he said.
Opponents of Measure C have a more complex explanation of their arguments, outlined in their election guide statement.
They say restrictions on agricultural use of lands containing stands of oaks might encourage other non-farm uses, such as leading landowners to exercise the right to build houses on parcels of 160 acres or more. That could lead to the proliferation of large homes for wealthy people, or even "event centers," in the hills, causing additional traffic on the roads and the degradation of the county's scenic views.
They also argue that ordinance is so vague that it would invite confusion and lawsuits, leading to legal bills for taxpayers and generating uncertainty and fear for farmers. The ordinance allows for the removal of 795 more acres of oak woodland before the restrictions kick in, for example, but there is no clear definition for how such acreage is supposed to be calculated.
In addition to the ballot statement, the opponents' arguments have begun to appear on large signs along the county's main roads. Under the slogan "No on C," the signs feature a variety of smaller lines, such as "Bad for agriculture," "Costs taxpayers," and "Increases traffic on Highway 29."
Hackett objects vehemently to those lines, saying they are misleading at best. He has not, however, filed a complaint with the state's Fair Political Practices Commission, though he won't rule out such a move.
Caloyannidis says he doesn't plan to take any official action against Dodd's argument, other than filing a rebuttal statement to be included in the voter guide. He decided against filing suit, as Measure C proponents have done.
"I was thinking of doing it, but then I thought 'Dodd is someone I voted for,'" he said. "It would be embarrassing to get this in court."