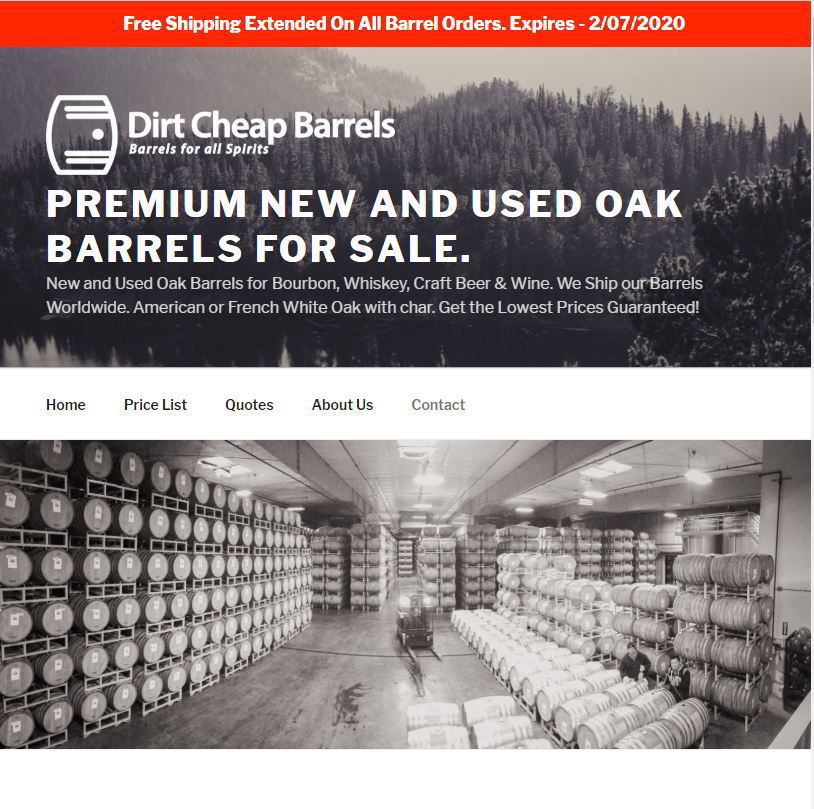 A wine barrel company with its address listed in Napa has been scamming its customers, according to the Better Business Bureau (BBB).
Dirt Cheap Barrels sells new and used oak barrels to be used for aging a roster of alcohols, including bourbon, whiskey and wine, according to the company's website, which lists the address of its main office at 2700 Napa Valley Corporate Drive.
BBB said in a press release Tuesday they had received almost 40 complaints over the span of the last three years regarding Dirt Cheap Barrels. BBB attempted to contact the company, which informed the bureau that it is based in the United Kingdom, despite having the Napa Valley Corporate Drive address on customer invoices, the bureau said in a press release.
"When Better Business Bureau called a company in that commercial building at that address, the company indicated that Dirt Cheap Barrels was not located in the office building, and stated that they receive many calls from customers asking for the location of Dirt Cheap Barrels," the Bureau's release read.
A spokesperson for another company listed at 2700 Napa Valley Corporate Drive confirmed the bureau's finding.
"You'll notice that they've put an address and not a suite number," said the representative, who did not give her name. She added she'd continually receives calls from customers looking for Dirt Cheap Barrels – at one point as many as five a day, though now it's down to about three a month.
The company's website says it offers barrels for aging wine from 10 to 80 gallons for prices ranging from $25 to $75. It also listed products used for aging scotch, tequila, bourbon, cognac and rum. The company listed the price for one of its 60-gallon New French Oak aging barrel as $395. Wine Vines Analytics, an affiliate of Wine Business Monthly, estimated a true cost of $900.
"Our stock is very limited and constantly changing," the company's website read. It warned that weather in "certain areas" could delay shipments.
Dirt Cheap Barrel's Yelp page featured 15 one-star reviews from customers. Older reviews, some dating as far as 2016, mentioned the company by a different name, Oak Wood Barrels. One reviewer, whose location was listed as Glen Allen, Virginia, said that the company was "supposedly located" in Florence, Kentucky.
"This company is a scam," the reviewer, whose name was listed as Eric D., wrote. He said he'd purchased two 53-gallon whiskey barrels and a single 10-gallon barrel form the company but had received no product and no response to several emails requesting shipping information.
A Google search for Oak Wood Barrels revealed articles from Kentucky news outlets detailing a scam alert for the company put out in December 2018 by Kentucky Governor Andy Beshear, then the state's attorney general. The Cincinnati Enquirer at the time reported that the company described itself on its LinkedIn page – which is no longer available – as a family-owned company whose barrel production was "overseen by a master cooper with more than three decades" of experience.
Kim Sweazy, director of BBB operations for Central and Eastern Kentucky, told the outlet she believed the scam had capitalized on Kentucky's reputation as a bourbon-producing capital.
In response to email inquiries from the Register, a contact for Dirt Cheap Barrels said Wednesday that he would pass on the request. Dirt Cheap Barrels is located in the United Kingdom, he said.
Posts on a forum located on the American Distilling Institute's website also condemned the company as a scam. One poster, whose listed username was "fending," wrote that he'd ordered more than $1,100 worth of barrels from the company but ultimately never received the shipment. The user copied and pasted emails containing contact numbers for the company, then called Oak Wood Barrels; contact numbers listed in those emails for both the company and its driver were either disconnected or not active.
As of this week, BBB has 17 unanswered complaints on file regarding Dirt Cheap Barrels, it said in a press release. The bureau advised consumers to vet companies before making purchases online.
Get local news delivered to your inbox!
Subscribe to our Daily Headlines newsletter.