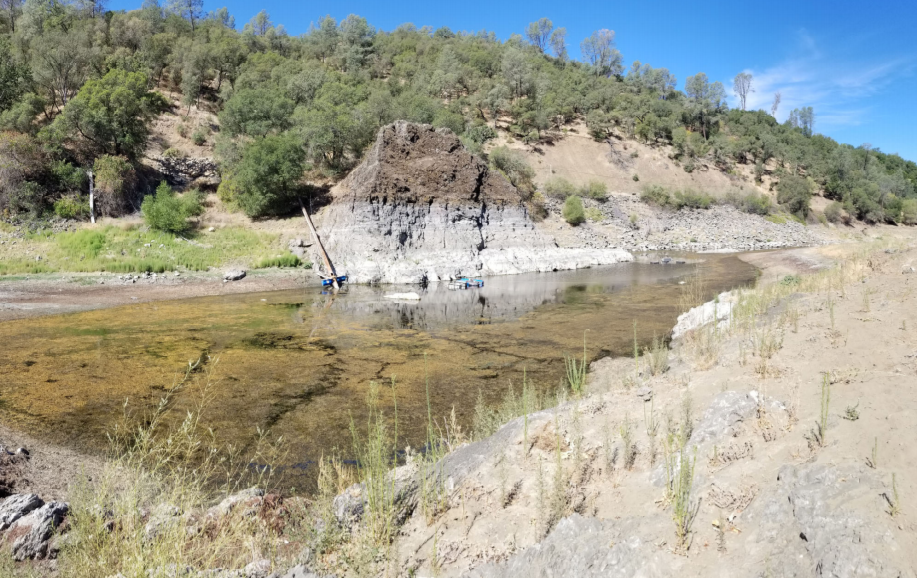 Here's another sign of drought — only an acre-and-a-half, mossy-looking pool of water remains at the Putah Creek intake pump that serves the remote, rural community of Berryessa Estates.
Low water conditions caused mechanical failures at the intake facility. That prompted the deployment of a temporary floating pump to keep water flowing to about 165 homes.
The county is monitoring the pool volume, said Christopher Silke, engineer for the Berryessa Estates water district.
Support local news coverage and the people who report it by subscribing to the Napa Valley Register. Special offer: $1 for your first 6 months!
The Napa County Board of Supervisors on Tuesday authorized emergency repairs for the intake system. It also adopted a drought response plan.
In one sense, Berryessa Estates is in a similar situation to St. Helena, the city of Napa and other local cities that are seeing their reservoir supplies dwindle. Water conservation is being emphasized throughout the county.
But that relatively small pool of water amid a largely dry stretch of Putah Creek is a striking visual reminder of how hard the drought is hitting. The water source and the community are especially close together.
Berryessa Estates faced a similar situation amid drought in 2014. The water supply held until seepage started to flow into the creek around early October, Silke said. The hope is that happens again this year, so at least there is some recharge going into the pool.
Otherwise, the district might have to transfer water from other pools further up the creek to supply Berryessa Estates, he said.
Of course, the big thing that ended the 2014 water emergency is it started to rain substantially. While the 2014-15 rain year wasn't particularly wet, December 2014 brought totals in the double digits.
The new drought response plan has three stages. Berryessa Estates is in the second stage, which calls for such steps restricting irrigation to the hours of between 9 p.m. to 10 a.m.
Berryessa Estates is using about 40,000 to 45,000 gallons of water daily. Ideally, the county would like to see summer month usage fall to 35,000 to 38,000 gallons daily, Silke said.
County Supervisor Diane Dillon praised the staff of the Lake Berryessa Resort Improvement District that supplies water for Berryessa Estates.
"I know they have just been so concerned about this now for so many months and working hard to find solutions and the most appropriate solutions for the community," she said.
It's just one more Napa County water shortage story amid two years of drought.
Also at Tuesday's Board of Supervisors meeting:
Supervisors approved an environmental study for the planned roundabout at Devlin Road and Soscol Ferry Road south of the city of Napa.
Public comments again ran on the long side, with about 14 speakers. As at the previous meeting, many spoke against the COVID-19 indoor mask mandate and some spoke in favor of the mandate.