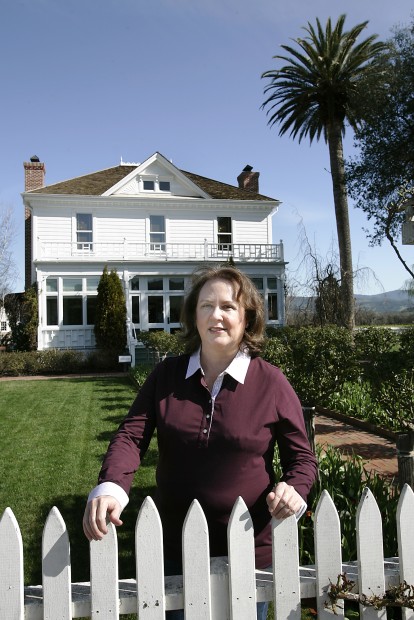 Joblessness is up, high-end wine sales are down — and Donna Oldford of St. Helena said she has never seen more business come her way in two decades of work as a winery planning consultant.
Oldford helps prospective owners navigate the process, from drawing up winery designs to obtaining permits. 
She estimates her firm, Plans4Wine in St. Helena, has at least 20 winery projects in the works  now. 
Not everyone is building their winery after getting a permit, and the wineries are generally smaller than the projects Oldford is used to. 
But peoples' desires to create new wineries in Napa Valley has not dried up in the difficult economy.
The future, Oldford said, is in small-production facilities — boutique wineries typically producing 20,000 to 50,000 gallons of wine a year. 
Her clients are looking for an investment — with a vineyard view.
"These people are very educated about the wine industry," said Oldford, who added that about 
80 percent of her clients today are seeking small or mid-size wineries. "They understand the Napa Valley is the premier winegrape-growing region. They understand there is (a limited amount) of land available."
Napa County Planning Director Hillary Gitelman confirmed that many people are seeking permits to open wineries, though not as many as a few years ago. 
Overall, she said, activity on the planning side "is surprisingly robust, considering the current economy."
The bad economy is enabling individuals who've made their money in other industries to invest directly in the Napa Valley dream, often tapping their own millions because banks are reticent to lend cash the way they used to.
Oldford has various projects in the $30 million to $40 million range, though there are some for $5 million to around 
$3 million — generally considered a minimum price to get plans drawn up, approved and built.
Oldford said that creating a new winery is like building a little city out in the country. 
Owners need roads, water, sewer and to plan for parts of their site to serve as industrial, commercial and residential areas.
Planning a boutique winery comes with a hefty price tag. Consultant, engineer and architect fees can add up to between $60,000 to $75,000. A county use permit can typically cost between $18,000 to $20,000, Oldford said.
Oldford describes her job as helping people get a winery use permits "with as little pain as possible."
Not all of Oldford's clients are millionaires with wine country dreams. Some are foreign investors, and others are old Napa families who had a winery several years ago, sold it, and now want a smaller facility.
She also sees speculators, who buy a vineyard and even obtain a winery permit with the idea of staying on the sidelines to sell it when the market improves.
"The other thing to consider is, when the economy is depressed, there are people who see these times as an opportunity to get into this area for a lesser price," Oldford said.
Gitelman said Napa County's General Plan forecasts that there is room for about 150 more wineries, in addition to the 400 or so in the valley, by 2030.
Typically it takes about a year to get a winery permit — a document that describes the conditions that apply, such as how much wine they can produce, how many visitors they can welcome, and what they must do on the property to accommodate visitors, neighbors and environmental concerns.
Oldford said the fact that she is busy today might mean other sectors that are now sluggish — including architecture and construction — might see an uptick shortly themselves. "If I'm busy, contractors are going to be busy soon," Oldford said.
"I see a lot of interest in the Napa Valley from people wanting to invest right now. That is important for the sustainability of the valley," she said. "I see people looking to invest for the first time ... how can't that be good for us?"