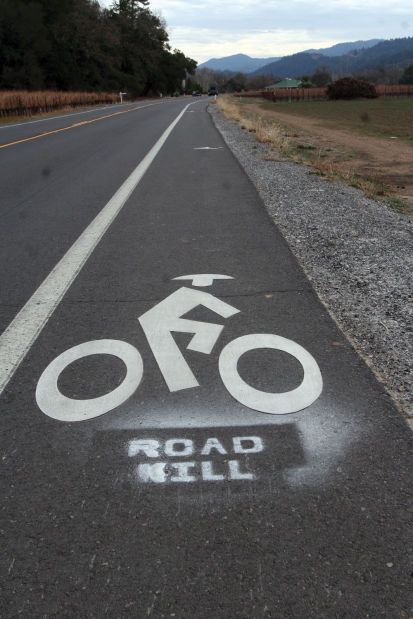 CALISTOGA — The spray-painted words "road kill" that appeared in a bike lane on Silverado Trail over the weekend drew sharp criticism from bicycle advocates who hope to reduce incidents of road rage in the region.
"This is not a joke," said Mike Costanzo, executive director of Napa County Bicycle Coalition, who posted a photo of the graffiti on the coalition's Facebook page asking if others thought it was a hate crime.
"I thought long and hard before using the term 'hate crime,'" he said.
His counterpart at Sonoma County Bicycle Coalition, Gary Helfrich, takes the matter seriously as well. "That's really out of control. That borders on hate speech," he said.
The graffiti appears to have been spray-painted using a stencil with the words "road kill" cut out of a rectangle, giving Costanzo and Helfrich the indication that the vandal had intended to replicated the message, but was interrupted in the process.
"Mostly people who do stuff like that are cowards," Helfrich said.
The tag, which was painted below a bike lane symbol of a person riding a bike, was reported by Costanzo to the Napa County Sheriff's Office on Monday and officials said they expected to have it removed within 24 hours.
It was located less than a half mile south of Larkmead Lane on the west side of the road. An open area bounded by vineyards is immediately adjacent.
A Sheriff's Office spokesperson said the spray-painted message is potentially an act of misdemeanor vandalism. The office has no leads and is asking anyone who may have information to contact them at 877-426-4847 or send an email to sherifftipline@countyofnapa.org.
Disturbed by the graffiti, Costanzo said he posted it on the Napa County Bicycle Coalition's Facebook page to draw attention to "the road rage that unfortunately happens sometimes" between motorists and bicyclists.
Brad Suhr, owner of Calistoga Bike Shop, hadn't seen or heard about the graffiti when The Weekly Calistogan interviewed him, but he said he hoped it was the work of a prankster, not someone with hate in mind.
Motorists yell obscenities, throw things and sometimes open car doors into a rider, Helfrich said. Occasionally the physical harassment by motorists is injurious or fatal.
"The consequences are so grave" for cyclists, Costanzo said.
Helfrich said he was unaware of similar "road kill" tagging on bike trails in Sonoma County, but said there have been other dangerous acts of anti-bike behavior there, including at least two instances where shots were fired at bicyclists.
Suhr suggests people remember that the person on the bicycle could be someone you know and care about.