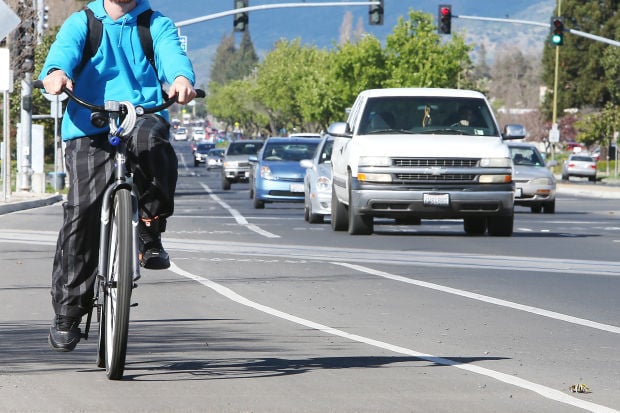 Napa is being asked to close a number of streets and roadways to through traffic, making room for a growing number of pedestrians and cyclists hitting the roads.
California's stay-at-home orders have caused a substantial reduction in vehicular traffic as many people stopped their daily commutes and the need to travel anywhere far from home slowed.
Locally, the number of residents using the Napa Valley Vine Trail at the Tulocay Creek Bridge increased by 88% compared to last year, based on data grabbed from an automatic counter of those who pass by foot or bike.
The Napa County Bicycle Coalition issued a formal request to City Council on May 15 that it adopt a Slow Streets program that would close certain streets to through traffic to provide safe, accessible routes for residents to travel and recreate while maintain the six-foot distance recommended by social distancing guidelines.
"We're really hoping to see the city adopt this as an attempt at giving people the space that they clearly need. If you look at how busy our parks are and how busy the Vine Trail is, we're clearly in need for more space for people to recreate and keep social distancing," Executive Director Patrick Band said.
According to the memo sent to City Council, the initiative would also encourage continued use of active transportation, bolstering community health and potentially reducing greenhouse gas emissions by keeping cars off the roads.
"The goal is not to give groups space to have block parties. It's to give people space to get outside, walk, ride a bike or go to local neighborhood destinations like shopping centers or parks," Band said.
Several residents spoke during public comment at last week's City Council meeting in support of the idea, asking members to consider the importance of creating new opportunities for families to spend time together safely and promote Napa as a safe, accessible place to recreate.
Mayor Jill Techel asked the item be added to the agenda for an upcoming meeting. Though Band says he's yet to receive a formal response from City Council, he says he's had early stage conversations with officials in the Public Works Department to answer their questions about how it might work.
"This is an opportunity to remind people we can get around on a bike or by walking in ways we might not have thought that we could," Band said.
Napa would join dozens of cities across the country that have recently adopted Slow Streets programs, including Bay Area neighbors like San Francisco, Oakland, and Alameda, but it wouldn't look identical to any of these, according to Band, who emphasized the need for community input to drive the program.
"Our hope is we can move quickly to get something up and running, see how it works, make changes as needed and be flexible," he said.
The Coalition suggested an initial list of corridors that it believes should be considered for closure: segments of Vine Hill Drive, Sierra Avenue, West Pueblo Avenue, Central Avenue, Yajome Street, Brown Street, East Avenue, Franklin Street, Shelter Avenue, Kilburn Avenue, Kent Street and Pickwick Drive.
Streets would be closed to through traffic only, while maintaining access for residents/businesses, deliveries and emergency vehicles.
The memo states the majority of proposed streets do not carry trucks and Vine Transit buses, have existing or proposed bicycle facilities and lie within residential areas to avoid major destinations and prioritize access to community destinations.
Looking at other cities and towns that have implemented similar programs in the last two months, the rollout would likely be "quick and easy," according to Band. Though Napa County Bicycle Coalition has yet to run any cost estimates, it's not recommending any kind of material or staffing support that could give it a hefty price tag.
"Based on what we've seen elsewhere, we're talking about signs, a couple barricades, putting up a page on the website and maybe creating a community forum where people can go for questions, complaints or suggestions," Band said, adding they're not recommending having volunteers or officers monitor the streets.