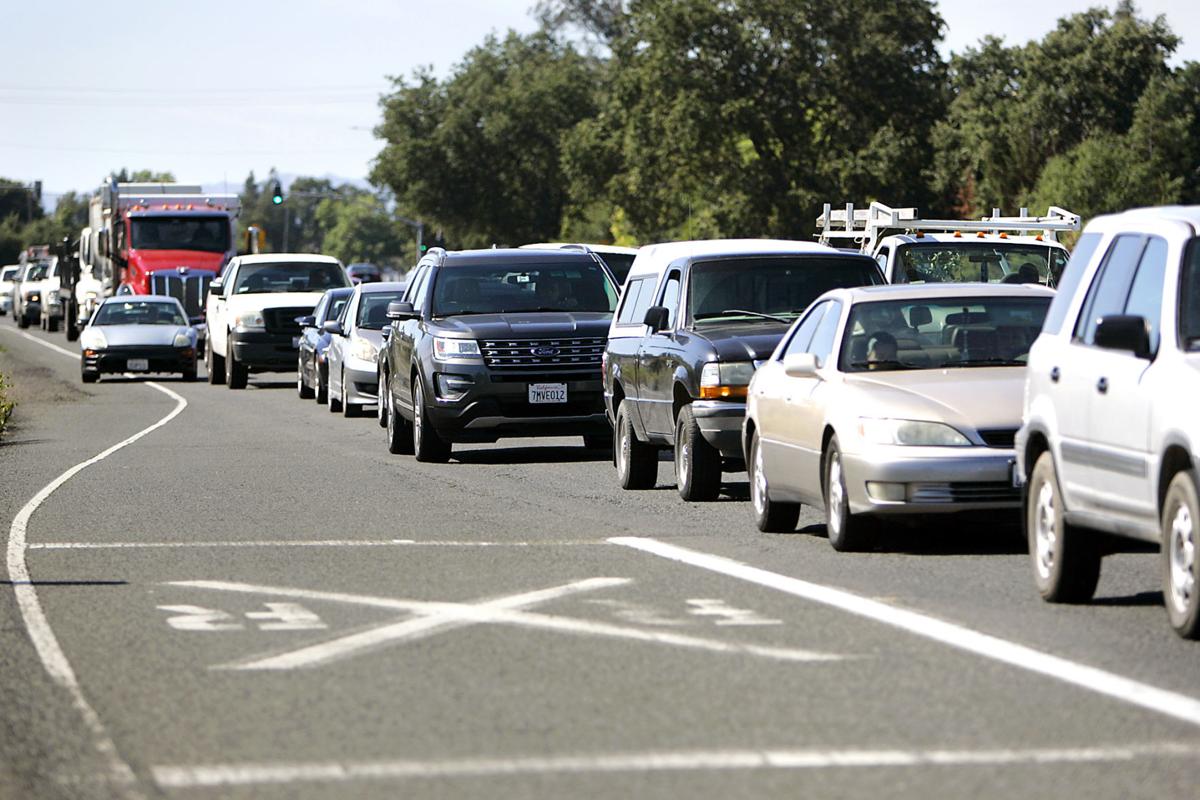 Ideas abound for denting congestion on Napa County's roads, from creating Upvalley roundabouts to starting a train-and-shuttle service to reach major wineries.
The Napa County Planning Commission endorsed updates to the county's General Plan circulation elements this month and passed its recommendations on to the county Board of Supervisors for consideration early next year.
"Most significantly, Napa County must find ways to maintain and improve access, address congestion and serve remote areas of the county while preserving the area's rural character," the draft transportation plan said.
But how? Only one person from the public spoke at the meeting, but people wrote letters.
"We are concerned about the direct and cumulative impacts from the expansion of the wine industry and related tourism sector, and without significant mitigative action, the county's policy goals will not be reachable," Caltrans District Branch Chief Patricia Maurice wrote to the county.
The draft transportation plan's idea of "encouraging" tourists and visitors to use public transportation needs to be worded more strongly. The county should form a transportation management agency that includes the biggest trip-generating hotels and wineries and the cities to monitor and enforce aggressive trip reduction targets, Maurice wrote.
"I think those are two really good ideas," Commissioner Joelle Gallagher said.
Caltrans said congestion-combating roles could by played by rail shuttles on the Napa Valley Wine Train tracks, by hop-on and hop-off shuttles going to popular destinations and by buses.
Rex Stults of Napa Valley Vintners wrote that the county cannot build its way out of congestion due to the county's small size and agricultural nature. The group suggested building roundabouts at some intersections and synchronizing traffic signals at other intersections along Highway 29 and Silverado Trail.
Commission chairwoman Anne Cottrell picked up on the roundabout idea.
"To me, that's important not only in terms of traffic flow, but rural feeling," she said.
Napa Valley Vintners also suggested that the county work with Wine Train owners on a possible light-rail service to bring workers up and down the valley at a reasonable cost. This service could charge visitors a higher "hop-on, hop-off" fee.
"There would ideally be shuttles in each of the towns that assist in getting light rail riders from drop-off points to wineries, restaurants and other places of employment in that area," Stults wrote.
Philip Sales of Napa Valley VineTrail Coalition wrote that the updated General Plan circulation element should emphasize more strongly the building of new Vine Trail sections. The biking-and-walking trail, when finished, is to extend 47 miles from Vallejo up the Napa Valley to Calistoga.
"Over 18,000 students attend education institutions within a half-a-mile of the existing Vine Trail," Sales wrote. "The Vine Trail provides an alternative to car pools, buses and other automobile forms of transportation."
Sections of the trail have automatic bike and pedestrian counters. The southern part of the Napa-to-Yountville segment had 87,451 users from January 2017 to January 2018. The northern part had 108,455 users, Sales wrote.
Commissioner Dave Whitmer wanted to get more opinions from people who drive the county's roads, perhaps by taking comments online. They can offer "pearls of wisdom" from their experiences, he said.
"It's different advice than you get from the number crunchers and professional transportation consultants," Whitmer said.
Commissioner Andrew Mazotti asked about self-driving cars.
County Planner Dana Ayers said autonomous vehicles might add traffic to roads by making automobiles more convenient. She takes the bus to American Canyon because she grows frustrated driving in congestion, but wouldn't face having to hit the brakes and gas pedal repeatedly in a self-driving car.
Traffic congestion has been a hot issue among Napa County residents. Still, the meeting room was almost empty for the Planning Commission discussion, which took place during the commission's usual Wednesday morning meeting time.
"I'm sorry more people aren't here," Commissioner Jeri Hansen said.
Get local news delivered to your inbox!
Subscribe to our Daily Headlines newsletter.