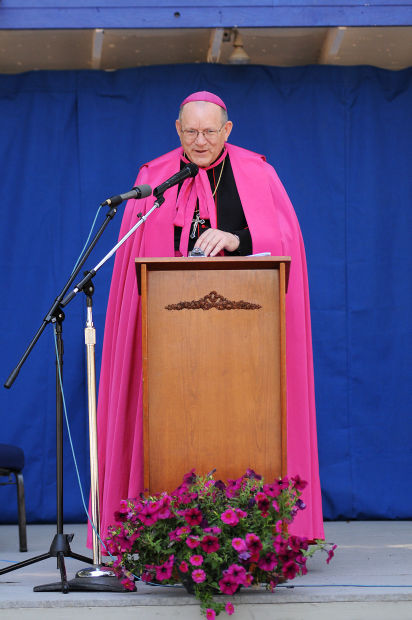 A controversial addendum referring to contraception, abortion and same-sex-marriage that was originally planned for teacher contracts at two Napa Catholic schools will not be added to such teaching agreements.
To keep their jobs for the 2013-14 school year, diocesan teachers would have had to sign contracts affirming that contraception, abortion, same-sex-marriage and euthanasia are "modern errors" and are "matters that gravely offend human dignity."
The 2015-2016 teaching contract for such teachers "prudently avoids specific identification of polarizing issues," without eliminating them, said Bishop Robert Vasa, of the Diocese of Santa Rosa.
In 2013, some diocesan teachers, parents and students, primarily in Sonoma County, publicly voiced opposition to the proposed specific language. After some cited concerns that the diocese was trying to dictate their private lives or personal beliefs, the addition of the terminology was put on hold.
The new contract, like previous contracts, contains a reference to an updated ethics code for Catholic school principals and teachers. The diocesean "code of ethics" states that the church's catechism is the source for all references to Catholic teaching, values and morals.
The ethics code "outlines personal and professional commitments and details acceptable understandings and corresponding behaviors for those entrusted with delivering Catholic education," said a news release from Vasa.
The contract and code's release this past week follows months of intensive discussions in collaboration with pastors and principals.
"There has been a lot of pivoting off the matter … to respect the church and its teaching" and the teachers who sign the contracts, said Diocese of Santa Rosa Superintendent of Schools John Collins.
In Napa, teachers from St. John the Baptist and St. Apollinaris sign the diocesan contract. Employees at Justin-Siena High School and Kolbe-Trinity do not sign contracts with the Diocese of Santa Rosa.
St. John the Baptist Catholic School Principal Nancy Jordan said her staff was comfortable with the wording of the latest contract. While Catholic school teachers are asked to adhere to the teachings of the church, "The contract doesn't get into your private beliefs. The emphasis is on your public behavior," she said.
Jordan said that the fallout from the publicity of the proposed language hurt enrollment at the downtown Napa school in 2013.
"We suffered," she said. "It made prospective families feel like the church handpicked hot-button political issues to focus on."
That certainly isn't her goal, said Jordan.
"We follow the teachings of Jesus, who was very welcoming, and Pope Francis," she said. "We are very open to everyone's different spiritual paths."
When asked if the 2015-2016 contract wording could be attributed to the "Pope Francis effect," or message of inclusiveness, Collins said the ethics code came to the diocese in 2009 and "the contract itself has been in place from before Francis' time."
"I do not want to downplay his influence. Neither do I wish to overstate it," Collins said of Pope Francis.
Instead, he cited "grace … (and) the action of God toward us" as influences on the contract and the process.
In 2013, the proposed contract wording was launched without input or collaboration, Jordan noted. "This time, he asked for input," she said of Vasa. "He was able to earn much more buy-in with this effort. I really applaud how the bishop handled it."
Connie Howard, principal of St. Apollinaris Catholic School, could not be reached to comment.
The Diocese of Santa Rosa in California consists of six Northern California counties: Napa, Sonoma, Lake, Mendocino, Humboldt and Del Norte, which borders Oregon. Bishop Robert F. Vasa has served in the diocese since 2011.