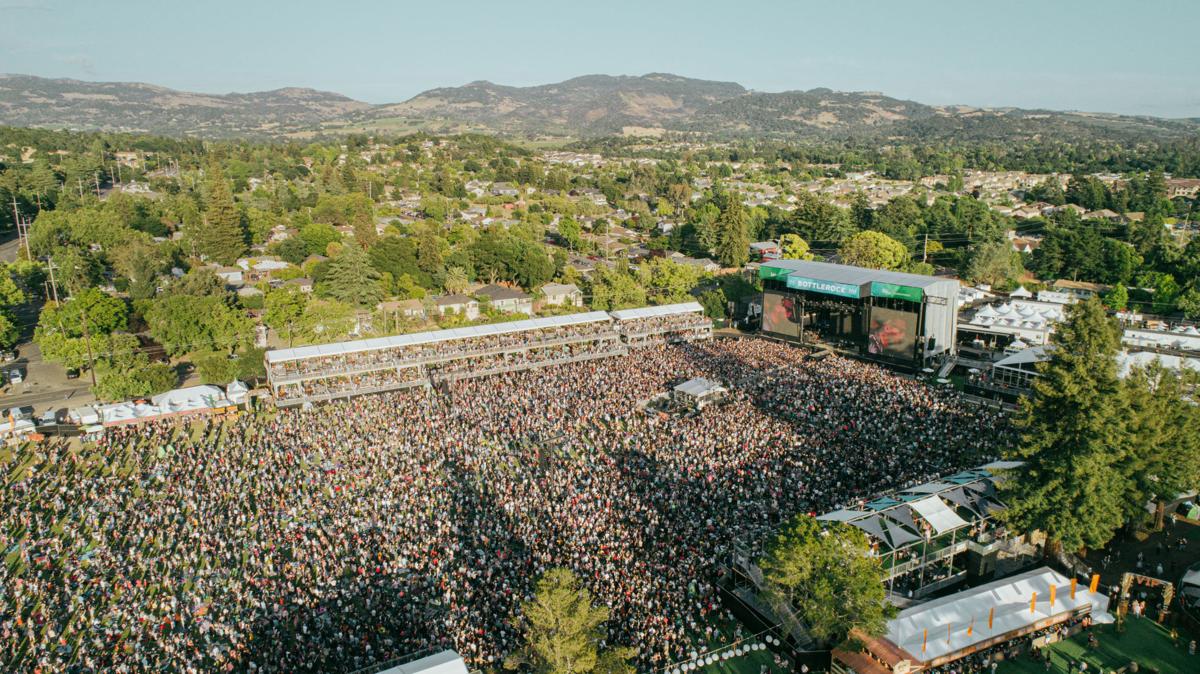 Directors of the Napa Valley Expo's largest spectator attraction will extend a helping hand to a fairground authority stripped nearly bare of moneymaking events by the coronavirus pandemic.
Board members of the state-operated Expo on Tuesday morning accepted an earlier-than-scheduled $199,679 payment from Latitude 38 Entertainment, which produces the BottleRock music festival that draws about 120,000 people annually. The original payment date was tied to BottleRock's normal late-May schedule, which was postponed to the first weekend in September because of continuing COVID-19 safety restrictions, according to board president John Dunbar.
The date of the advance payment, part of an agreement that provides the fair authority more than $800,000 a year, is to be decided later after talks between the Expo and Latitude 38, Dunbar said later Tuesday.
We're offering our best deal ever with this Editor's Special. Support local news coverage by subscribing to the Napa Valley Register.
The advance would buy time for the fair authority as it awaits a wider rollout of vaccines that would allow the safe staging of mass gatherings, including a Town & Country Fair scheduled for July 7-11 and BottleRock two months later. Revenues at the Expo and other California fairgrounds have shriveled in the 11 months since the spread of COVID-19 triggered stay-at-home orders that shut down virtually all mass gatherings.
Wiped off the Expo's 2020 schedule were BottleRock, the Town & Country Fair and nearly all the smaller events that normally occupy the collection of exhibition halls and outdoor lawns at the fairground on Third Street. One of the few remaining fairground events, the Junior Livestock Auction that normally anchors the Town & Country Fair, was conducted online in August, with animals later delivered to the fairground in a drive-through format. A socially distanced drive-in movie series began in October, only to be suspended after a month when a rising COVID-19 case load led Napa County to tighten business restrictions.
Meanwhile, the Expo has continued to face monthly expenses of $25,000 to cover utilities and a three-person maintenance crew, shrinking its cash reserves to a level the agency called "of grave concern" by October.
Latitude 38 has produced every BottleRock festival since the second edition in 2014, when principals Justin Dragoo, David Graham and Jason Scoggins acquired the production rights to the event after its founders fell millions of dollars in debt, declared bankruptcy and faced a host of lawsuits from creditors to the original festival in 2013.
A contract signed in 2016 by the Expo and Latitude 38 pays the fair authority more than $8 million over 10 years, and allows producers to take over most of the fairground for 35 days a year for setup, teardown and the three-day festival. The funding has allowed the Expo to cope with the loss of two exhibition buildings and food booths due to the 2014 earthquake, and keep up a five-day schedule for its showcase fair as other California fairs have had to cut days.
The Expo board on Tuesday also approved an extension of its contract with Latitude 38 to 2030, with a clause to add a year in case of another BottleRock cancellation.
BottleRock normally takes place in the three days before Memorial Day, although this year's festival has been moved to September before Labor Day amid continuing uncertainty about how quickly coronavirus vaccines will become available to the general public.
Napa County currently is allocating shots primarily to health care workers and residents 75 and older, and recent shipments were delayed by severe winter weather in the Midwest before starting to arrive again Monday.
WATCH NOW: NAPA FOOD BANK TO MOVE DISTRIBUTION TO NAPA VALLEY EXPO
PHOTOS: SCHOOL PICTURE DAY LIVES ON EVEN DURING A PANDEMIC
Catch up on Napa County's top news stories