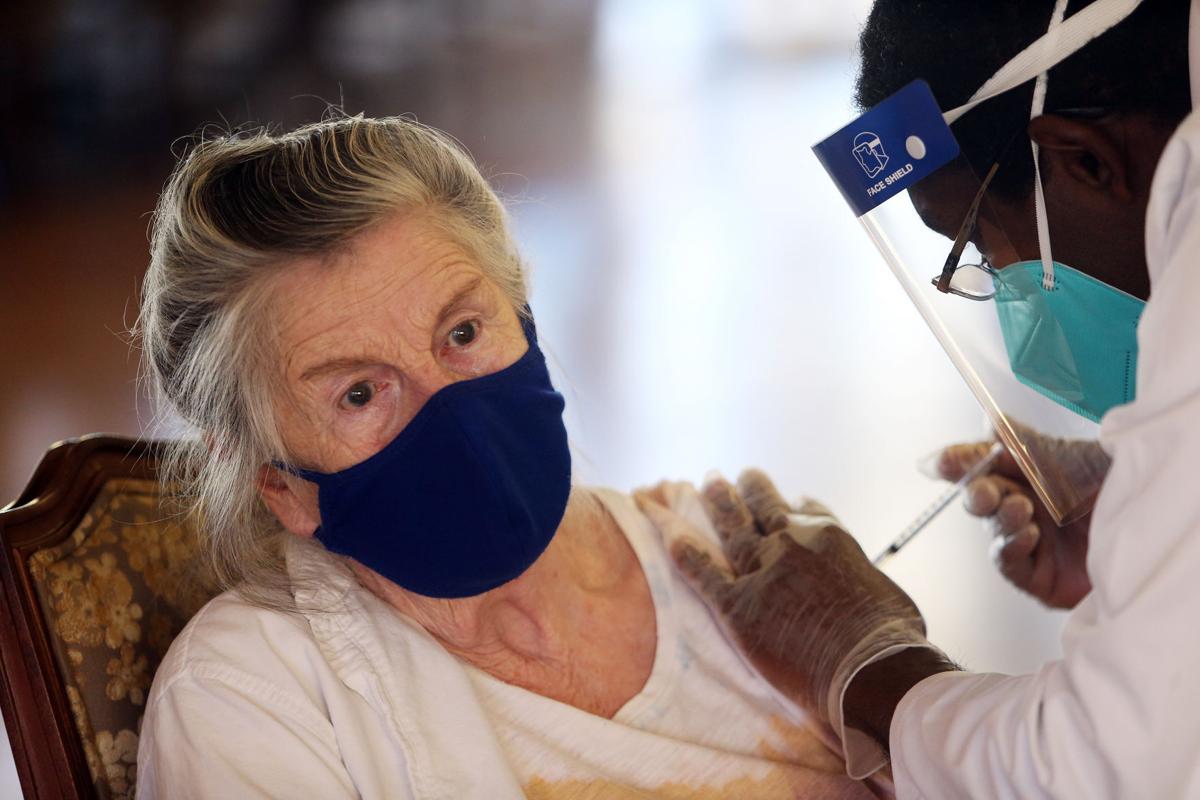 More than a third of residents at the assisted living and memory care facility Brookdale Napa have tested positive for the coronavirus, internal communications obtained by the Register show.
Emails from Brookdale to the families of residents obtained by the Register cite at least 29 cases among the facility's 75 residents and six cases among staffers as of Feb. 9. Stakeholders were told on a Zoom call Feb. 10 that the number of infections had reached 41 among residents and eight among facility staff, according to the son of a resident who wished to remain anonymous over concerns for his and his parent's privacy.
A spokesperson for Brookdale, Heather Hunter, declined to cite the number of active COVID-19 cases in its Napa facility.
We're offering our best deal ever with this Editor's Special. Support local news coverage by subscribing to the Napa Valley Register.
"We can confirm that more than one member of our Brookdale Napa community has tested positive for COVID-19," Hunter said in a written statement. "We have informed residents, their family members, and associates of Brookdale Napa of this matter."
More than 60 of the facility's residents and 50 of its employees received their first round of COVID-19 vaccinations during a six hour vaccination clinic Jan. 17, making them some of the first recipients of the vaccine in Napa County. The facility had previously reported a single COVID-19 case among a resident on Jan. 5, emails from the facility to stakeholders show.
Executive Director Steven Mattingly told the Register Jan. 17 that not a single Brookdale Napa resident had tested positive for coronavirus.
On Jan. 22, an employee tested positive for COVID-19, the facility said in an email to stakeholders. On Jan. 28, "an additional four residents and three associates tested positive," the facility wrote in an email. The next day – Jan. 29 – Brookdale informed families and stakeholders that 20 residents and six employees had been diagnosed with COVID-19.
"These residents are either receiving medical care in a local hospital, skilled nursing facility, or will be placed in the special resident care area we are creating," the facility wrote in the Jan. 29 email. Hunter, the spokesperson, declined to say how many residents had been hospitalized as a result of the outbreak, or if any of the cases had resulted in the death of a resident.
Brookdale Senior Living District Director of Operations Zachary Butcher informed stakeholders by email Jan. 30 that Executive Director Steven Mattingly was "no longer with" the facility. It is not clear whether Mattingly's departure is in any way tied to the outbreak.
In Napa County, the rate is more than twice that: 38 of the county's 59 virus-related deaths as of Monday – almost 65% – are the result of outbreaks of COVID-19 in congregate long-term care facilities, County Public Health Officer Karen Relucio said Tuesday.
The county is aware of the outbreak at Brookdale, she said, noting that there are currently 13 active outbreaks among the county's 50 long-term congregate care facilities. That is down from a previous peak of 14 earlier this year, Relucio said, adding that in total there have been 37 outbreaks among the 50 facilities.
"We keep following an outbreak until (the facility in question) has had two consecutive rounds of testing that have come back negative," Relucio said. "Then we keep it open for an additional 28 days from the last time (a resident tested positive) to make sure there are no further cases across incubation periods."
The long-term criteria means an "outbreak" is extended if even a single resident tests positive for COVID-19, Relucio said. The county's longest-running outbreak has been technically active since June, she added, declining to name that facility. Outbreaks in other facilities in the county have been closed and then reopened upon discovery of additional cases among residents, Relucio said.
Nationwide, skilled nursing and assisted living facilities have proved deadly hotspots for virus outbreaks; deaths of nursing home residents as of Feb. 2 make up 34% of the United States' total recorded fatalities, according to the New York Times.
Napa County previously struggled to contain a rash of outbreaks in its congregate living facilities – in nursing homes but also its farmworker housing centers – in June of last year. There are currently no known outbreaks of COVID-19 in county-owned facilities, Relucio said Tuesday.
Brookdale hosted a second vaccination clinic for its residents to receive their second doses Feb. 7. Hunter, the spokesperson, said in a written statement that clinic had not been delayed by the outbreak, but declined to specify how many residents had received their second shot.
Relucio, asked if the first vaccination clinic could have been the event that prompted Brookdale's initial outbreak, said she thought it unlikely: staffers at clinics wear extensive PPE and must test negative before administering vaccines, and a delay in test results or a positive test among clinic staff would be cause to delay the clinic.
Brookdale's vaccinations were the product of the Centers for Disease Control and Prevention's pharmacy partnership program, Relucio said, which is helping to facilitate on-site vaccination of residents at long-term care facilities in the United States. Napa County was not involved in the vaccination clinic, she confirmed.
Elderly and medically vulnerable residents of long term, congregate care facilities are "one of the highest priorities" for vaccinations, Relucio added, noting she was hopeful mass vaccinations of those residents, once completed, would make a significant difference in Napa County.
"They are clearly contributing to increases in death rates and hospitalizations," Relucio said of residents. "With more getting vaccinated, we'll see (that) less."
Editor's note: Because of the health implications of the COVID-19 virus, this article is being made available free to subscribers and non-subscribers alike. If you'd like to join us in supporting the mission of local journalism, please visit napavalleyregister.com/members/join.
WATCH NOW: NAPA COUNTY OFFERS CORONAVIRUS VACCINE HOTLINE FOR SENIORS
PHOTOS: Best of Faces & Places
CATCH UP ON NAPA COUNTY'S TOP NEWS STORIES
Catch up on Napa County's top news stories