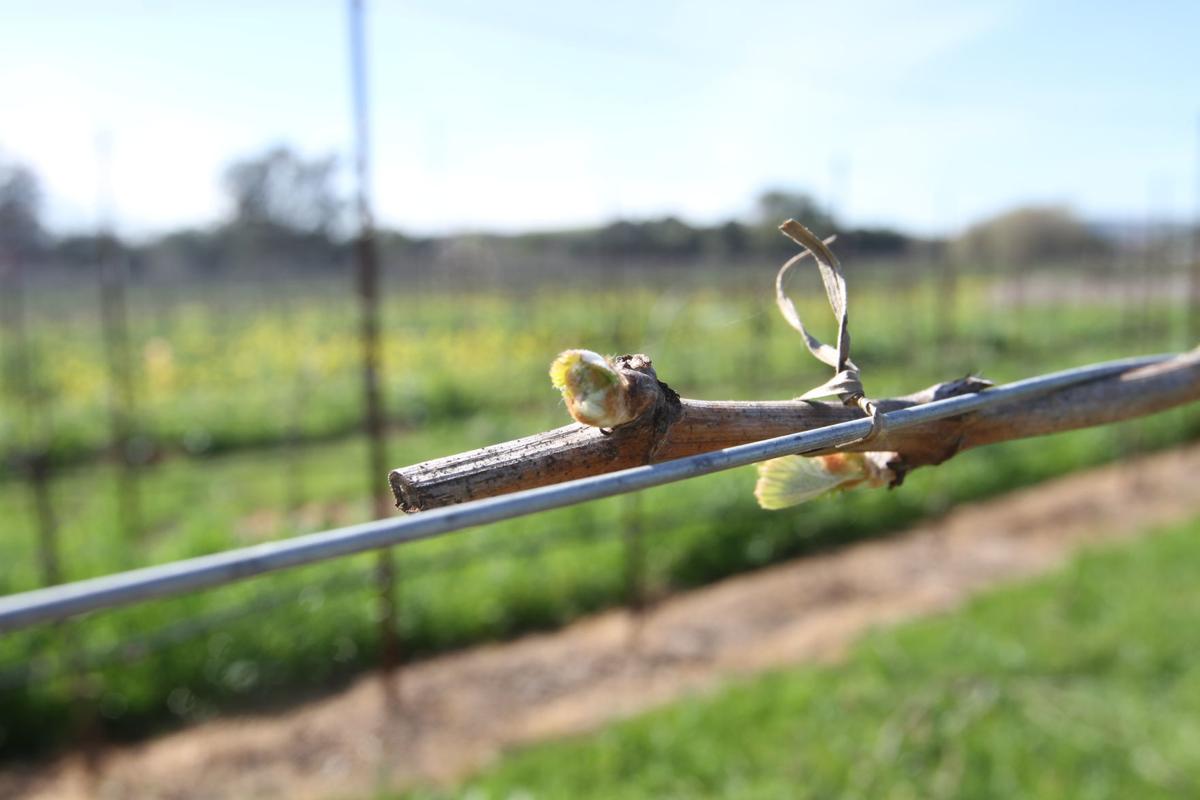 Warm daytime temperatures have spawned the beginning of bud break in Napa Valley, growers in the Los Carneros appellation say.
Bud break is the first step in the growth cycle of grape vines, and an easily identifiable one: pruned vines boast new growth in the form of small, bright green buds.
Warmer temperatures this week likely spurred the bud break, which has begun mostly with younger vines in a handful of Napa Valley appellations. Los Carneros, which sits at the south end of the Napa Valley, shares its border with eastern Sonoma County, where growers announced bud break earlier this week.
Bud break is dependent on other variables, like varietals – whites tend to break earlier than reds. Even red varietals in Los Carneros appear to be poised for bud break in the next week or so, according to Ariel Ceja, of Ceja Vineyards.
"None of our vines have broken yet, so we're still waiting, but I'd imagine that with the warm weather it'll be imminent," Ceja said Wednesday.
With earlier bud break comes an extended window in which growers must actively attempt to prevent frost in their vineyards. Below-freezing temperatures and even temperatures in the low 30s – the likes of which are not uncommon for Napa Valley to experience into April – elevate risk for buds, which can be destroyed by frost.
Jennifer Thomson, fourth-generation farmer and owner of Thomson Vineyards in the Carneros region, said the vineyard's youngest block of Chardonnay had just begun to bud. That off-site block sits at a slightly higher elevation than does the rest of Thomson's vineyard, exposing it to warmer temperatures and encouraging the earlier budding, she said.
"(That) really speaks to microclimate – they're so much more varied in Napa than we even expect," she added.
Napa's known microclimates can differ drastically at different points of elevation through the valley. That's likely why growers working with vineyards in areas like Yountville, Oakville, Rutherford and St. Helena are not yet seeing bud break, according to Paul Goldberg, president of the Napa Valley Grapegrowers.
"We're looking at different varietals on a mass scale throughout the county, and what I'm seeing mid-valley is that everything's pretty tight still, given the conditions of the buds at this point," Goldberg said. Bud break for Cabernet, especially mid-valley vines, could be two weeks away, he added.
"That would put it at a mid-March window, and that's not out of the realm of normal," said Goldberg, for whom this season will mark his 12th in Napa.
Grapevines typically will not grow in temperatures lower than 50 degrees, according to Vintage Report. Extended periods of time in which average temperature exceeds that threshold – as has taken place over the last week or so – prompts the emergence of the buds.
The beginnings of bud break, like what Carneros is experiencing, has over the last five growing seasons taken place as early as the first week of February. It has consistently fallen within the last two weeks of the month, according to previous Register articles.
That was not always the case, according to Ceja, who said that historically bud break has occurred at the end of March.
"It does seem to be coming earlier and earlier," he said, noting that frost had also not been much of an issue for Ceja Vineyards over the last decade. It's attributable to the "incoming warmer climate," he added.
"We're obviously trying to be realistic, and we think Pinot Noir and Chardonnay will stand the test of time here in Carneros," Ceja said. The two varietals have traditionally been grown in cooler climates, like Los Carneros.
"Some growers are experimenting with Cabernets, which is seen as heartier stock. That's something to keep an eye on," Ceja added.
Soil temperature is also a big factor in bud break, according to Goldberg, who said that the dry February Napa is experiencing could mean that soil temperatures are more subject to change. Moisture in soil stabilizes its temperature, he explained. But he expects to see more rain in March, something that would "change the conversation."
Even if bud break in its entirety were to arrive early this year, Goldberg said, it would likely be welcomed by Napa's growers. He described the 2018 and 2019 growing seasons as "tracking a little behind" with bud break.
"Every year is unique and comes with its own set of circumstances and challenges," Goldberg said, adding that rainy season is not yet over for the area. "As growers, our mission is to adapt and figure out how to work within those constraints that Mother Nature gives us."
Get local news delivered to your inbox!
Subscribe to our Daily Headlines newsletter.