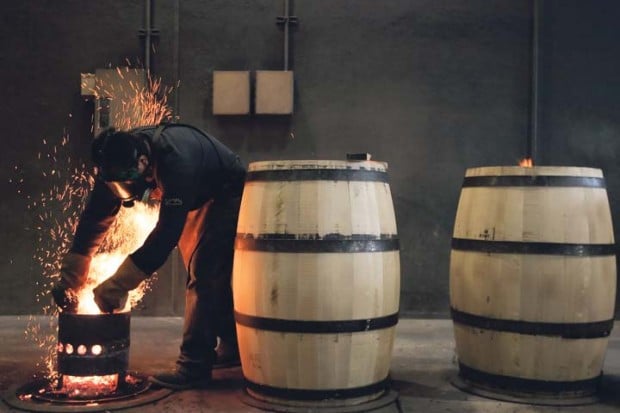 Napa Valley residents are used to seeing wooden wine barrels: in wine caves, stacked outside warehouses and even cut in half and filled with flowers on neighborhood lawns. Barrels are everywhere in wine country.
But locals and wine country visitors may not know that South County workers are the ones assembling the barrels from European and American oak, using age-old techniques for curing wood and bending staves into the distinctive containers for fermenting wine.
Approximately 70 companies from France sell barrels in the U.S. There are numerous cooperages with offices in the North Bay, and two major firms have physical barrel-making facilities in the Napa Valley — Demptos Napa USA and Seguin Moreau Napa Cooperage.
Demptos was the first French cooperage to open a facility in Napa, setting up shop on Soscol Ferry Road at the foot of the Southern Crossing. Mark Heinemann, general sales manager for Demptos, is a Napa native who attended schools in St. Helena and graduated from UC Davis. He trained as a winemaker and worked in the wine industry before joining Demptos 17 years ago.
Seguin Moreau built its facility, off North Kelly Road near the Napa County Airport, in 1994. Lance Spears, president and CEO of Seguin Moreau Napa, joined the firm in 2003, coming from the finance industry.
International businessBarrel-making is labor intensive. Demptos can make up to 148 barrels per day in Napa, while Seguin Moreau's capacity is about 125 per day. Demptos employs 39 coopers and ships barrels to about 900 clients. Seguin Moreau has 22 coopers and lists nearly 1,000 clients on its roster. Both ship to wineries in other countries, including some in Europe.
In addition, both companies have facilities in Missouri, where the best American oak trees are grown.
Barrels are not inexpensive. Because each barrel is hand-made to order, French oak barrels can cost more than $850; the price varies depending on the value of the Euro on a given day.
American oak is less expensive, costing up to $400.
Both local firms also make barrels from eastern European oak, and those barrels run about $600 each.
Barrel makers are an important component in the economic health of Napa Valley. A 2005 report by MKF Research in St. Helena indicated that cooperage contributed $39 million toward the local economy each year. Wages associated with cooperage added another $4.5 million.
Though barrels using French oak are assembled in Napa Valley, the preparation of the staves is done in Europe. The same holds true for American oak — the components are prepared in Missouri and shipped to Napa Valley.
Trees used for oak barrels range from 160 to 250 years old and are selectively harvested. The wood is carefully split to maximize the grain. "Only about 4 percent of the wood from a tree is used," said Heinemann. Only the best wood with straight grain is used — no blemishes are allowed. The rest of the wood is sold.
Seguin Moreau's Spears said the yield loss "is tremendous — we get only about three barrels per tree."
Demptos and Seguin Moreau focus on two types of barrels. Bordeaux barrels hold 225 liters (about 60 gallons) and are slightly taller than Burgundy barrels. The Burgundy barrel, which holds 228 liters and has a little tighter grain, is slightly fatter and the head is slightly larger. Both companies also make other barrels to order, ranging from 225 liters to 600 or 700 liters.
Coopers trim and shape the wood to the required size, then the staves are laid out to air dry. The staves are exposed to air for 24 to 36 months, which allows the wood to properly season. This is done in France because, Heinemann said, the climate is too dry in California.
"The drying process is more of a maturing process," Spears said.
Staves are shipped to the Napa Valley offices in sets of about 30 each — enough to make one complete barrel.
A cooper assembles the barrel by taking the straight staves and fitting them together, putting galvanized steel hoops around them at the bottom.
The partially-assembled barrel is placed over a controlled fire. After about 20 minutes, the staves are flexible enough to be bent, then hoops around the upper part of the barrel are added.
The barrel is then toasted for up to about 40 minutes, depending on the customer's specifications. Every barrel is made to order, and toasting is offered in various amounts ranging from heavy to medium to light, with all stages in between.
Following toasting, the round heads at the top and bottom of each barrel are put into position and the top hoops are hammered into place.
The heads are assembled with strips of tule reed between each head stave, and the barrels are tested to make certain they don't leak.
Toasting not only softens the wood so it can be bent, it also transforms the oak so that it has a big impact on the flavors of the wine and the aging process.
Toasted wood bring up the sugars in the wine and caramelizes the sugar. "It's a crème brûlée-type of aroma," Heinemann said.
Spears offered a different description: "We try to give the winemaker the spice for the spice rack. The trick is in the toasting."
Get local news delivered to your inbox!
Subscribe to our Daily Headlines newsletter.