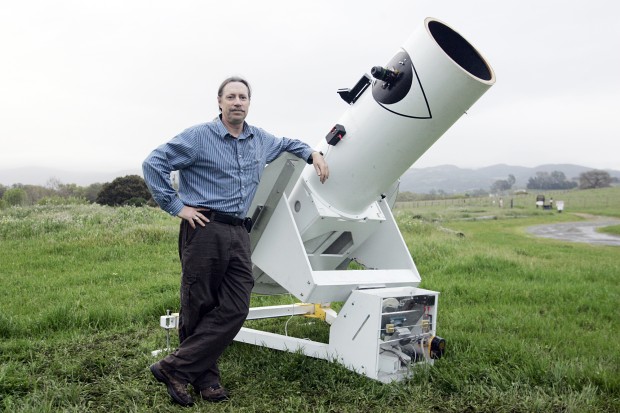 About a dozen times a year, an unusual guest appears at star-watching parties in Napa County. It is mute except for the occasional whirring of a servo motor at its triangular base, but its eye — a 16-inch-wide Pyrex mirror inside a 6-foot-long tube of redwood and fiberglass — makes it the center of attention, and a link from Napa County to the stars.
For five years, Michael McKeown has been designing, building and refining the telescope he calls "Cyclops," after the single-eyed giant of Greek mythology. As the cannon-shaped instrument has evolved, so too has the 50-year-old Napa resident's goal; what began as a technical challenge he expected to take a few months has become a mission to turn more heads, and minds, toward the galaxies beyond.
"Sharing this with the public is a big draw for me. It's a moving, lifetime memory, and it's really neat to share that with other people," McKeown, a computer company owner and astronomy enthusiast, said earlier this month while testing Cyclops at Skyline Park.
"It's so impressive, a piece of nature available for anyone to see. But you have to have the tools," he said of the cosmos overhead.
McKeown's love of stargazing began when his family moved in 1973 from the East Bay town of Dublin to Coombsville, an east Napa area that was distant enough from San Francisco to provide a sharp view of the stars free of big-city light pollution.
But it would be nearly a quarter-century — after he returned from an Air Force stint and founded Wine Country Web Services — before McKeown's enthusiasm would take a new turn.
"The first night out in Alta Heights, I saw the sky and I said, 'Oh my God, I've got to get myself a telescope!'" he recalled of that night in 1997.
He would go through two store-bought instruments before deciding to blend his enthusiasm for the stars with his computer skills, in a project he estimates has cost nearly $12,000 to date.
Higher-powered home telescopes began reaching the market in the 1980s, but most such devices are aimed at high magnifications of a relatively small slice of the sky. McKeown instead sought to create a more panoramic, wide-angle view that would wrap viewers in as much of the night sky in one glance as possible.
Cyclops is designed mainly to view clusters of stars in the Earth's nearer neighborhoods, including open clusters comprising up to several thousand stars as well as the larger globular clusters that orbit the cores of galaxies. A netbook computer loaded with planetarium software guides the telescope to different parts of the sky through a wireless Bluetooth connection, and a motor corrects the instrument's position if accidentally nudged or leaned upon.
"I like to tell people that looking through a modern telescope is a huge, immersive experience," he said. "It's not like having a skinny backyard view. You point this at the moon and it's almost like seeing an Apollo mission photo. You can even see the shadows of the moons passing over Jupiter.
"For a lot of people, this may be the only time they look through a telescope," said McKeown, who also serves as an astronomy docent at Mount Diablo State Park in Contra Costa County. "And I want to give them the best view I can afford."
Hauling Cyclops on a specially built trailer, McKeown has taken the telescope to stargazing events around the county, some organized by astronomers and others by telescope enthusiasts who set up as many as a dozen instruments per event. But for all the technology and ingenuity he has invested in his eyepiece to the stars, he says the reward is as elemental as it was years ago under the Coombsville sky.
"The enjoyment of the stars is like walking the beach and looking out at the starfish and sea urchins," he said. "They all look the same, but you still never get tired of looking at them."