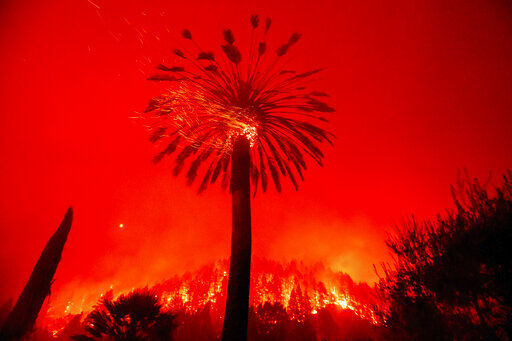 Even as the Glass Fire rages, Cal Fire investigators have gone to the suspected area of ignition in a remote location in mountains northeast of St. Helena to try to figure out the cause.
"We start as soon as we can," Cal Fire spokesperson Scott McLean said Thursday. "A lot of times, we will send in an investigator with the initial response, so we can start an investigation right away. Yes, there is an ongoing investigation."
McLean said he cannot give details about the search for the origins of the fire that has destroyed 107 Napa County homes, a handful of wineries and scorched nearly 57,000 acres in Napa and Sonoma counties.
Multiple news sources have reported the suspected ignition location as being along North Fork Crystal Springs Road. This one-lane, dead-end rural road passes wooded hills vineyards, an occasional winery and a scattering of driveways to homes.
KTVU Fox 2 reported Wednesday that Cal Fire officials could be seen along North Fork Crystal Spring Road in a vineyard that is surrounded by an electric fence. They were guarded by security, which is usual for an investigation team.
The television station reported the vineyard is owned by Cakebread Cellars. A Cakebread Cellars official on Thursday said the Napa County winery is aware of such media accounts.
"To be clear, Cal Fire has informed us that it is looking at a number of properties along with ours and has yet to conclude its investigation," Katie Griesbeck of Cakebread Cellars said by email on Thursday. "This indicates to us that Cal Fire has not identified a particular origin or cause."
A previous Cal Fire investigation found Pacific Gas & Electric at fault for the 2017 Atlas Fire with Cal Fire concluding that high winds blew tree limbs into power lines to spark the fires.
North Fork Crystal Springs Road has electric power lines along it. PG&E pointedly addressed the issue as part of a Monday press release, saying it had no knowledge of its lines sparking the Glass Fire.
"We have no information that the Glass Fire is attributable to PG&E facilities," PG&E spokesperson Deanna Contreras repeated on Thursday.
The time Cal Fire spends on fire origin investigations varies greatly.
"It could take several weeks," McLean said. " It can take several months. It can take a year. There's a lot of work that goes into it. Our investigators are very methodical and determined to get the answer. It does take time."
The 90,000-acre County Fire broke out near Lake Berryessa on June 30, 2018. Cal Fire reported on July 11, 2018 that a faulty electric livestock fence had caused the blaze.
In contrast, the Atlas and Partrick fires broke out in Napa County on Oct. 8, 2017. Cal Fire took until June 8, 2018 to announce that PG&E lines were responsible for the fires.
The original posting of this story incorrectly attributed blame for the Tubbs Fire
Watch now: Deer Park decimated by Glass Fire
Get local news delivered to your inbox!
Subscribe to our Daily Headlines newsletter.