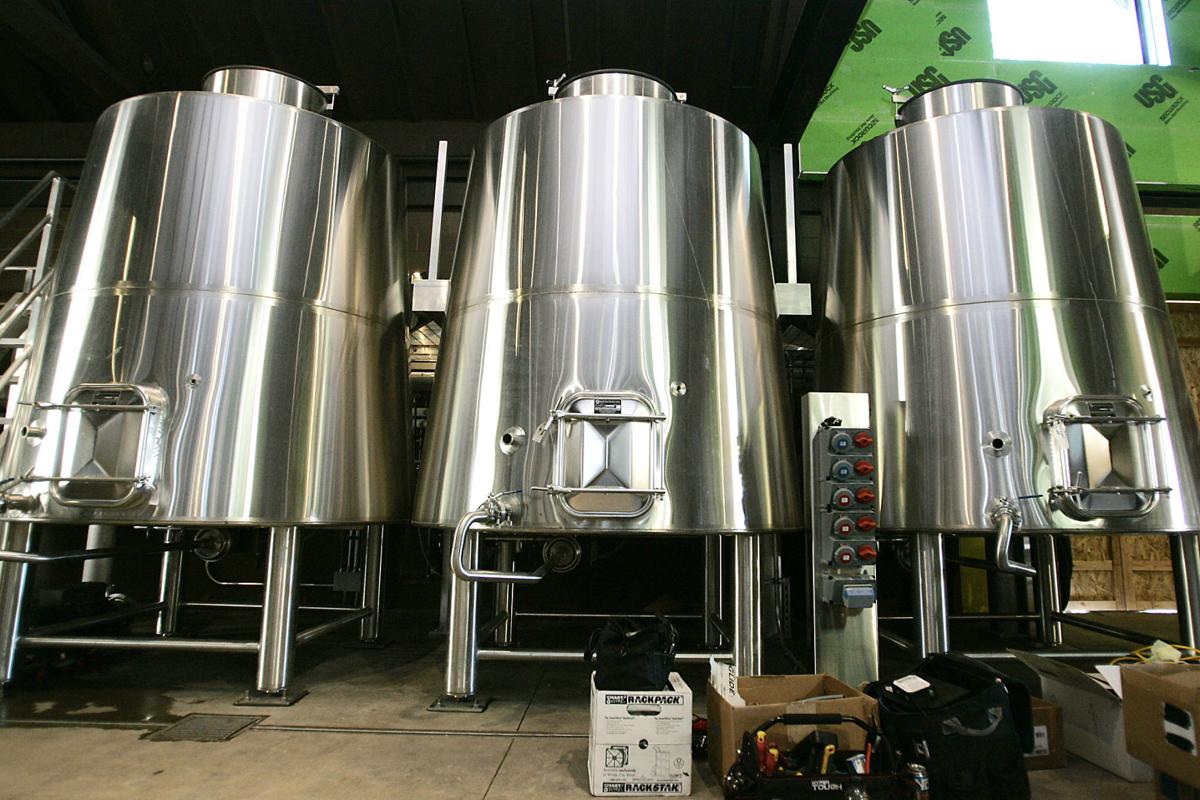 Volatile organic compounds rarely make headlines, but they do sometimes make more visible appearances as ozone, a harmful, smog-like air pollutant. And now they're at the heart of hotly debated regulation that could be imposed on winery fermentation tanks.
Volatile organic compounds (VOCs) are generated across a number of industries. Some are man-made, like methylsiloxanes, found in antiperspirant; a handful are less innocuous, like the now-banned DDT, a carcinogenic insecticide. Others are naturally occurring, like ethanol, emitted by fermenting wine grapes.
Though not all VOCs are hazardous to human health, all VOCs are ozone precursors. If VOCs are exposed to nitrogen oxides, a common air pollutant produced by cars, under heat and warmth (read: on hot, sunny days) they'll react to form smoggy ozone.
The Bay Area, whose air district Napa and Sonoma counties are a part of, has in recent years been largely spared from harmful concentrations of ozone. Because industry in the nine Bay Area counties is so varied, encompassing everything from agriculture to oil, the most potent VOC emissions can be traced back to sources like oil refineries and to significant automobile traffic, according to Alan Abbs, legislative executive for the Bay Area Air Quality Management District (BAAQMD).
"When you look at some of the other producers in the region, winery emissions aren't going to be something that rises to the top of what we're going to be looking at," Abbs said.
The majority of the North Bay's wineries are comparatively small producers of VOCs, he added; emissions from machinery, like back-up generators, are of more imminent concern to the district. But emissions from large wineries – those producing millions of gallons of wine each year – are by no means insignificant, according to Richard Stedman, an air pollution control officer for the Monterey Bay Air Resources District (MBARD).
For every million gallons of wine produced, 15 to 20 tons of VOCs are released, Stedman estimated. Napa has more than a dozen wineries permitted to produce more than 1 million gallons each year, winery permit records show.
In Monterey's district, which has less industry than does the Bay Area, emissions from five industrial-sized wineries accounted for half of the total recorded VOC emissions, producing almost 158 tons of VOCs in a single year. One winery in the district emits enough to be classified as a Title V producer, Stedman said, a federal classification that requires facilities with significant emissions to obtain a permit and ensure operation in compliance with the federal Clean Air Act.
Asked whether or not wineries in the North Bay were all currently in compliance with the Clean Air Act, the BAAQMD said that it had subsequently identified one winery in Napa with "the potential to emit more than over 100 tons per year of organics," which would classify it as Title V facility.
Were its emissions confirmed to exceed that 100-ton threshold, its operation sans appropriate permits would be a violation of federal law.
The district declined to name the facility.
"The Air District is currently following up with this facility to better understand its emissions," Kristine Roselius, the district's acting communications officer, wrote in an email.
At the state level, VOC emission caps depend on the status of respective air districts, according to Mary Giruado, an engineering supervisor for MBARD.
Air districts can also set their own caps – the Bay Area's is a self-imposed 10 tons of emissions per facility, per day. Monterey, too, has a lower-than-state-level cap at 137 pounds per day or 10 tons per year for seasonal producers, like wineries. (Grape fermentation happens mostly in the period following harvest and crush, though wine aging in oak barrels also releases ethanol, a phenomenon sometimes referred to as 'the angel's share' of wine).
That 10-ton cap has proven a challenge for Monterey County, which is home to a number of industrial-sized wineries and would like to expand its existing wine industry, according to Kim Stemler, executive director of the Monterey County Vintners & Growers Association. Many of its large wineries are grandfathered into the cap (meaning they produce larger quantities of VOCs but pre-date the requirement), but at least two unnamed wineries had told Stemler they would not come to Monterey unless the 10 ton per year cap was loosened, the Monterey County Weekly reported last week.
"We're working with our air district, and they are trying their best (to have the cap reverted back to state levels)," Stemler said in an interview. Wine creates jobs for the county, which has encouraged industry growth, she said.
Stedman said even an increased limit of 25 tons per year may not alleviate pressure on large wineries to reduce their emissions. The air district believes that using NoMoVo (no more volatiles), a technology placed on fermentation tanks that captures VOC emissions before they're released into the air, could be the best solution, both he and Giruado said.
The control systems would not be required for existing fermentation tanks, which are also grandfathered into emissions caps. It would be required for new wineries looking to establish themselves in Monterey, or area wineries hoping to expand fermentation capacity.
"In our opinion, it would make sense for them to put control technology on their own equipment," Giuardo said. MBARD has no additional offset credits, like the kind used in carbon dioxide (CO2) emissions, for wineries to purchase, she added.
Were Monterey's wineries to make use of the offset technology, they would not be the first. Santa Barbara's air district set a precedent in 2017 when it permitted a custom-crush facility that wanted to expand its fermentation capacity, Wine Business reported in 2018. Included in the permit was a provision determining the control technology had been effective at reducing VOC emissions and designating it as the "best available control technology" (BACT).
Per the BAAQMD's current rules, fermentation tanks emitting less than 5 tons of VOCs per year are exempt from permitting. Still, BACT status is a kind of milestone in California, according to Abbs, and one that could reach the North Bay wine industry, were the Bay Area air district to look more closely at capping the ethanol released by the wine industry there.
"When a BACT determination is submitted to the state, the technology has the potential to become the default for similar industries across the state," he explained. Following Santa Barbara's decision, other air districts with wine regions looking to curb VOCs could choose to direct their wineries to implement the emissions control technology.
That potential mandate did not sit well with the industry advocacy group Wine Institute, which appealed the BACT determination. It eventually settled with Santa Barbara's air district in order to minimize the regulatory burden on California's impacted wine industry, and later helped propose Assembly Bill 271, legislation stating that use of NoMoVo or similar technologies could "potentially conflict… with food safety laws and regulations." It billed the technology as "equipment that jeopardizes the public health," and was ultimately not signed into law.
Wine Institute helped propose additional legislation, AB 1714, in 2019. The bill voices concern over the impact of the technology on wine quality.
AB 1714 would grant the University of California, Davis's enology department $1 million to study qualitative impact of the technology over multiple vintages and varietals. No BACT mandate could be issued before the study's completion, a directive that's put Wine Institute squarely at odds with the state's air districts.
Abbs, decrying the study's potentially lengthy timeline, said the assertion that the technology could harm quality "doesn't seem to hold up to scrutiny," especially given its use in Santa Barbara, which does not appear to have been adversely impacted by the technology. Abbs also spoke of the bill's concern with "the marketability of wine."
"This bill is actually asking air districts –governmental employees – to become expert on the marketability of the wine, on different styles of wine," he said. "This is just an impossible study to require."
Tim Schmelzer, vice president of California state relations for Wine Institute, acknowledged the group's views have clashed with the air districts'. The group said the technology, which distills the ethanol emissions into a liquid to then be disposed of, "could very possibly impact" wine quality and open the door for "microbiological contamination."
He understands the air districts' concern – it's "their job" to be more concerned about the air than wine, Schmelzer added.
"We're not trying to step on emissions reduction," he said. "We just want to ensure that we do our due diligence when it comes to preserving the quality and style of wine."
He said winery emissions of VOCs state-wide account for about a tenth of a percent of total emissions, a number that stands in stark contrast with regions like Monterey.
Assemblymember Cecilia Aguiar-Curry, whose office sponsored AB 1714 and whose district includes Napa County, said she wanted to encourage "an objective study" of the technology before it became a mandate.
"It takes years to develop wine as a product, and that's what I'm concerned about," she said, noting the industry is responsible for much of the economic development in Napa County. "The air district has offered only one way to (curb emissions), but there might be other options that are more conducive for our farmers and producers."
As the issue is drawn to the attention of wine regions – and their air districts – statewide, the BAAQMD has said it will work to assess the wine industry's footprint.
"The Air District is working with Bay Area wineries to better understand current emission levels," Roselius wrote in an email, adding that the district would likely consider NoMoVo and similar technologies. "Once we've studied the various facilities and emissions, we will be working with wineries and the industry to get them permitted."
Get local news delivered to your inbox!
Subscribe to our Daily Headlines newsletter.