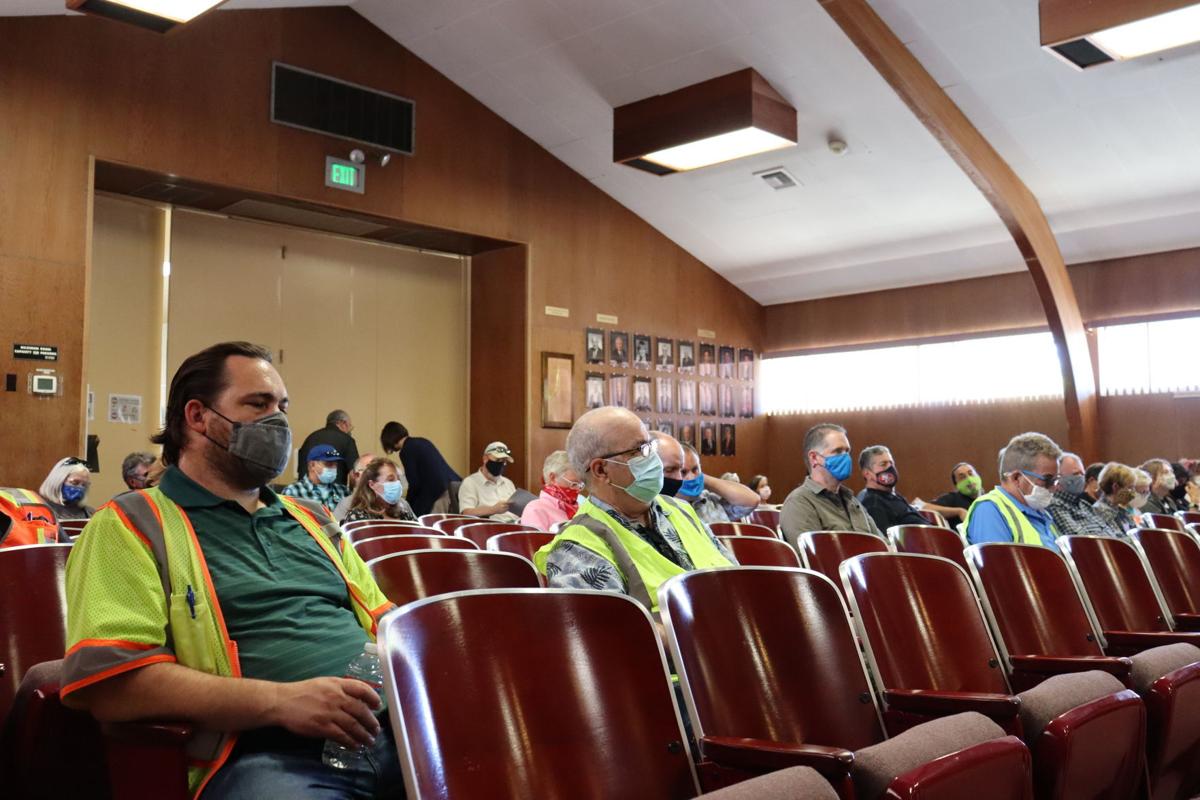 More than a year and a half after the coronavirus pandemic led local governments to close meeting halls for safety reasons, elected councils and boards across Napa County are taking faster or slower paths toward carrying out their business before in-person audiences.
Meanwhile, recently passed state legislation will allow governments to continue meeting remotely at least through the end of 2023 — although elected officials must vote monthly to continue doing so.
Support local news coverage and the people who report it by subscribing to the Napa Valley Register. Special offer: $1 for your first 6 months!
Emergency orders passed by California in March 2020 at the start of the pandemic relaxed the state's Ralph M. Brown Act governing open access at public meetings, allowing counties, cities and boards to meet by teleconference as social distancing requirements took hold. But a state Assembly bill passed last month prods agencies to regularly renew their emergency declarations in order to continue meeting — and taking public comments — virtually.
Assembly Bill 361, which Gov. Gavin Newsom signed Sept. 16, took effect Oct. 1 and requires local governments to revisit its public meeting rules every 30 days in order to continue meeting by teleconference. The bill would remain in effect through Jan. 1, 2024.
Continuing to meet by videoconference would require a state of emergency — such as California's original March 2020, which has not been rescinded — to be in effect. During a declared emergency, or when state or local officials require or encourage social distancing, AB 361 requires elected agencies to vote every 30 days on whether in-person sessions remain a public health risk, thus justifying the continuation of online meetings.
The bill also requires governing bodies to provide a way for observers to comment during virtual meetings in real time, whether within video conferencing software — such as the "raise hand" button within Zoom — or by phone. Agencies cannot require comments to be filed in advance, although they may allow pre-meeting emails as an option alongside live comments.
If a meeting's transmission or its ability for viewers to comment in real time is disrupted, an elected body cannot take further action on its agenda items until service is restored.
After using Zoom for the last year and a half, the St. Helena City Council still isn't ready to click "Leave Meeting."
While some local agencies including the county Board of Supervisors and the Napa City Council continued to meet in person during the COVID-19 emergency — sometimes with dividers added or desks spaced farther apart — only this year have citizens again been able to observe some elected officials and address them face to face.
Spectators have been able to observe the Board of Supervisors in downtown Napa since March, and Napa's City Council welcomed visitors back to its downtown council chamber in July.
Elsewhere, however, the closest residents can get to their elected officials remains a computer or a television, broadcasting council members' debates on Zoom, YouTube or public-access cable, following a summer surge in COVID-19 cases that peaked in mid-August.
Municipal meetings remain online-only in American Canyon, St. Helena, Calistoga and Yountville, as well as for the boards of the Napa Valley Unified School District and Napa Valley College. NVUSD, which earlier contemplated a return to in-person sessions in August, announced on its website it would stick with virtual meetings "until further notice" in light of the new state bill.
The law's requirement that governments provide a form of real-time public comment even during teleconferences proved a challenge in Yountville, the smallest of Napa County's five municipalities, which moved a planned in-person session in August to a teleconference as the virus' more contagious Delta variant drove another surge of infections.
Officials have switched the council's Tuesday meeting to a videoconference amid rising numbers of new COVID-19 cases, town officials said.
Though adding a virtual hand-raising option on Zoom might seem a simple addition to a home computer user, Yountville officials last month told the Town Council even that single addition — one way of complying with the state's real-time commenting requirement — likely would require another computer and more wiring at Town Hall. Such demands briefly caused the council to consider reopening its meeting chamber for at least one October meeting, despite misgivings about the health risks of an indoor gathering.
"This virus is in charge, the mask mandate is still in Napa County, and we're going to need several weeks of low numbers" before face-covering requirements could be relaxed, said Councilmember Margie Mohler. "We have that challenge, too, that we can't ignore."
Ultimately, Yountville, which had taken public comments by email, was able to add live commenting on Zoom and assembled virtually at its most recent meeting Tuesday afternoon.
In St. Helena, the City Council also agreed last month to keep government meetings on Zoom for the time being. Council members agreed that returning to in-person meetings would pose yet another logistical challenge to a city staff that's preparing to move City Hall into the Napa Valley College Upper Valley Campus.
"Changing the way our meetings are run would raise another hurdle for staff, at a time of a very challenging transition," said Councilmember Lester Hardy.
Before the pandemic, the Planning Commission and City Council met in the St. Helena Unified School District's boardroom at Vintage Hall.
The school board has already resumed in-person meetings there, but the school district requires the use of face coverings in the room at all times.
Many St. Helena city employees are still working remotely, and City Manager Mark Prestwich told the St. Helena Star there are no immediate plans to bring them back to City Hall, in anticipation of "another large wave" of COVID-19 cases this winter.
Calistoga's City Council and Planning Commission also have met remotely throughout the COVID-19, and the council on Tuesday voted to continue meeting via Zoom. However, the Calistoga school board resumed in-person meetings Aug. 9.
With reports from St. Helena Star reporter Jesse Duarte and Weekly Calistogan editor Cynthia Sweeney.
Catch up on Napa County's top news stories
Get unlimited digital access to the Napa Valley Register for just $1 for your first 6 months! Enjoy every article without restrictions and find tons of subscriber-only perks, such as access to our daily eEdition. Click here for details!