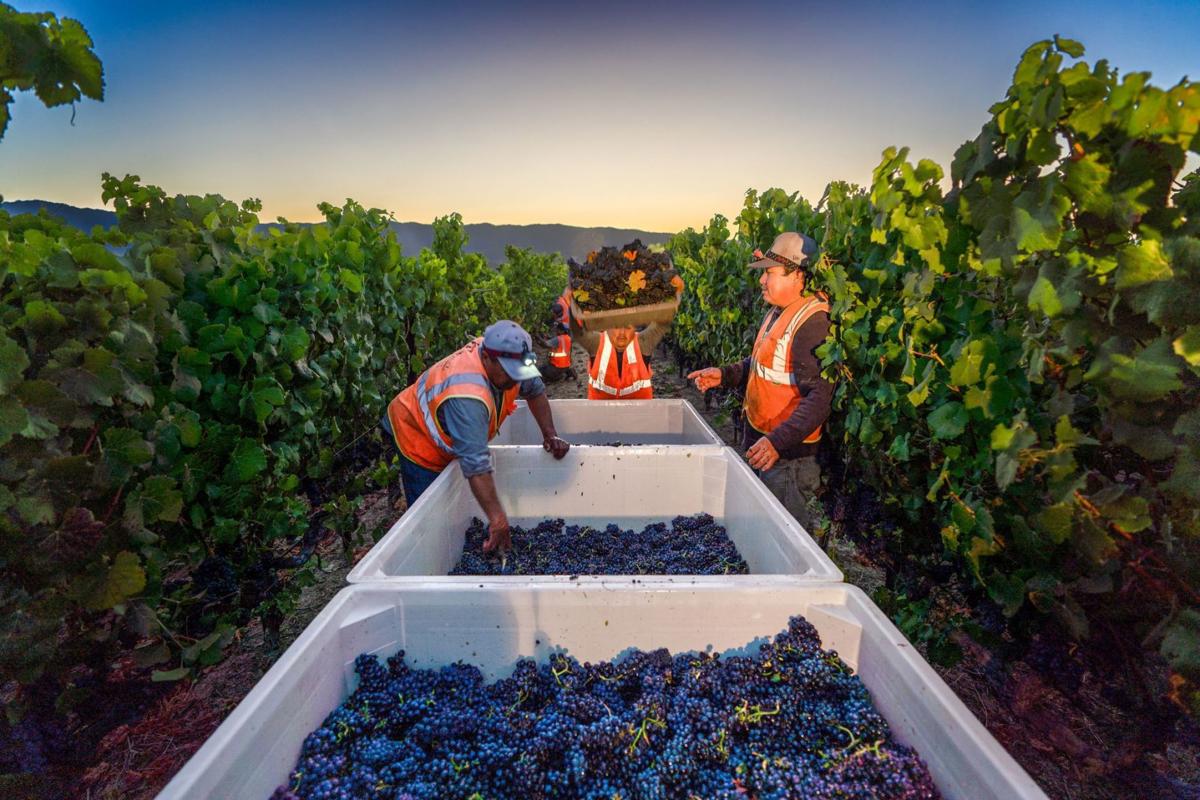 The average price of a ton of Napa Valley wine grapes rose almost 4 percent in 2019, according to the year's Grape Crush Report. But experts say the report may not reflect true market conditions.
The report, released Monday by the California Department of Food and Agriculture (CDFA), listed Napa's average price per ton of wine grapes in 2019 as $5,797, up from $5,572 per ton in 2018. And the region isn't alone in its growth: 10 of the state's 17 grape pricing districts were commanding higher prices per ton of grapes than they had in 2018, according to data from the CDFA.
That's a surprising number, industry members said, considering the state of the industry this year, which faced a decline in consumer demand for the first time in 25 years and is still grappling with an oversupply with its roots in a historically large harvest in 2018. That coupling has birthed a glut market of sorts, though the numbers on the Grape Crush Report don't seem to reflect those conditions.
Glenn Proctor, partner at the Novato-based grape and wine brokerage firm Ciatti Company, said the numbers in the report might still be drawing heavily upon long-term contracts between growers and wineries. Some of these contracts could be five or 10 years old, he added, and operate around gradual appreciation in the prices of grapes contracted for.
He pointed to the price of a ton of Napa Chardonnay, listed by the report at $2,983 per ton.
"In August, we had Chardonnay available in Napa, and it wouldn't have been priced at ($2,983) – it would have been more like $2,200 or $2,000," Proctor said. Prices negotiated by contracts might vary noticeably from pricing on the spot market (so named for the 'on the spot' nature of purchases). As wineries and other producers discover the range of prices and products available, they could balk at their existing agreements with growers.
"What we've been seeing on the market is wineries giving notices to end their grape contracts, because they're trying to build supply and price flexibility," Proctor added.
California in 2019 crushed around 3,890,000 tons of grapes, according to the report, an almost 10% decrease from the more than 4,280,000 tons crushed in 2018. That, too, might be a skewed measurement of industry production, according to Steve Fredricks, president of Novato-based Turrentine Brokerage.
"The numbers reported by this Preliminary Crush Report can be deceiving," Fredricks said in a press release. "Many tons throughout California were not harvested by lack of demand by wineries. The crop report does not show the number of tons that were left on the vine."
Fredricks' point is one echoed by other industry members, including Proctor. Proctor estimates the true wine grape crop yield in 2019 could have produced a figure between 4,050,000 and 4,150,000 tons had it all been crushed. That could mean as many as 250,000 tons left on the vine – grapes that could not sell at any price, according to Erica Moyer, a partner at Turrentine. That could "falsely elevate" average district price, she said in a press release.
Jeff Bitter, president of the Allied Grape Growers, said last week at the Unified Grape and Wine Symposium that demand for grapes would not support production larger than 4 million tons. Though 2019's tonnage falls under the 4 million mark, Proctor said, it did not deflate existing supply enough to recalibrate the market – something industry experts like Bitter have called for in the wake of the changing supply-demand dynamic.
The value and consumer recognition of the Napa Valley name does shield Napa's industry from the more volatile fluctuations of the general market, Proctor said. Still, though, the region isn't entirely exempt from feeling the whiplash of changing supply and demand.
"I do think Napa will be insulated more than other areas in the state because of that value to consumer, but it'll be interesting to see how long the market uncertainty lasts," Proctor said. He pointed to the rising price of Cabernet Sauvignon grapes by the ton – more than $8,000 per ton, according to the crush report. Just because that's the listed average price doesn't mean buyers will be willing to pay at those levels, he said.
"If you're selling grapes at $7,000 to $8,000 per ton, you'd need to sell $70 or $80 dollar bottles of Cabernet on the retail market," he said, adding that there are plenty of labels that sell for prices well below that range. "I can tell you some of the activity we're seeing on the bulk market from private labels has Cabernet going at much lower pricing."
Although the Napa Valley Cabernet Sauvignon crop decreased 12 percent from 2018 to 2019, this year's harvest, at more than 78,000 tons, was "still the second largest in history," according to Turrentine Brokerage Vice President Brian Clements. Turrentine broker Mike Needham noted in the same press release that while prices listed by the report had increased, the spot market weighted average for Napa Valley Cabernet had "dropped 50 percent" in the last year.
Those dips are reflective of the broader industry trends, Proctor said.
"Napa's a unique place," he added, "but the market's the market."