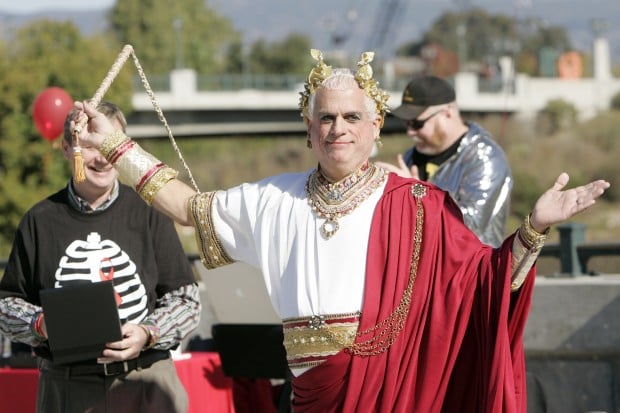 Harry Helbing came to the annual Napa Valley Halloween AIDS Walk as a Roman emperor — crimson toga, golden laurel wreath and all.
He was among the 125 participants who took part in the 2011 Napa Valley AIDS Walk, an event in its 20th year that raises awareness and funds for the fight against AIDS. 
"I think it's important," Helbing, 57, said before setting out on the 2-mile route along Napa streets. "People are still living with it."
The event, which returned to Napa for the first time after three years in Yountville, raised $18,000 for Planned Parenthood's AIDS education and outreach programs, said Chris Edwards, who organized the event with Scott Butler.
Between 200 and 300 Napa residents are HIV-positive, said Dale Wiede, a registered nurse and case manager at CARE Network — HIV/AIDS at Queen of the Valley Medical Center. Of these, about 80 cases are managed at CARE Network in Napa, he said.
The walkers' route took them through downtown Napa, including Main Street, Clinton Street, Second Street and Randolph Street. A horse-drawn buggy from Access Adventure, an organization that helps people with disabilities at the Veterans Home of California at Yountville, transported a half-dozen participants. Stefanie Putnam, 27, of Lafayette, a quadriplegic, held the reins of the two French Percheron draft horses.
Wyatt Oftedal was among the walkers who have participated in the event for years. Oftedal, who has taken part in the event for 15 years, said he comes to raise funds and awareness about AIDS. 
People do not realize that AIDS is still a threat, said Oftedal, 56.
Fifteen-year-old Denning Defur of Yountville came with his mother and other relatives. "It's pretty fun," said Denning, sporting a mask of his distorted face and a wig to dress up as an alien.
Dogs took part in the event, too. Michelle Mendoza, 20, of Napa, a student at Santa Rosa Junior College, walked with her dog, Cabella. She came in part because she wanted to dress up her 2-year-old dog, she said.
"And it's for a good cause," Mendoza added, walking Cabella, who sported a cow outfit with a black-and-white coat and brown horns.
Lynne Hobaugh, an interior designer, and a dozen friends were "Johnny's Walkers." The team, named after one of her best friends who died of AIDS two decades ago, raised the most money this year — about $1,000.
Helbing, who won the event's costume contest, walked the 2 miles in Roman-style sandals.
"I'm used to being carried, so it was kind of a strain," he quipped after returning to Veterans Memorial Park.