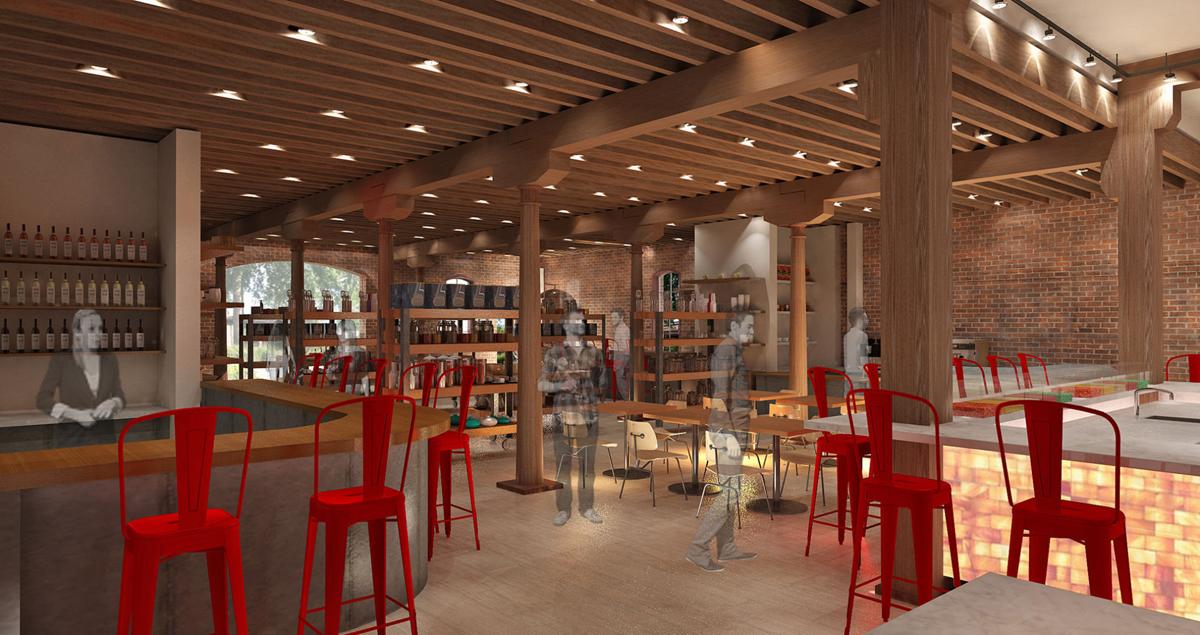 After seven years, the NapaStyle shop in Yountville is poised for a new look, a new product mix – and, soon, a new name.
A remodeling scheduled to start in January will create a space more firmly centered on food, including a new pastry and coffee bar and the addition of small-scale beer making.
The project revealed earlier this month by NapaStyle's founder, the chef and winery owner Michael Chiarello, also will include rebranding the store to reflect a move away from its cookware and gift catalog roots.
"It's not so much a change as it is a (return) back to the original vision, to its original intent," Chiarello told the Yountville Town Council before it approved the overhaul last week.
NapaStyle will close Jan. 4 for the overhaul, according to Brooks Griffin, Chiarello's creative director.
On its planned reopening in mid-March, the store, which already offers a wine tasting bar, meat-curing room and café-style menu, will show a new emphasis on bringing food and the culinary arts to the attention of Yountville tourists.
"We wanted to create a souvenir of the experience; we didn't want another tchotchke shop," Griffin said Tuesday, adding that 160,000 guests came through Bottega (the Chiarello-owned restaurant that shares the V Marketplace with NapaStyle) last year. "We listened to what they said. What is missing now is the great experience; I want people to come home not with yet another charm, but with an experience they can share with others."
Changes will include a new pastry shop and café, supplied from the Bottega kitchen, to serve morning customers. A glass-walled, 150-square-foot nanobrewery is expected to produce about 100 barrels of Italian-style craft beer annually, and other stations would feature hand-pulled mozzarella, artisanal pizza, custom-blended wines and other specialties, according to plans filed with the town.
The retooled store will open with a different name, yet to be chosen. Chiarello, who began NapaStyle as a catalog for kitchen goods, housewares and specialty foods in 2000 and opened the Yountville shop in 2008, bought back the storefront from the company and took it independent in June. The kitchenware retailer had opened five other branches as far south as Orange County but now operates only one outlet, in Los Gatos.
What non-food products remain in the Yountville shop will be only items closely linked to food and used by Chiarello's businesses, according to Griffin, who said NapaStyle's successor will drop furniture and other product lines. The business plans to reverse its split of revenues, currently about two-thirds gifts and one-third food.
"When you grow a catalog business, at some point it gets to a size where it's not feasible to make it all," Chiarello told the council Nov. 17. "It's deeply important that people see something they can't get anywhere else in the country. That, to me, is a guiding light to what we're doing with this reinvention."
NapaStyle's new food-centric direction won the approval of council members, who welcomed the opportunity to put Yountville's culinary reputation within easier reach of residents as well as tourists.
"Everyone can walk down the street and see the line outside the single operating bakery at 7 a.m.," said Richard Hall, referring to the famously long queues at Bouchon across Washington Street. "It'll be nice to have alternatives, and this will be another welcome one."
"Those of us who live here and go in every so often and see the retail products, that experience isn't as fresh for us as it is for a visitor who comes once or twice a year," Mayor John Dunbar added. "This provides an opportunity for the experience to be fresh every time you walk in the door."
Get local news delivered to your inbox!
Subscribe to our Daily Headlines newsletter.