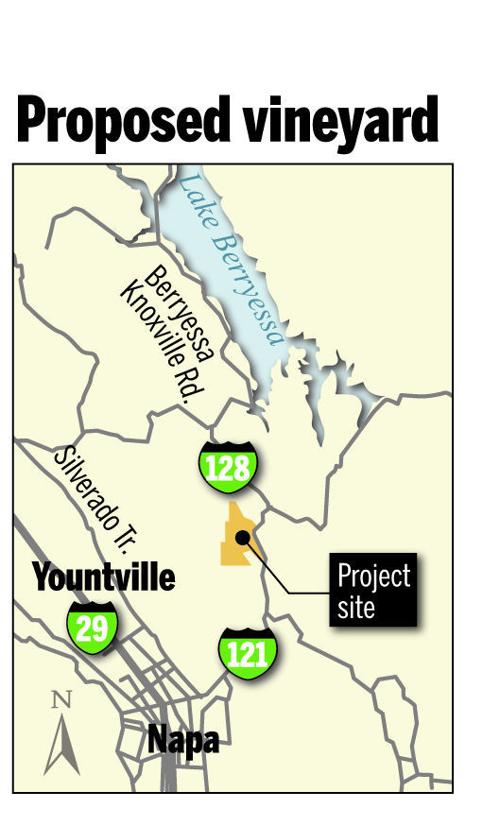 A looming battle over a 356-acre vineyard project near the Circle Oaks community could ratchet up in the coming months, with homeowners preparing to hire their own consultants to dispute the project's environmental impact report.
More than two dozen homeowners attended the Napa County Planning Commission's meeting Wednesday to protest the project, proposed by Hall Wines, and ask to extend the environmental report's comment period, giving them time to raise money needed to pay for their response.
The comment period will be the main opportunity neighbors or environmental groups have to register their opposition to the project before it goes to the county Planning Department for approval. Planning staff have to compile all the comments and prepare a response, and issue the final environmental documents.
After that, the Planning Department will decide administratively whether to permit the project, although opponents could appeal to the county Board of Supervisors. Unlike large winery projects, which require public hearings and Planning Commission approval, a vineyard conversion project like Hall's can be approved at the department level.
The commissioners decided to extend the comment period from the end of this month to mid-November, although residents of the 179 homes in Circle Oaks pressed for more time.
"We have to organize and we have to raise money in order to get consultants on board," said resident David Heitzman. "It's an almost impossible task. We're trying to do a real response. We need time."
Hall Wines bought the 2,300-acre Walt Ranch Property in 2005, and plans to plant 356 acres of mostly cabernet sauvignon vines, within a larger 500-acre disturbance area. But the project's proposed annual groundwater use— 213.5 acre-feet, or almost 70 million gallons — and plans to remove more than 28,000 trees has drawn considerable concern.
It's been under environmental review for eight years since then, an expensive and drawn out process that Craig Hall, owner of Hall Wines, described as "excruciatingly painful."
Hall defended his project in an interview Thursday, saying he wants to be good neighbors to Circle Oaks and good stewards of the property. Hall said wells for the vineyards planting would be drilled over a separate aquifer from the one Circle Oaks residents use, which tests have shown to have 1.4 billion gallons of water underneath.
Mitigation measures the county Planning Department is requiring for the project will require that Hall Wines keep or replant at least two trees for every one removed. The tree removal only affects about 10 percent of the total acreage of trees on the property, Hall said.
The wine company will also have to pay for extensive erosion control methods for the 21 miles of roads snaking through the ranch, which will keep more than 20,000 cubic yards of sediment from flowing into nearby Milliken and Capell creeks that otherwise would erode, he said.
"The county has really protected the environment over and above," Hall said. "It provides a real sturdy, factual basis for this project. We've done everything that's been asked of us for eight years."
The project has stressed what was a healthy relationship between Hall Wines and Circle Oaks, he said. The water district serving the community realized in 2007 that it had some of its water tanks located on Hall's property, he said.
In order to do a bond issuance to pay for upgrades to the water system, the water district had to do a lot-line adjustment to bring the property within the district's boundaries. But that required Hall to relinquish the property to the district, which the company did at no cost, Hall said.
Hall said the community opposition has surprised him, including comments some residents made to the commissioners that described him as a Texas billionaire unconcerned with the needs of Circle Oaks residents. Hall said that isn't true.
"We are not people who are out of the area or people who don't care," Hall said. "We're not corporations. My name is Craig Hall. My wife's name is Kathryn Hall. We saved their water. 'Good neighbors' is a two-way street."
Jack MacDonald, general manager of the water district, said the stress is partly due to a failure to communicate between the parties. MacDonald said Hall had never tried to contact him or other members of the community during the environmental planning process, or ask if the water district's wells could be included in groundwater studies.
Hall disputes this, saying he has personally called and left messages with the water district. He did apologize to the residents for not being more inclusive in the process, but said they should have been well aware of his company's intentions to develop part of his property into vineyard.
Neither side has been able to connect thus far, but MacDonald said Hall could put some of the community's concerns to rest by conducting a new pumping test. That would gauge if pumping on the Hall property would affect the Circle Oaks wells.
"In '09, there was lots of water," MacDonald said. "Now there's a drought condition. Now is when they need to be testing."
MacDonald said the public is also concerned that Hall wants to use its main driveway for trucks to access the ranch property, which would overburden and damage it. Assurances that the damages would be paid for — or that Hall would use another entry to the ranch property — would also help allay concern.
"If they take 10-ton trucks up and down our road, they're going to wreck our roads," MacDonald said. "It's not a road that was ever designed for big heavy trucks."
If the vineyard is planted, Hall said it would double the acreage of vineyard his company owns in Napa County. The company has about 300 acres of vines in Napa currently, as well as 85 acres in Sonoma County and 36 acres in Mendocino County. It's in the process of acquiring another 75 acres in Sonoma County, he said.
Some of the Walt Ranch grapes would be sold initially, but most would be crushed for Hall's premium cabernet sauvignon brands, Hall said. The company is permitted to make 550,000 cases annually but uses only about 20 percent of the capacity currently. It has no plans to get near that limit, even after the expansion, Hall said.
The project would be planted in phases, with a total of 65 vineyard blocks. But only about 100 acres would go in initially, and the company would have to prove to county planning staff that its groundwater pumping wasn't affecting neighboring wells before it could expand, Hall said. Other mitigation measures would also have to be met.
But if it gets to that point, Hall said the process over the last eight years has been enough of a burden that he wished he had pursued other locations for new vineyard plantings.
"We will have significant work before we have our first planting," Hall said. "At the end of the day this is a good project for the Napa Valley and for us. This has to be about responsible development with responsible criticism."