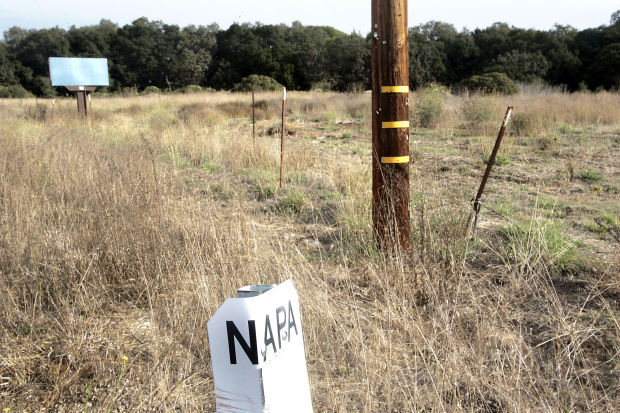 City planners on Thursday began poring over recently unveiled plans for a winery and 66,000-square-foot event center in north Napa – although they cautioned the project's zoning and size must be considered carefully.
The developer, George Altamura, brought his proposal for the Altamura Wine Center to the city Planning Commission, two months after filing a pre-application to build out the 5-acre site at the northeast corner of Silverado Trail and Trancas Street, west of Monticello Road.
The project would include a three-story, stone-faced building housing a 100,000-case winery, tasting room, restaurant, offices and wedding area, along with 34,334 square feet of outdoor event space.
Commissioners told Altamura the winery center's broad range of uses would complicate its zoning, and also sought ways to minimize the bulk of a building that approaches the size of the new Napa Crossing South shopping center. But they also shared Altamura's hopes that the project could form a tourist gateway to the Upvalley, scooping up tourists who otherwise would focus on wineries to the north.
"It's a beautiful building, but getting there will take some steps," said Scott Klingbeil, city senior planner.
Altamura's latest proposal is his third attempt to launch a wine-based business at the Silverado Trail site, which he has owned since 1979. Efforts in 2001 and 2003 to build a hotel, tasting room and restaurant petered out, and the City Council rejected the latter plan because of its location in an agricultural area.
Including a hotel with the winery center could prolong its permitting process, said Klingbeil, citing the requirement for lodgings with more than 40 rooms to undergo a design review as well as receive a use permit. In addition, planning staff told Altamura he likely would have to redo some of the earlier projects' studies on traffic, environmental and flood risk impacts.
Commissioners also were conscious about avoiding a building so bulky as to overshadow its quiet surroundings.
"Honestly, it feels a bit … big. It feels like a really ginormous rectangle," Commissioner Gordon Huether said of the building's design. "I'm waiting for the queen of England to wave out one of those balcony windows. I don't want this to just be a box with stuff on it."
Two other commissioners suggested partially or fully dividing the main building to reduce its sense of mass in its lightly developed surroundings. That could take the form either of a central archway or other design feature, as Tom Trzesniewski offered, or two separate structures with one reserved for the winery, an idea Paul Kelley floated.
Altamura expressed a special urgency, at age 83, to work with city planners in creating the winery center – which he said the family would retain and not sell – as quickly as possible. He also promised to take planning officials' suggestions to heart in creating a revised design to bring them in the future.