As it did 16 years ago, a developer envisioned dozens of homes on a hilly gateway into southwest Napa. And as it was 16 years ago, the company was tripped up by its final hurdle – the City Council.
After another round of debate by Napa residents Tuesday night, a bare 3-2 council majority voted against Napa Oaks II and the 51 houses it would create on the heights near Old Sonoma Road, Casswall Street and the Congress Valley vineyard country to the west.
The rejection, which followed 4 ½ hours of spirited pleas from an overflow crowd of nearly 200 people for or against the housing development, was Davidon Homes' second setback at City Hall in its two-decade quest to turn four lots totaling 80 acres of oaks and pasture into Napa's newest housing development. The Walnut Creek-based firm had seen an earlier, larger version of Napa Oaks blocked by the council in 2002, then sued Napa three years later in an unsuccessful effort to win the higher-density zoning it needed to build, given the current zoning.
"Our residents have a right to feel that the matter has been settled," said Mayor Jill Techel, the last remaining member of the council that first stopped Napa Oaks in December 2002, in expressing her "frustration" of having to fight the battle a second time.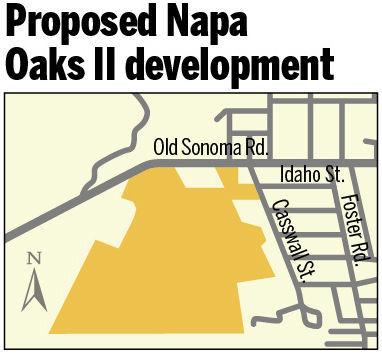 In the years and months leading to the vote, leaders with Davidon Homes had gradually shaved the number of housing lots, added more open space and walking trails, and taken other steps meant to win over Napa officials and often staunchly opposed neighbors. Forty-nine acres would have been deed-restricted to remain unbuilt, along with another 20 acres of woodland north of the development on the opposite side of Old Sonoma Road.
Napa attorney Kevin Teague, representing Davidon, asked city leaders to respect the expertise of consultants who signed off on the project's density, drainage, traffic flow and seismic safety. "Facts are important, expert opinion is important and the truth is important," he told council members, adding that the city's residential supply crunch extends to "all kinds of housing" at all price levels.
Even with changes to the housing layout, Davidon's ambitions have run up against city zoning that since 1998 has marked most of the property a "resource area" requiring at least 20-acre housing lots to prevent major development of one of Napa's remaining open spaces.
Davidon's revised plan – though cut down from as many as 83 homes in earlier versions – failed to win Planning Commission support in December, and area residents continued to organize against the project in the six months that followed through the stopnapaoaks.com website, Facebook, and written and online petition drives.
Finally, the company's appeal to the City Council stalled amid continued questioning of its fire and traffic safety, its effect on storm runoff and tree cover, and the appropriateness of adding more homes priced at $1.2 million and up amid historically tight supplies of less expensive housing in Napa.
In addition, the Truchard winemaking family warned that storm runoff from homes on the sloping site risked damage to the water quality at its vineyards to the west in Congress Valley, in unincorporated Napa County.
Unlike at recent city meetings, supporters of the housing plan arrived in considerable numbers Tuesday, including more than three dozen people wearing the logos of various North Bay building-trade unions and sporting green "YES" badges set inside the outline of a house. Several among them joined the 70 audience members who spoke during three hours of public comment, asking the council to open the way to construction jobs by approving the project.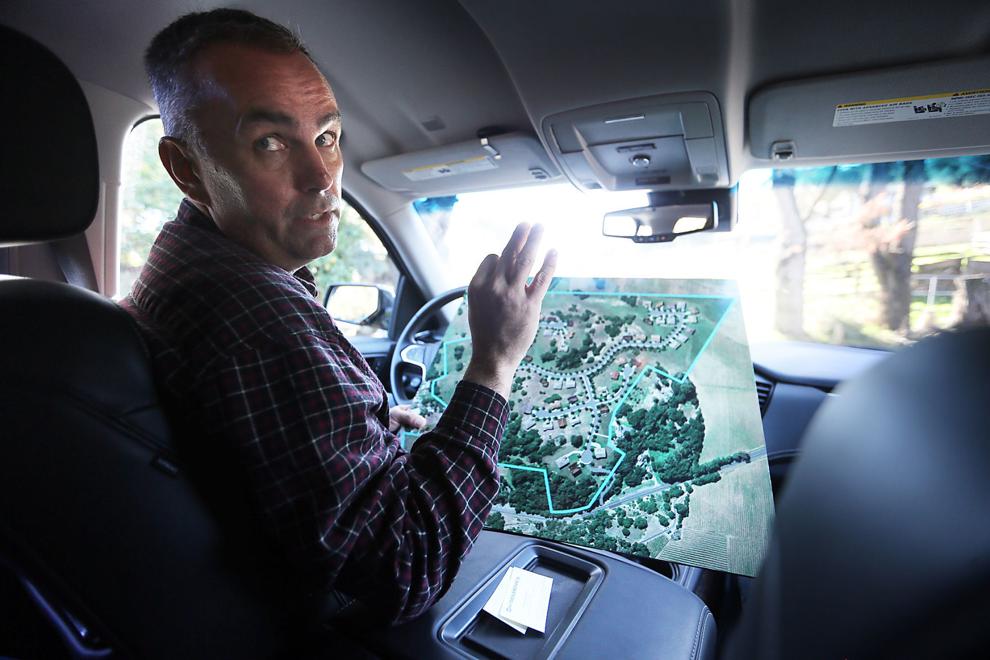 The promise of well-paying jobs – as well as Davidon's promises of trails and parkland at Napa Oaks to be open to the public – resonated with Councilmember Scott Sedgley, but not enough for him to go against what he said was the will of most of his fellow residents.
"I believe that Napa Oaks is a good project, but I believe a majority of Napans don't support the project," he said before joining Techel and Peter Mott to vote against it (Jim Krider and Doris Gentry voted for the project). "I'm here representing the majority of this community and it makes me vote no."
Meanwhile, many of those already living near the Davidon lands remained as fiercely opposed as they have been in years past.
Some attacked the plan as an emergency hazard for providing only one full-time exit (a second would be gated and reserved only for emergency vehicles) or creating a roundabout at that entrance, at Lilienthal Avenue, that would force drivers heading downhill from the unincorporated county to quickly slow down on Old Sonoma Road. For other foes, the threat posed by Napa Oaks was to the city's very character, above all the natural landscape that sets it apart from suburbia.
"What do we want Napa to look like?" Robert Ross asked the council. "Do we want it to look like Orange County? I don't think that's what most people in Napa want. If we build this, we send a clear signal to every developer in the state that Napa is for sale."
"It promotes a wine country lifestyle that is unaffordable to most of us here in Napa," said Eve Ryser about homes that would have been priced in the seven figures and built with more than 3,000 square feet of living space.
With Napa beginning to prepare its most extensive overhaul of its general plan – the guidebook for the types and location of city growth – in two decades, Mott pointed to that process as the proper arena to decide the future of the Napa Oaks site, without changing current land uses to satisfy a builder now.
When a company like Davidon buys land in hopes of winning a zoning change later, "that's a developer's risk," said Mott before the vote. "When an earthquake happens, that's bad luck. When the economy enters a downturn, that's bad luck. If the City Council turns over to a non-development (platform), that's bad luck."
Whether Davidon might try to revamp and salvage its housing plans near Old Sonoma Road was not immediately clear. Steve Abbs, the company's vice president for land acquisition and development, declined comment after the marathon meeting.
After the ruling against Napa Oaks, several opponents in the audience hugged one another in the council chamber – including Carol Barge, an area homeowner and an organizer against the project. "I'm hoping they truly get the message this time, that Napa does not want this project," she said.