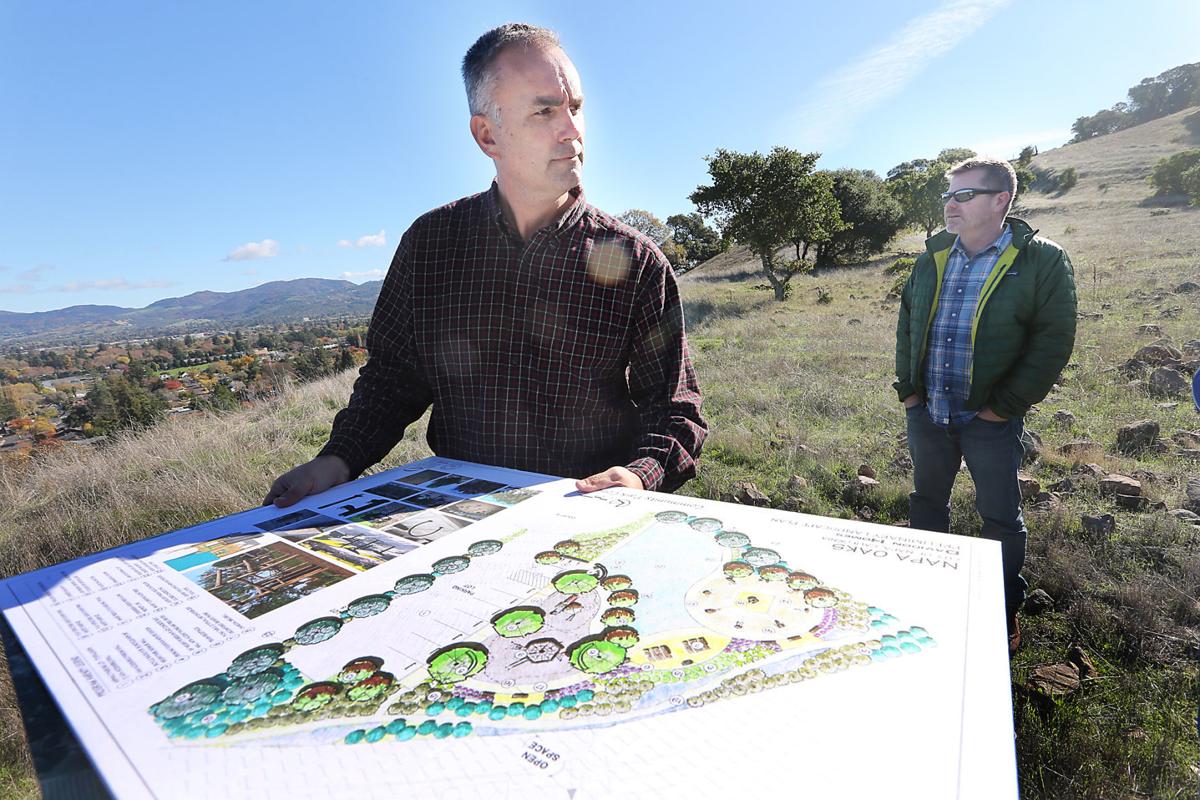 A 20-year battle over building dozens of homes overlooking a Napa gateway will reach another climax Tuesday night.
The City Council is expected to decide whether to accept Napa Oaks II, a development that would place 51 houses on 80 hilly acres above Old Sonoma Road and the vineyards of Congress Valley.
Tuesday's council decision would be the latest clash between the developer Davidon Homes and an alliance of homeowners who have fought the project since the late 1990s, fearing a new cluster of $1.2 million-and-up homes would worsen traffic congestion, erosion and fire safety.
To break ground, Walnut Creek-based Davidon must convince council members to change zoning that currently blocks large-scale home construction by requiring residential lots of at least 20 acres. The restriction, which branded the hilly grazing land as a "resource area," was part of the General Plan Napa passed in 1998.
The Napa council vetoed a rezoning in 2002, triggering an unsuccessful lawsuit by Davidon three years later.
Napa Oaks returns to City Hall nearly six months after the Planning Commission narrowly voted against endorsing denser housing at the site, which is set above subdivisions off Old Sonoma Road and Casswall Street. The 3-2 ruling against Davidon on Dec. 21 came two weeks after planners took nearly six hours of testimony from residents, with many attacking the project's effects on traffic and environmental quality or warning that its housing would be priced far out of working families' reach.
In the months since city planners voted against Napa Oaks, homeowners fighting the development have not stood still, according to Carol Barge, who moved into the neighborhood in 2015 and is an organizer of opposition to the project.
Foes of Davidon have maintained a Facebook page and the website stopnapaoaks.com to relay messages to the City Council and outline neighbors' objections to the project. A Nextdoor social media account informs Napans of developments in the debate, and opponents also have collected petition signatures online and at the Napa Farmers Market.
Key to persuading others to stand against Napa Oaks' construction, according to Barge, is a focus on the problems of the Old Sonoma Road site itself rather than opposing any growth or new home construction in the city.
"What's been important for our group is not to just be angry neighbors who don't want development in our area; we love the fact that Napa is going through a renaissance," she said Monday. "What we've really tried diligently to do is be very factual and not emotional, although it's something people are very passionate about. We want to inform the public about the truth and facts of the matter."
West of the city limits, a longtime Congress Valley grapegrowing family also is fighting Davidon's plans as a threat to water quality at its 400 acres of vineyards in unincorporated Napa County.
"Once it comes off streets and backyards" instead of the area's existing oak woodlands and grassland, "we're not sure it's the quality of water we want," said Anthony Truchard II, general manager of Truchard Vineyards. Moreover, he added, 15 family-owned acres closest to the potential housing lots are organically farmed, their fruit sold to other wineries or used in Truchard-branded reserve cabernet.
Through the years, designers have gradually shrunk Napa Oaks' layout, from 83 to the 51 shown in the most recent plans filed with the city, and Davidon leaders have said construction will be concentrated in areas graded by previous owners starting in the 1960s to reduce the impact on woodlands. Floor areas would range from 3,418 to 5,109 square feet.
At a neighborhood forum and city meetings last fall, Davidon leaders promised to increase tree plantings, protect more wooded areas from development on-site and to the north, as well as creating a half-acre park and two miles of trails for public use. The company also said it would partner with the Napa County Resource Conservation District in a children's program to plant oaks in local woodlands.
Since its setback before city planners in December, Davidon has met with Rotarians, groups of Realtors and council members to make its case for adding housing, according to Steve Abbs, the company's vice president for land acquisition and development. Earlier, the developer announced it would release funding to the Gasser Foundation toward creating affordable housing elsewhere in Napa.
Responding to complaints about devoting scarce open space to higher-priced housing, Abbs declared that homes at all price levels already are scarce in Napa and that new construction would help prevent older housing stock from being pushed further out of other families' budgets.
"When there is no supply of homes, it forces people who do want to move to buy houses that should remain affordable," he said Tuesday. "People are buying (older) homes and putting $200,000, $300,000 into them and pricing out others in the neighborhood. In Alta Heights and Old Town, those houses are going for over a million now, and those are houses that should remain affordable for working folks."
The application for Napa Oaks council members will weigh on Tuesday is essentially the same one reviewed by the Planning Commission, according to city associate planner Michael Allen. An additional geological study to map seismic faults, which Davidon commissioned and which wrapped up in late March, has led the city to widen some no-build zones on the property, but those expansions do not cover any home sites, he said.