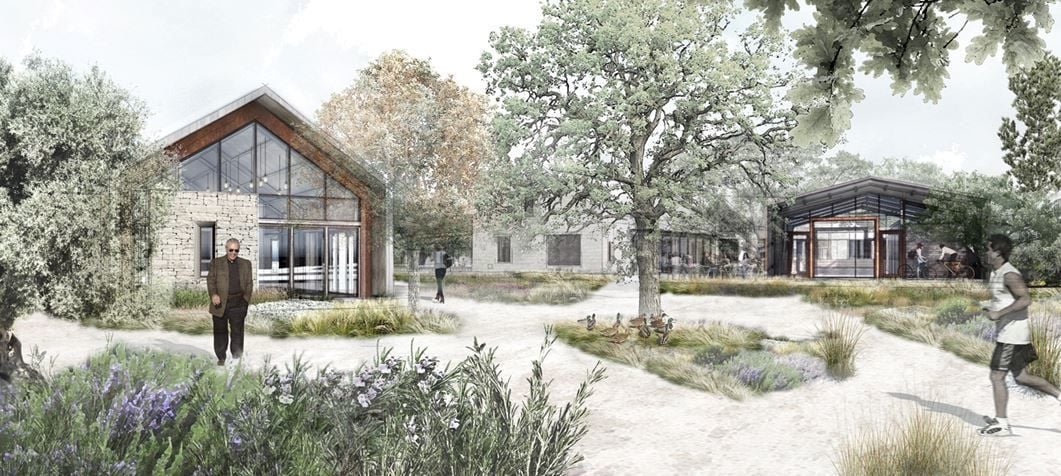 A luxury hotel envisioned for Napa's rural Stanly Ranch area has won city planners' support, starting the path toward a resort development that eventually will add 95 homes and a winery.
Auberge Resorts, an operator of high-end lodgings elsewhere in the county, gained unanimous Planning Commission approval for a hotel that will include 150 rooms spread among cottage-like buildings. The resort would carry the VieVage brand and open in 2017 off Stanly Lane, east of Highway 12/121 near Carneros.
Further development plans call for a second stage of 25 fractionally owned and 70 fully owned homes, followed by a 40,000-square-foot winery.
The hotel plan, which would cover 93 of Stanly Ranch's 712 acres, will go before the City Council for final approval. Though the council passed a master plan for the whole Stanly Ranch complex five years ago, each of its three phases must receive permits separately.
Guest rooms will be scattered among 84 small structures of metal, stone and wood, ensconced in a landscape filled with native plants and dotted with produce gardens serving the hotel's restaurant. Besides the eatery, a spa, banquet hall, coffee shop and conference center would occupy a hub of six main buildings, and trails for cycling and walking would be built through the resort grounds and its north and west perimeters.
The resort's master plan passed City Council muster in 2010, when its backers sought a partnership with the St. Regis hotel chain. Four years later, Stanly Ranch Resort Napa LLC switched its allegiance to Auberge, which runs Auberge du Soleil in Rutherford and the Calistoga Ranch farther Upvalley, and formerly operated Solage in Calistoga, which is similar in general design to the planned Napa resort.
Designers working with Auberge Resorts have said the one-story construction and natural setting – along with the vineyard and gardens – will give VieVage a placid, agricultural flavor distinct from other luxury resorts.
"Our feeling is that this property should reflect the authenticity, the experience, of being in the vineyards of the Napa Valley," Mark Harmon, the company founder, told planning commissioners while unveiling plans for the hotel in May.
Get local news delivered to your inbox!
Subscribe to our Daily Headlines newsletter.