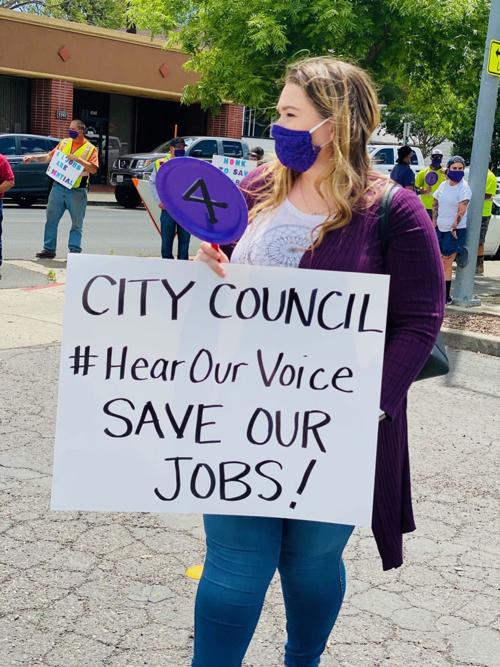 Dozens of socially distanced Napa city workers gathered in front of City Hall Tuesday afternoon to voice opposition to the proposed elimination of 70 total positions.
The protest was organized by members of NEA-SEIU Local 1021, one of six labor unions representing Napa's city workers. It's been a public, vocal opponent to the proposed budget revision that would balance the projected $20 million revenue shortfall for next fiscal year caused by the coronavirus, cutting staff headcount to do so.
Those who gathered in front of City Hall were instructed by union leadership to wear masks and maintain a six-foot distance from each other to comply with social distancing guidelines, according to Amanda Steiner, field representative for the chapter. She added a union member hand-sewed 100 face coverings for anyone who was lacking proper protection.
Others stayed in their cars, creating a single-file caravan of vehicles that circled the property while waving signs out the window.
"This is obviously a different kind of gathering, but it's still critical for our members to have PPE and other protection. That's not lost just because we're trying to carry out an action today," Steiner said.
Presented to City Council on May 5, the proposal suggests the layoff of 39 city employees, 26 of whom are members of the local SEIU union chapter, and freezes hiring for 31 current vacancies. The Parks and Recreation Department would lose 16 current employees, and it would be dissolved as a standalone entity and divided between Community Development and Public Works.
"When they're looking at deep cuts to services and putting other community members out of work, we have to fight against that," Steiner said. "We're fighting to maintain services and protect workers' jobs."
Ana Garibay, an office assistant for the Napa Fire Department, is one of the people Steiner says the union is fighting to protect. Garibay has worked for the city for one year, but now finds herself on the list of employees scheduled to lose their jobs if the proposal is approved next month.
"I worked hard to get to where I am. This is where I wanted to work for the rest of my career, for my city, the city I was raised in," she said. "I once felt valued, I don't quite feel that way anymore."
Garibay attended Tuesday's demonstration. "Each of us being laid off are like a small cog to the working machine that keeps the city going. If you remove some of us, the machine will not run correctly," she said.
The union disputes Finance Director Bret Prebula's position that the dramatic deficit requires an equally dramatic remedy. Steiner says the city has more reserves than other nearby jurisdictions who are doing more to protect jobs, and she calls the staff and, ultimately, services provided to residents "draconian."
"With reduced staffing the residents will notice the absence of maintenance of parks, grounds and right of ways, not to mention reduced options for our children and seniors who rely on recreational services," said Matthew Dunnachie, a maintenance crew laborer who has worked for the city for 2.5 years.
Prebula says comparing Napa's situation to other jurisdictions is an "incongruous" exercise. The city is uniquely dependent on revenue from sales tax and the Transient Occupancy Taxe, the levy paid by tourists renting hotel rooms. This makes Napa especially vulnerable to the massive drop in consumer activity and tourism caused by the coronavirus, and every municipality has different staffing needs.
Ultimately, Prebula compares running city government to running a business, and notes leaders will have different approaches. In the case of Napa, staff advocates a proactive approach to avoid a situation where things are worse later and the city simply can't function.
"The only reason we're discussing layoffs is because we're running up against a wall with extremely limited options. Is it awful? Yes, absolutely," he said. "If we had a magic wand and didn't have to lay people off, we would, but we can't just make decisions in a vacuum. We have to look at impact as we move into the next fiscal years, plural."
According to Steiner, demonstrators demanded City Council reject the proposed budget, hire an outside auditor to evaluate the budget – which Prebula points out already happens annually – and prioritize jobs over capital improvement projects.
"All this tells me is the city already wanted to reduce its workforce and they're capitalizing on this pandemic to achieve that," Steiner said.
City leadership remains adamant it has never used government jobs as a bargaining chips.
Between the current and upcoming fiscal years, Prebula projects an estimated $30 million loss against predicted revenues. Nearly $25 million of it was balanced without ever considering layoffs, using an assortment of cost-cutting measures such as suspending major capital improvement projects including Dwight Murray Plaza and the Civic Center, voiding service contracts, reducing operating expenses in every department and freezing hiring for vacancies.
"We got to roughly $25 million without impacting a current person within organization. That's a pretty big feat in my opinion, and it speaks to the care the executive team has for people," he said.
Dunnachie, though, says these layoffs would harm the people who provide "essential" services to residents. He described the process as "confusing, stressful and heartbreaking," as he too is on the list of positions slated to be eliminated.
Relations between NEA-SEIU have soured and negotiations remain tense and, at times, personal. So much so, that a handful of individuals who have worked under Prebula at the city and county testified in his defense during public comment in both public sessions Tuesday.
Steiner characterizes meetings with Prebula, City Manager Steve Potter and the rest of the executive team as adversarial and designed to "deflect" from demands for full transparency regarding the city's "true financial position." She says they've repeatedly run into roadblocks when asking for information in a comprehensive or timely manner.
Prebula, though, tells a different story. He says the team is working tirelessly to field requests from the six labor bargaining units, run through various financial scenarios and solve for an immediate economic crisis without compromising service delivery and employee wellbeing beyond what's absolutely necessary given the dire circumstances.
"There's no obstruction in this process. Most importantly, our books are open," Prebula said. "It's all been a very transparent and open process. They may not agree with the information but the information is out there."
The entire executive team volunteered to cut its salary and forego its cost of living adjustments at the May 5 meeting. Council members have joined them in their call for bargaining units to come to the negotiating table for a solution.
"We believe with concessions and prudent use of reserves, we can get through this, and I'm hopeful we can avoid layoffs. We want a solution too," Mayor Techel said at Tuesday evening's City Council meeting. "That's the message coming from us tonight"
According to Steiner, union members won't feel comfortable discussing meaningful concessions until there's some confidence doing so would protect all the jobs.
"What we've consistently heard in the concession talks is that no matter what we do, there will be layoffs. They've not provided hope we could save all the jobs, so there's no motivation for employees to make concessions if you're going to cut services and staffing anyway," she said.
Many community members have mobilized in support of city employees facing potential job loss and the Parks and Recreation Department more specifically. A change.org petition with nearly 6,400 signatures at the time of print stating support for the spaces and services provided by the agency.
"There's a misconception out there that we want to get rid of it forever. That's absolutely not the case, nor has it ever been the conversation internally," Prebula said. "We're talking about reducing them for the time being, which could be a year or it could be longer, and then when things come back looking at how we do parks and recreation differently."
Potter announced during the afternoon session that after receiving a great deal of feedback from employees, he'd rescinded his recommendation that Human Resources Director Jennifer Brizel be included as part of the layoffs, "recognizing the value [she] brings to the organization. Though he cautioned they'd still need to make up for the money that would've been saved by eliminating her position.
City Council directed the issue of layoffs be delayed. A revised hearing schedule includes June 2 and June 8 meetings to discuss amended budgets before a final vote on June 16.