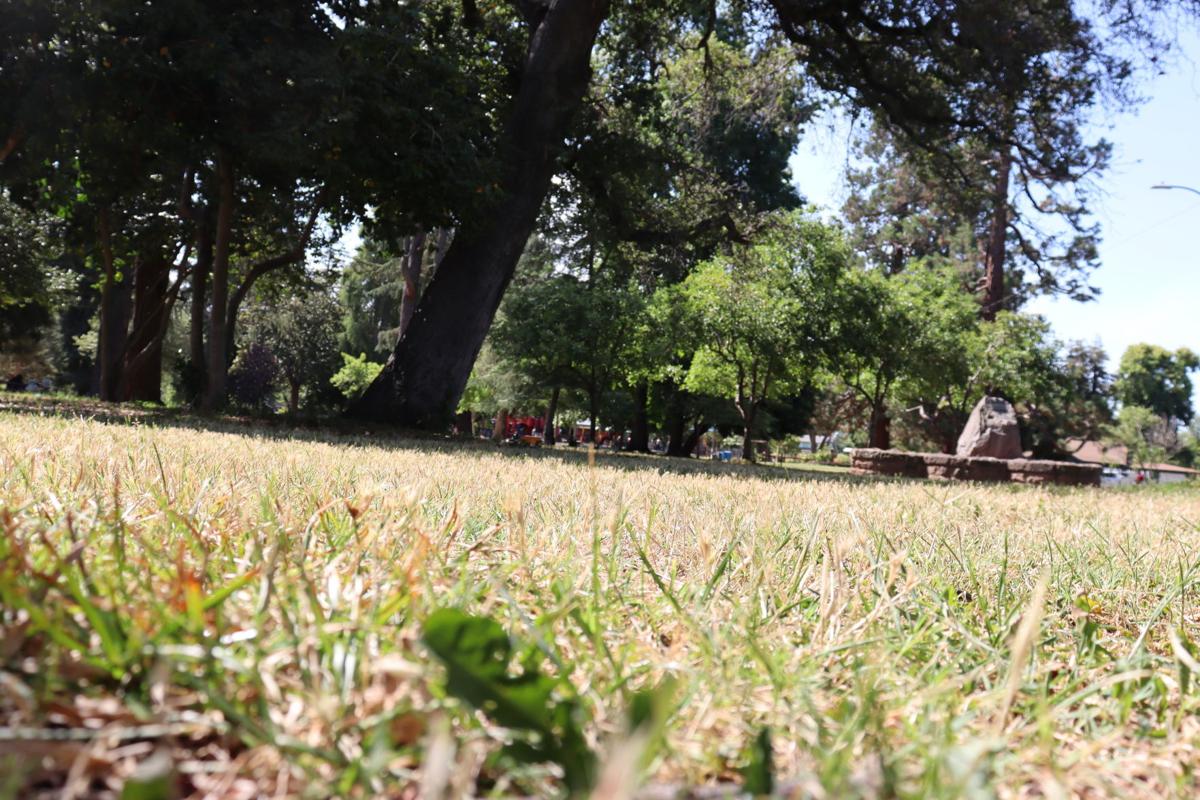 City of Napa residents may have noticed an encroaching shade of golden-brown creeping across the greenery of city parks in recent weeks.
Browner foliage is, of course, a visual sign of California's 2021 drought and water conservation in Napa. When seen in city parks, it's an indication that the city of Napa Parks and Recreation department's efforts to conserve water are working.
Jeff Gittings, Parks and Urban Forestry Manager for the city, thanked the community for understanding the necessity of this aesthetic sacrifice in a Thursday interview.
Support local news coverage and the people who report it by subscribing to the Napa Valley Register. Special offer: $1 for your first 6 months!
"Many of our parks are not looking the best right now just because of that drastic water reduction we've done," Gittings said. "We're trying to do our part in the hope that we get the rains next year and get the reservoirs to fill back up."
The city of Napa is attempting to cut down water use to preserve water in Lake Hennessey, the city's main source of water, after low runoff the past two winters. According to city staff, the reservoir is at its lowest level since the 2012-2016 California drought. And more restrictions on water use, particularly to outdoor irrigation, could be coming if more rainfall doesn't arrive this winter.
The parks department is conserving water by cutting down on spray irrigation by one-third at the vast majority of parks, from three days to two, said Gittings. That irrigation cutback should sound familiar to city residents, who were placed under a mandatory two-day-a-week limit on outdoor spray irrigation last month. (The Napa Valley Unified School District is also adhering to those limitations at school sites in the city — and similar restrictions for schools located in American Canyon — according to NVUSD spokesperson Stacy Rollo.)
But the parks department is thinking about water conservation all the time, Gittings said, and works closely with the city's utilities department. Regardless of water restrictions, the parks department carries out irrigation audits at least annually, he said, and looks to fix leaks and replace poorly performing or damaged sprinkler heads. The department has also converted several of its spray irrigation systems to drip irrigation, which remains unrestricted by the city.
"We spent even more time this year doing those adjustments and just double, triple checking that our stuff is working as well as it can," Gittings said. "It's a mechanical system and things break."
Aside from parks, the department manages many right-of-way strips of greenery, the small islands of plants on public land, Gittings said. In several cases when those strips contain mature landscaping like certain shrubs or trees, irrigation has been entirely cut off, he added.
Gittings also said that, in the two years he's been working in his position, the department hasn't designed any new landscapes. But, he added, when the department does design landscapes or reviews design plans, using native, low-water-use plants is a priority.
"It's top of mind to us all the time," Gittings said. "For areas that are more aesthetic, we're always trying to use lower maintenance, lower water use shrubs and plants."
At almost all city parks, signage has gone up to indicate the department's conservation efforts. The one exception, Gittings said, is parts of Kennedy Park. That's because some of Kennedy Park uses recycled water irrigation, which is not restricted by the city. (There are, however, different signs in specific areas of the park indicating the park is using recycled water, he said.)
Catch up on Napa County's top news stories
Get unlimited digital access to the Napa Valley Register for just $1 for your first 6 months! Enjoy every article without restrictions and find tons of subscriber-only perks, such as access to our daily eEdition. Click here for details!
You can reach Edward Booth at (707) 256-2213.